Global Sport and Inclusivity Seminar Series
About this event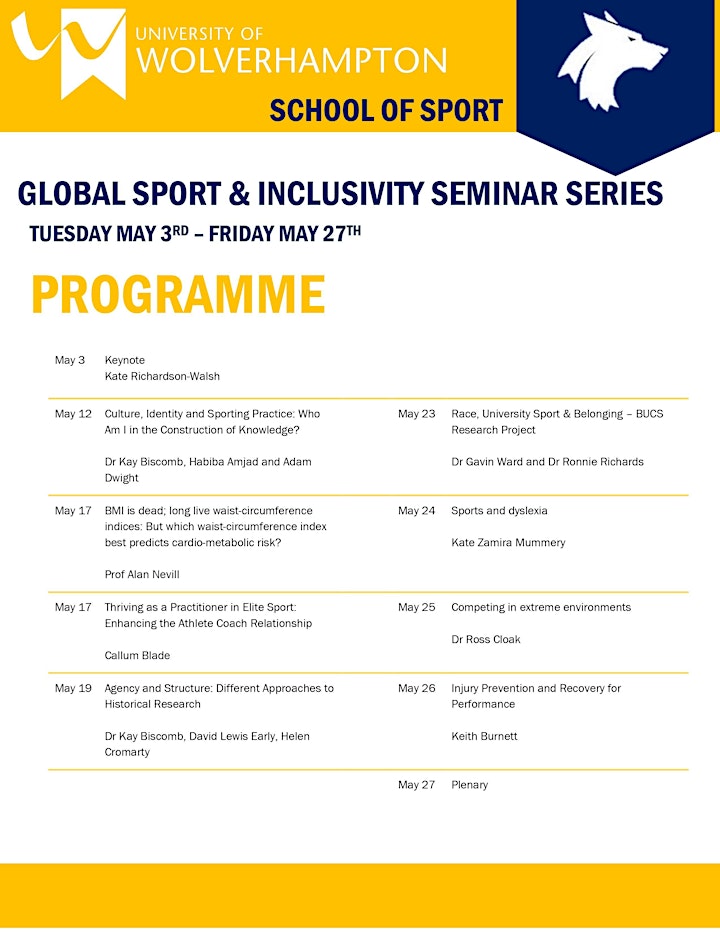 Global Sport and Inclusivity Seminar Series
Agency and Structure: Different Approaches to Historical Research
Date: Friday 20th May
Time: 17:30pm - 18:30pm
The event will take virtually on Microsoft Teams
As part of the contemporary discussion surrounding global sporting events such as the Winter Olympics in China and the Commonwealth Games in Birmingham, the School of Sport at the University of Wolverhampton are holding a Seminar Series, which will be of particular interest to the public, educational institutions and business.
The Seminar Series will focus on the three key themes: Sport, Performance and Health; Community; Globalisation and Sustainability as linked to Inclusivity.
In this presentation we are going to explore the historical approach to study by drawing upon the empirical research undertaken for two postgraduate research degrees. We will approach our presentation by considering both the role of the governing body and also the role of the individual in understanding history.
The first example will consider the role of the National Governing Body for hockey and its role in amateurism through an annual international match held at Wembley. For much of its history, field hockey had a strong association with amateurism. In particular, women's hockey and one of the original governing bodies the All England Woman's Hockey Association (AEWHA) embodied these views. Recent research has argued against this notion of a blanket amateurism. From 1895 the concept of a hockey amateur took at least a decade to define and even then, was a malleable in the face of new challenges to the AEWHA's authority. However, by 1945, after fifty years of organised women's hockey, a culture of amateurism proved a strong guide for the senior administrators and the young players.
This event is a good case study to examine the height of hockey amateurism in the 1950s and 1960s and its decline starting in the 1970s to the merger with the male run Hockey Association (HA) in 1997. In the second example we will consider the role of the individual through the work of Dr William Penny Brookes and his association with the Wenlock Olympian movement. The need to look in depth at the role of individuals in redefining the Olympic Games is long overdue, and has more often been treated in articles and chapters than a sustained monograph. We will conclude the presentation by identifying the research methods used by these researchers and the challenges that they bring.