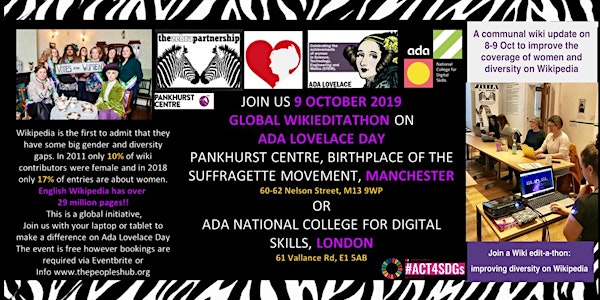 Global Wikipedia Edit-a-Thon (#Wikieditathon) 2019 Manchester and London 20...
Location
The Pankhurst Centre and Museum
60-62 Nelson Street
Manchester
M13 9WP
United Kingdom
Description
DON'T FORGET YOUR LAPTOP OR TABLET
Watch the history pin and read the article from last year
https://www.historypin.org/en/zebra-wikieditathon-on-ada-lovelace-day/geo/53.463164,-2.227364,18/bounds/53.463164,-2.228519,53.463164,-2.226208/paging/1
Manchester Pankhurst Centre details

Global Wiki Edit-a-Thon - Join us again in October 2019!
Wiki times:
3pm - 5pm
6pm - 8pm
3pm - 8pm
Networking and Refreshment breaks:
5pm - 6pm
8pm - 9pm
Wednesday 9 October 2019
London Details
Location: Ada. National College for Digital Skills. 61 Vallance Rd, London E1 5AB.
Time: Kicking off at 10am and winding down by 4pm; a 'drop in, drop out' attitude.
Twitter: @AdaCollege
Capacity: 20 people - booking essential

Background:
Wikipedia is the first to admit that they have some big gender and diversity gaps. In 2011 only 10% of wiki contributors were female and in 2018 only 17% of entries are about women. Let's help change that!
The Zebra Partnership joined forces with a variety of organisations to host a communal wiki update on 8-9 October 2018 to improve the coverage of women and diversity on Wikipedia. The Pankhurst Centre kindly agreed to be our Zebra Hub on 9th October 2018.
Hubs worldwide joined forces for a communal updating of Wikipedia entries on subjects related to women and diversity in science, technology, art, business and more. London, Manchester, Leeds, Bristol, Milton Keynes and Stockport in the UK to New Zealand, Germany, New Mexico and Dubai.
Huge 'Thank You' to Katy Alexander and her team at Digital Science for coordinating this in 2018
2019: Joining Google Expert and The People's Hub Founder and Ethical Director Susan Dolan and MD, The Zebra Partnership, Northern PowerWomen finalist and RSA Fellow Carol Ann Whitehead FRSA is co-Founder of WikiWomenInRed and Global Wiki Equality Advocate Roger Bamkin and Information and knowledge expert Dr Marianne Bamkin. There is also a London hub at Ada. National College for Digital Skills which works perfectly for Ada Lovelace Day.

Carol Ann supported the first United Nations Youth Association (UNYA) Wikieditathon in Denmark for International Women's Day 2019. "As part of International Women's Day UNYA, in collaboration with the Zebra Partnership, held the 'Wiki-edit-a-thon' at the International House, Aalborg."

United Nations Youth Association article https://unyadk.wordpress.com/2019/03/19/wiki-edit-a-thon-writing-women-back-into-history/

Zebra Hub Hosts:
Carol Ann Whitehead and Google Expert Susan Dolan.
We'll have regular updates and more information as and when we get it.
The event is free however a donation to the amazing work the Pankhurst Trust does will be greatly appreciated
https://www.pankhursttrust.org/
"What price would you put on equality?"
Gail Heath, CEO, The Pankhurst Trust