Globelle Gatherings is an event series that brings together our community members & curious individuals to explore themes that matter.
About this event
We aim for these events to connect like minded individuals, regardless of what walk of life they may come from, and for all those who attend to leave feeling the world is a slightly smaller place.
For the fourth event of its kind, on Thursday 27th February, we invite you to join us at Hatch, Homerton, London where we'll be examining the theme of Ocean Exploration.
__________________________________________________________________________________________________________________
"I am really dedicated to understanding the planet/creature on which we live and know that means I must go beneath the sea to see 72 percent of what is going on."
— Robert Ballard, Ocean Researcher
__________________________________________________________________________________________________________________
Several Oceanographers claim we know more about the moon than we do about our own oceans.
What lies beneath?
What do we have to learn from the deep blue?
If we have a passion for travel, how can we best experience what our oceans have to offer in a responsible manner?
How can we build a career in ocean exploration?
What does it really take to appreciate all that our oceans have to offer?
What adventures have members of our community already born witness to?
__________________________________________________________________________________________________________________
We're incredibly excited to have two passionate speakers (to be announced) joining us to tackle these questions, and discuss their remarkable experiences of the big blue.
The evening will begin with some delicious vegetarian & vegan dinner prepared by our hosts at Hatch, Homerton, London. Once we're all settled, we'll start watching, listening and learning.
After we've heard from these inspirational speakers, we'll then carry on the conversation within our community, by opening up the topics touched upon by our speakers to the floor.
Following that, we'll stick around for a tipple or two, to get to know each other a little better, and to discuss where we're thinking our next adventures can take us.
We look forward to you joining us! Team GT x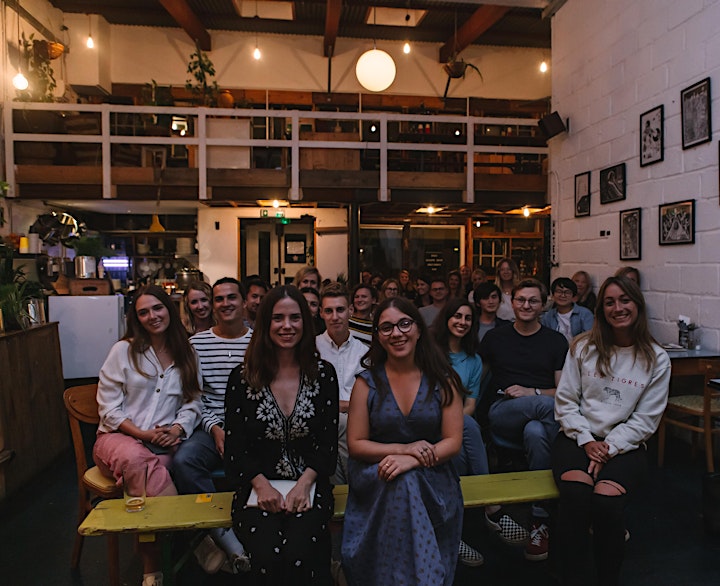 You like details? We do too! Here's some more below.
Order of the Night:
6pm: Arrivals, with a selection of delicious vegetarian & vegan food available. The bar (naturally) will be open.
7.15pm: Our First Speaker will take to the floor, followed by a Q&A session and wider discussion of their experiences of Ocean Exploration
8.15pm: Our Second Speaker will take to the floor, followed by a Q&A session and wider discussion of their experiences of Ocean Exploration
9.15pm: We'll stretch our legs & mingle, did we mention the bar will be open?
10pm: We'll adventure onwards, wherever that might be
What does my ticket include?
Your ticket includes, entry to the event, dinner on the night & a goodie bag featuring brands we love. Oh, and the chance to make new friends & discuss all things adventure, of course.
Who can I contact for more information?
globelletravels@gmail.com
How do I get there?
Hatch is easily accessible from Homerton station, two stops from Stratford on the London Overground line. Once leaving the station, turn immediately right, walk towards the first arch you can walk underneath on your right again, and you'll find it on the other side. The giveaway are the striking windows that make up the exterior of the venue.
Anything else?
Please bring ID/ Proof of Age, since alcohol will be available. Anyone with any special seating requirements, please let us know before.
What is Globelle Travels?
Globelle Travels has been a community for female travellers & adventurers since April 2014, offering inspiration and information to women worldwide.
You can see more of what we do at:
www.instagram.com/globelletravels
Can't wait to see you there!
Team GT x
Organiser of Globelle Gatherings #4 - Ocean Exploration