Description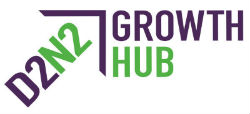 These free, one to one sessions offer guidance and support to help you grow your business. They are part-funded by the European Regional Development fund and are hosted by D2N2 Growth Hub.
If you need valuable advice and insight to help your business flourish then this business clinic is for you. You will be given the opportunity to pose questions, get practical tips and obtain incisive information.
In this one-to-one session, a D2N2 Growth Hub Business Adviser will be available to give you the right advice for your business needs. So whether you need access to finance to expand, guidance on the latest legislation or practical business support, you will be provided with up-to-date, valuable and relevant information.
Depending on your business needs, a follow-up business review can also be arranged which is a free of charge service to small and medium sized enterprises across the D2N2 region.
Once you have connected with the D2N2 Growth Hub you will also have access to workshops and events, regular updates on the latest funding news and they will keep you informed of any regional or national programmes that will help with your growth plans.
Who Should Attend?
These sessions are most suited to those businesses who have already commenced trading and are looking to grow and expand and operate within the B2B sector (businesses selling/servicing to other businesses) and are based in Derbyshire or Nottinghamshire.
Glossop Business Expo
These consultations are available during the Glossop Business Expo where a number of local business advisers and services will also be present for you to consult.
ERDF

This event is part-funded via the European Regional Development Fund, therefore we are required to evidence that you are a small to medium enterprise. There will be a couple of forms that will need to be completed on the day. One form is to ensure you are a small to medium enterprise, the second is to capture any business support you have received over the last 3 years to ensure you haven't exceeded €200,000. If you have previously completed these forms at a D2N2 Growth Hub event you will not have to complete another set.