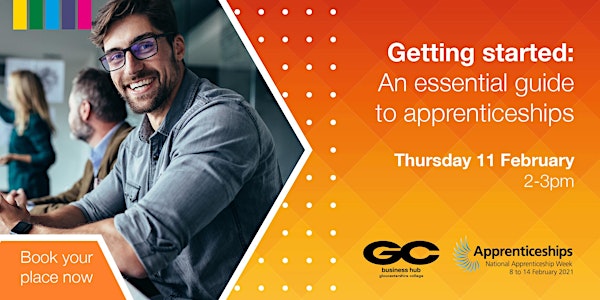 Gloucestershire College Business Hub: An Essential Guide to Apprenticeships
Focusing on how apprenticeships work and the benefits for both employers and employees, we will cover everything you need to know.
About this event
As part of National Apprenticeship Week (8-14 February), Gloucestershire College's Business Hub team invites you to join us for this special business event to discover apprenticeships and the incredible impact they are having within organisations across the county.
Our event will be hosted by Julie Tegg, Director of Apprenticeships and Employer Training, and Myra Billinghurst, Business Development Manager at Gloucestershire College.
This virtual event will cover:
What is an apprenticeship and what's the benefit for businesses and employees – If you haven't employed an apprentice before or if you are not sure how the scheme works, we'll be taking it back to the basics. Our Business Hub team will provide a jargon free snapshot of everything you need to know.
Apprenticeship myth busting – Young, school leaver, entry level? We will be challenging the stereotypes around apprenticeships.
Hiring apprentices during lockdown – How you can still hire and support apprentices whilst working remotely.
FAQs from employers – Awarded 'Gloucestershire's Apprenticeship Provider of the Year 2020,' we work with more than 1,000 employers across the county and beyond to deliver award winning apprenticeships. We get asked apprenticeship questions every day from employers across all sectors. Our expert business hub team will be answering the most commonly asked questions.
Live Q&A session – Thinking about starting an apprenticeship or hiring an apprentice for your business? Get your questions answered by our expert team. There are no silly questions here, ask us anything!
Funding information – There is a lot of financial support available to businesses. Our team can help you to make the most of it.
Next steps – If you are ready to recruit an apprentice or you want to start an apprenticeship yourself, we will tell you the next steps and how we can support you.
Open to all
This virtual event is open to all employers, managers, HR managers, recruitment teams and all employees who are looking to advance their career and upskill. Anyone aged 16 or over can use the apprenticeship scheme to train, so we'd like to encourage professionals of all ages across every sector to join us.
Join us on Zoom
The webinar will be held via Zoom. Please download the free app on your device prior to the start of the webinar. Once you have registered your interest through Eventbrite, we will email you a link and password to join the webinar on Zoom.
Any questions?
If you would like to submit any apprenticeship questions prior to the event, please get in touch with our Business Hub team by emailing: business.hub@gloscol.ac.uk
We look forward to seeing you!
The GC Business Hub team
01452 563400