Description
Hi Gluggers,
We enjoyed March's event at Shoreditch Town Hall so much we're back for more - and this time we're going even bigger.
The theme of the evening is "Thinking Big", celebrating some of the biggest and most innovative names in the creative industry.
Hear from Creative Review's new Editor Eliza Williams, advertising industry legend Sir John Hegarty, Jaguar Director of Design Ian Callum - a huge influence in automotive design over the last 3 decades, M&C Saatchi's Worldwide Head of Culture & Inclusion Sereena Abbassi, Katherina Tudball Creative Director at behemoth branding agency Superunion and UK Research & Innovation's Professor Andrew Chitty who leads the UK government's largest investments into the Creative Industries.
Doors to the Innovation Lounge open from 3:30pm - get down early for free Homeslice pizza, beers, VR demos and typeography workshops!
All for a £10er - nice ay?
Tickets will move fast, so snap 'em up before you wish you had!
See you there,
Glug London
—
Line-up:
Creative Review - Eliza Williams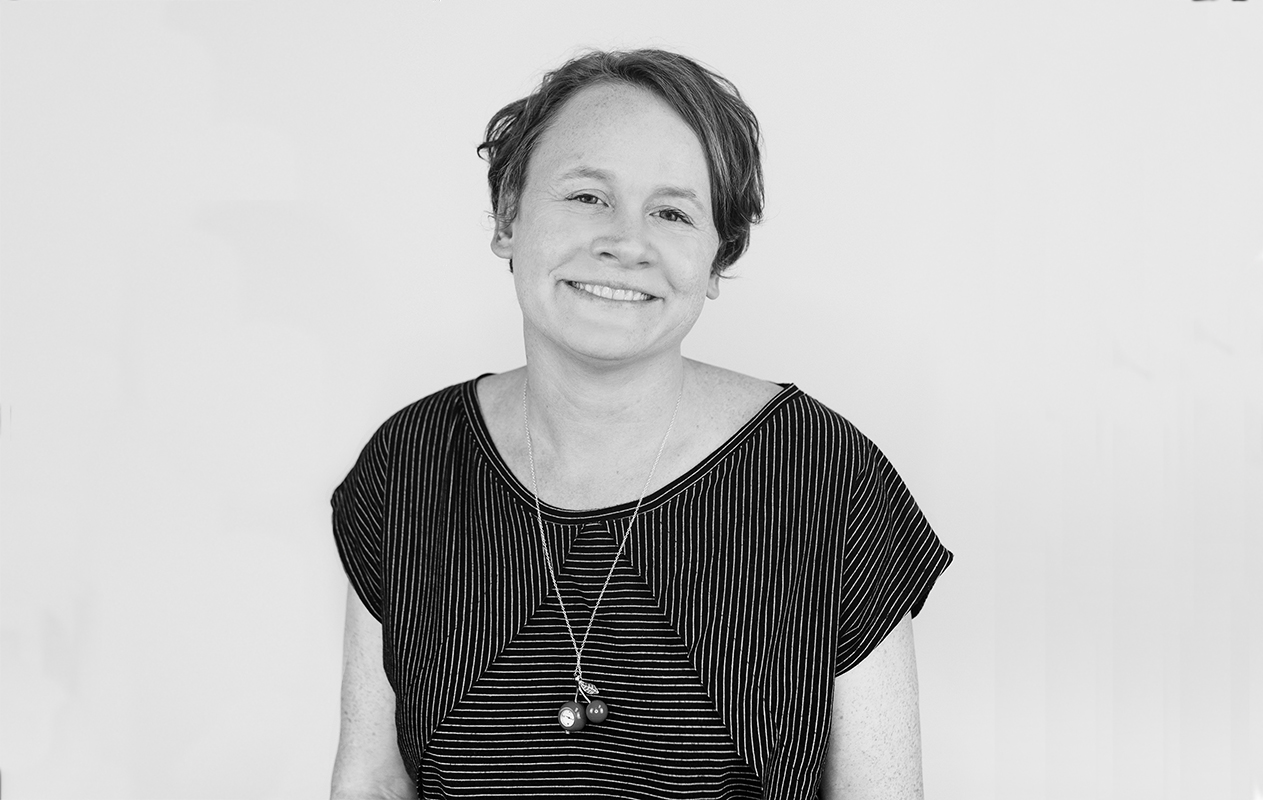 Eliza Williams is Editor at Creative Review magazine, and a writer, critic and broadcaster on advertising, design, art and music. She also hosts the Creative Review Podcast. Eliza has published two books via Laurence King, titled This Is Advertising and How 30 Great Ads Were Made, and has contributed texts to several books published by Phaidon, including The 21st Century Art Book and The Phaidon Archive of Graphic Design.
—
The Garage Soho - Sir John Hegarty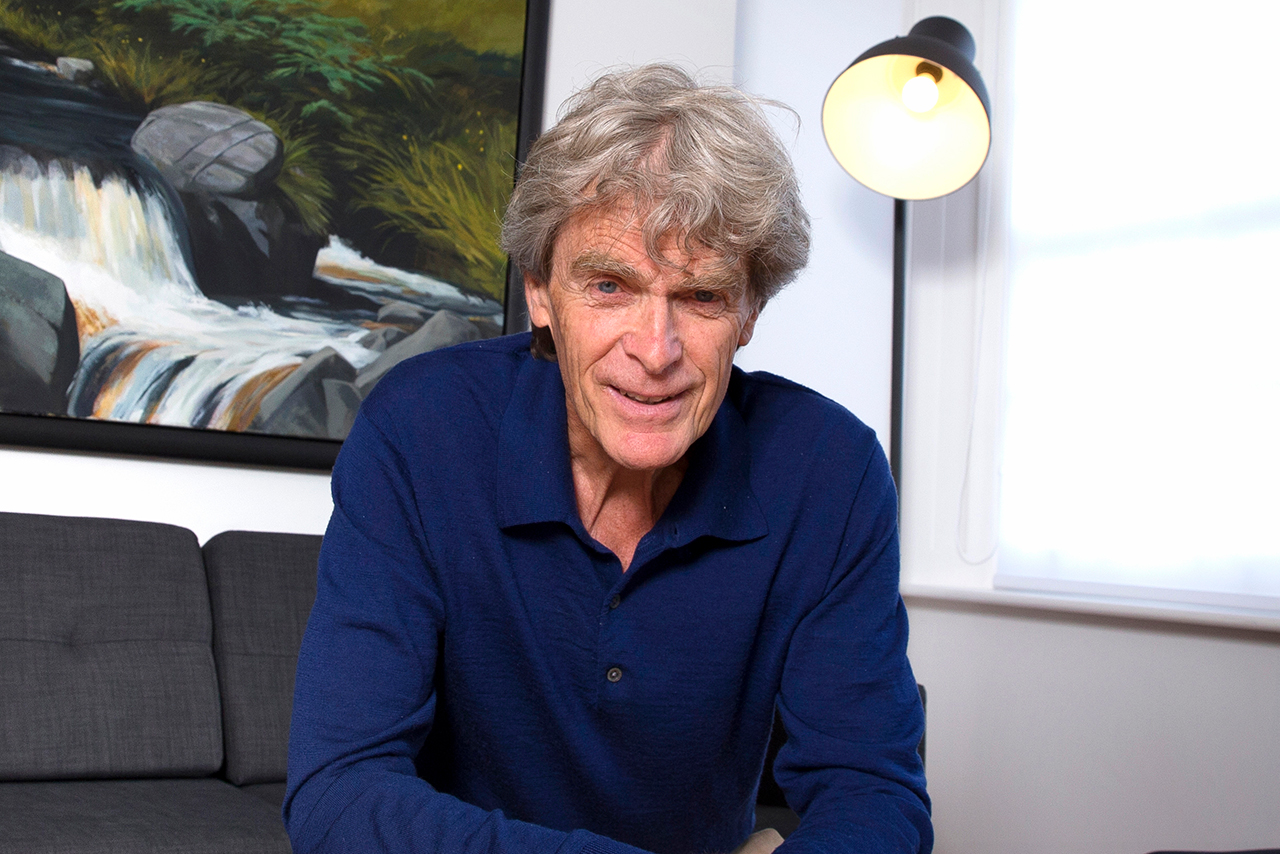 John Hegarty has been central to the global advertising scene over six decades. He was a founding partner of Saatchi and Saatchi in 1970. And then TBWA in 1973. He founded Bartle Bogle Hegarty in 1982 with John Bartle and Nigel Bogle. The agency now has offices 7 offices around the world.
He has been given the D&AD President's Award for outstanding achievement and in 2014 was admitted to the US AAF Hall of Fame. John was awarded a Knighthood by the Queen in 2007 and was the recipient of the first Lion of St Mark award at the Cannes Festival of Creativity in 2011.
In 2014 John helped set up The Garage Soho, and an early stage investor company that believes in building brands, not just businesses.
—
M&C Saatchi - Sereena Abbassi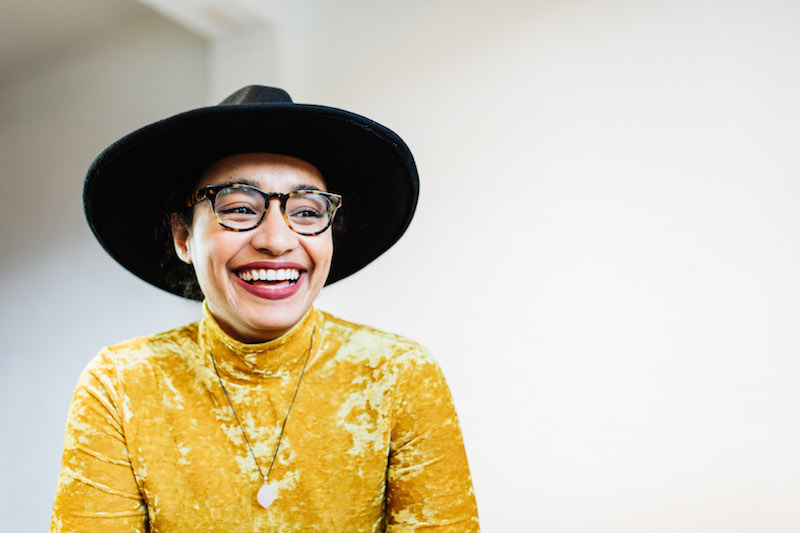 Sereena Abbassi is the Worldwide Head of Culture & Inclusion at M&C Saatchi. An Activist, Consultant, Public Speaker and former Visual, Sonic & Performance Artist. Sereena was also the Founder of All Here: a social enterprise that connected individuals, brands and agencies; supporting them to think more critically about the world and the work that they create. Sereena has worked with organisations such as Creative Equals, and she was one of the few Diversity & Inclusion experts advising the UK Advertising & Media Industry Diversity Taskforce, and she is one of two D&I experts advising the IPA's Leadership Talent Group.
—
Jaguar - Ian Callum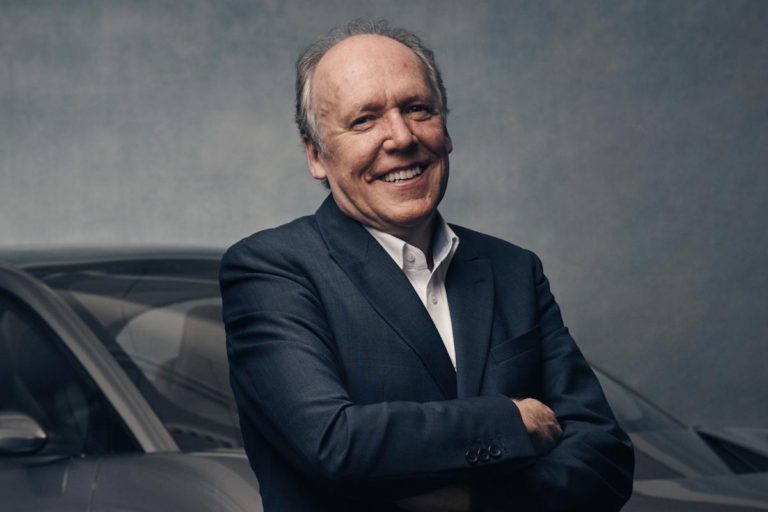 Ian Callum, RDI, Jaguar Director of Design, spent the first 12 years of his career at Ford Design Studios. Later, as Chief Designer of TWR Design, he was responsible for the Aston Martin DB7 and Vanquish.
Ian joined Jaguar in 1999 but continued to manage Aston Martin Design, developing the DB9 as well as directing Jaguar Design.
In 2005 he was awarded the title of Royal Designer for Industry from the RSA. In 2014 Ian received the Minerva Medal – the highest accolade bestowed by the Chartered Society of Designers, awarded for a lifetime's achievement in design. In 2015 Ian was named the most influential person in UK design today by The Drum.

—
Superunion - Katherina Tudball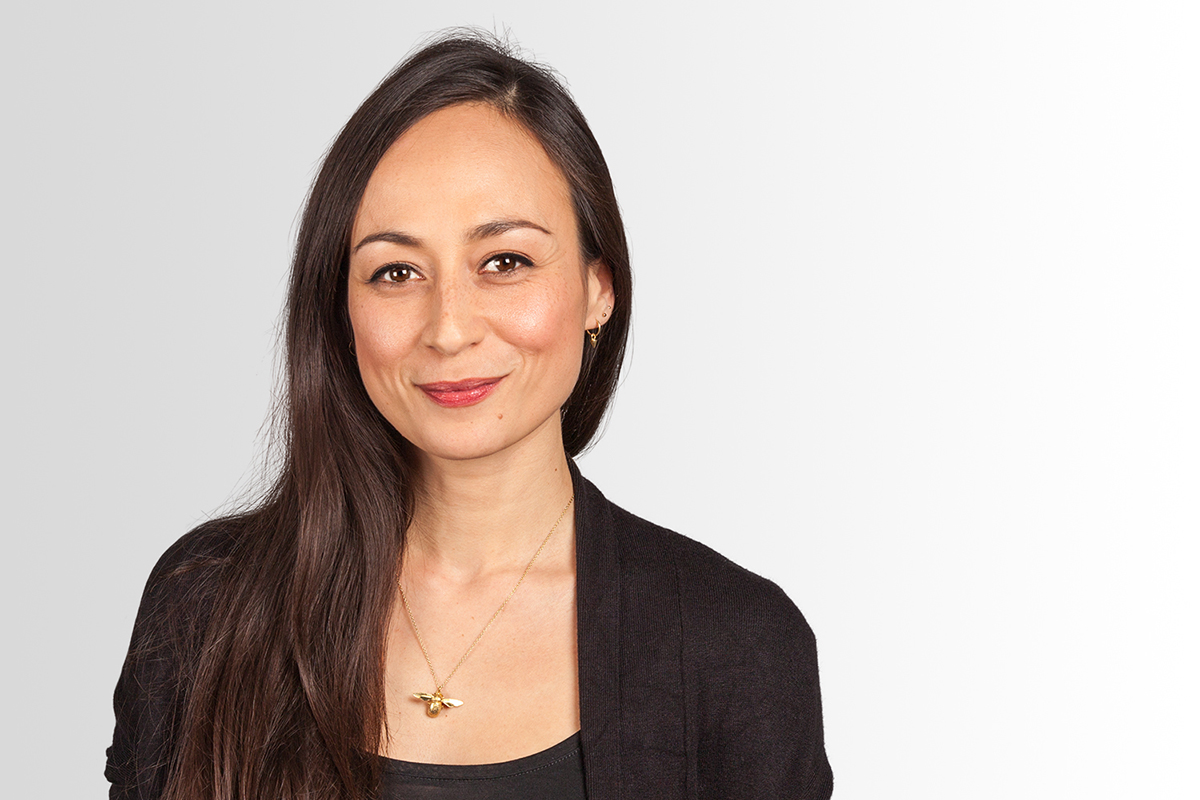 Born in Kuala Lumpur and raised in London, Katherina is a multi-award winning designer with over 15 years experience. When studying at Central Saint Martins she began collaborating with fellow graphics student Julia Woollams. After graduation, the pair were hired as a team at Johnson Banks, where Kath worked for over a decade. In 2016 she joined The Partners and now leads a team at the newly formed agency Superunion as Creative Director.
With a passion for great ideas that deliver a positive impact, Kath has worked on numerous projects in the arts, culture, education and non-profit sectors. She is a regular design awards judge and a D&AD Design Trustee.
—
UK Research & Innovation - Andrew Chitty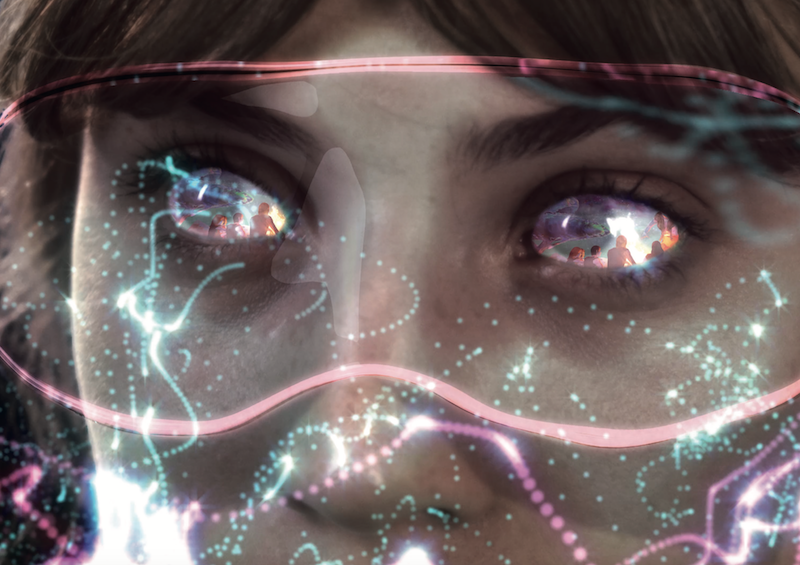 Professor Andrew Chitty leads the UK government's largest investments into the Creative Industries: the £33m Audience of the Future challenge and the £80m Creative Industries Clusters Programme. He was appointed AHRC Creative Economy Champion in 2017 to foster new and exciting partnerships between academics and the creative industry. His 30+ years experience includes television, founding a multiple BAFTA-award winning agency, ministerial advisor at OFCOM, and founding director of Creative England.
—
Innovation Lounge with UK Innovation & Research and Microsoft Surface
Open from 3:30pm, get down early for free pizza, beers, VR and typeography workshops with Fontsmith and Microsoft Surface.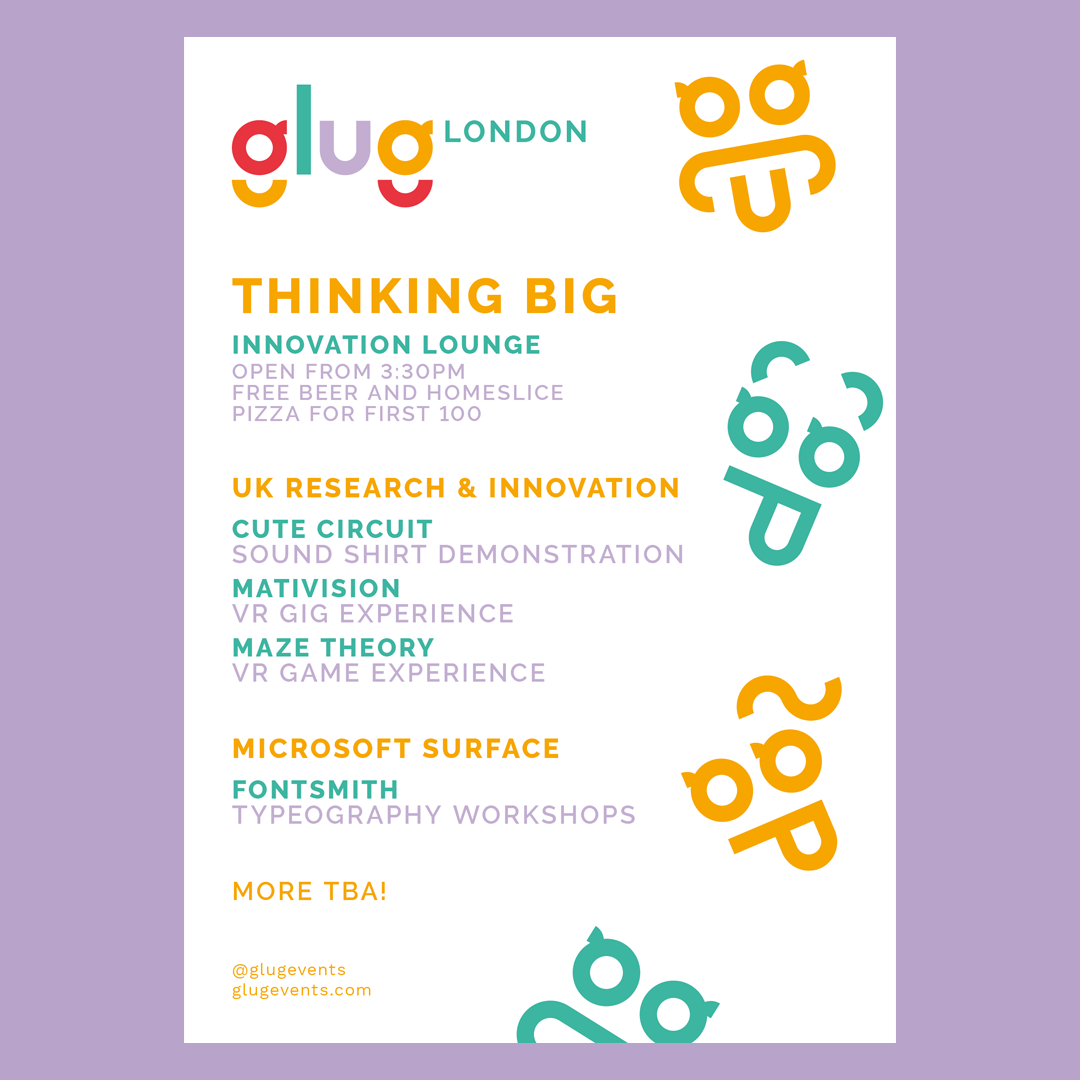 Projects featured within the lounge are funded within the Audience of the Future programme by UK Research and Innovation through the Industrial Strategy Challenge Fund.
—
Events Partners.
We want to thank our lovely partners who all help us deliver our events in London and around the world. Big up to the best people around:
Microsoft Surface — Drop in and show off your skills on Surface.

UK Research & Innovation - Big love to the team for supporting the event's live stream.




If your company wants to get involved with Glug too, get in touch with Charlotte at charlotte@glugevents.com and we'll give you more information on what opportunities we've got in store for you.
—
[Please note that a refund is only available if the event is canceled. It's OK to sell/give away tickets without notifying us in advance.]