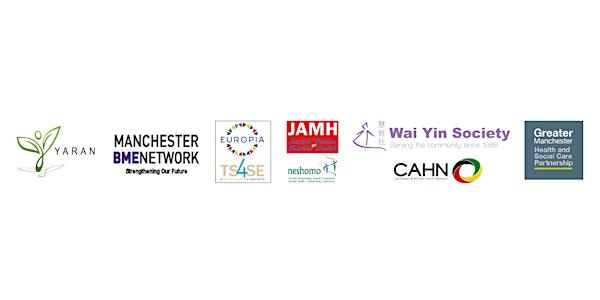 GM BAME COVID-19 Mental Health Collaboration Dissemination Event
Greater Manchester BAME COVID-19 Mental Health Collaboration Dissemination Event - showcasing the impact of collaboration during pandemic
About this event
About this event
COVID-19 has had huge implications for mental health providers and the individuals they support. Local services have seen a more significant need; a higher proportion of people are accessing services for the first time; and there are increased Mental Health presentations.
Alongside this increased demand, most services have had to move to remote provision of services in response to the various lockdowns, social-distancing and COVID-secure requirements imposed as a result of the pandemic. This remote provision brings its own challenges, not least in terms of digital exclusion. As statutory services move to online provision, digital exclusion increasingly means all exclusion from participation in civil society.
The introduction of the COVID-19 vaccine has also created new strings of mental health challenges. It has been a priority for local services to find the best approaches in reassuring people.
Since July 2020, six BAME voluntary sector mental health providers have been working together with Greater Manchester mental health commissioners to quickly restore access to services to meet mental health needs in a culturally competent manner. This includes befriending, mentoring, counselling, therapy and information sharing for specific communities (African, Caribbean, South Asian, Chinese, Jewish, Middle Eastern, some refugee communities) who have been disproportionately affected by the impact of COVID-19. The digital and blended approaches outlined have assisted with restoring and adapting services, but staff burnout and continued social distancing mean this remains a major challenge. Based on our learning and outcomes, some providers have seen an estimate of over 40% increase in demand across all our services.
Following the first dissemination event held in December 2020, the six partners, are delighted to set up another event with a focus on the following:
Hear about some Mental Health best practice that you could replicate
How to create a partnership for holistic delivery and seamless referrals
How to evidence your outcomes to prove your impact for stakeholders
Significant evidence of impact could be found in the March interim report submitted to the GM Mental Health Commissioners. Client feedback analysis shows presenting and emerging issues which will be shared together with some conclusions and recommendations.
For further information please contact info@cahn.org.uk or 07853 984563