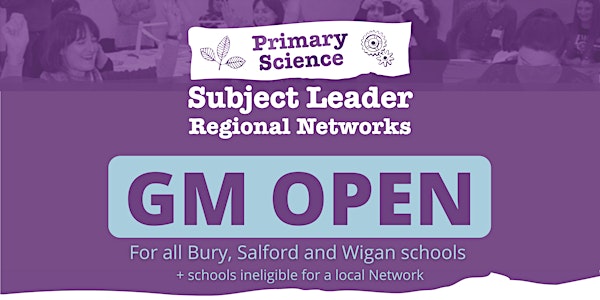 GM Open Primary Science Subject Leader Network: Summer Meeting
Location
Engineering Building B_2B.025
Booth Street East
Manchester
M13 9XH
United Kingdom
GM Open Primary Science Subject Leader Regional Network Summer Meeting: Progression in Working Scientifically
About this event
We're delighted that SEERIH's termly Primary Science Subject Leader Regional Networks will return to in-person sessions this Summer for the first time since Spring 2020!
The GM Open Network is for teachers in Greater Manchester who are not eligible for another regional network. If you're based in Bury, Salford or Wigan this is the Network for you. You may also attend if your school is not a member of your local Network in Bolton, Manchester or Rochdale.
The Summer term meeting will be on Progression in Progression in Working Scientifically. This session identifies progression within the working scientifically aspects of the primary science curriculum.
Teachers will:
develop an effective understanding of the content of the working scientifically aspect of the National Curriculum
identify the features of progression within working scientifically
notice ways in which teachers can move children forward in the development of their working scientifically skills
If you attended the Spring Network meeting, please revisit the delegate Dropbox to remind yourself of the Gap Task if you haven't already share it.
Please note that as the Summer Network meeting will take place in person, it will run for 3 hours. Please take note of the venue and ensure that you have allowed time to attend the full session. If you find that you are unable to attend, please let us know as soon as possible so that we can offer your place to another Subject Leader.
If you have any special requirements that will assist you to take part in this session, please email fascinate@manchester.ac.uk and we will do our best to accommodate your needs.