GMHSCP: Celebrating Pharmacy's contribution to Greater Manchester
Description
Target audience: Pharmacy staff in the GM area

Event type: Training and Development/ Awards evening

Host: Greater Manchester Health and Social Care Partnership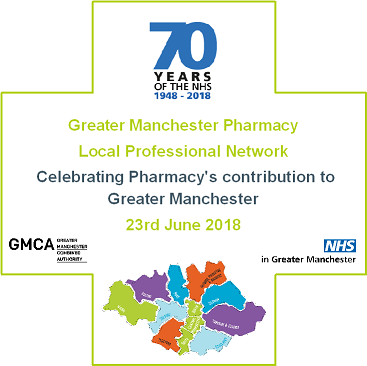 Date: Saturday 23rd June 2018 from 2pm -8:30pm

Refreshments: Refreshments and food provided (with vegan, gluten free and dairy free options)
The Greater Manchester Pharmacy Local Professional Network will be hosting an event on:
Saturday 23rd June 2018 from 2pm -8:30pm
Celebrating Pharmacy's contribution to Greater Manchester
The event will be split into an afternoon and evening session and will be a mix of networking, key note presentations, developmental workshops and awards.
The event will be opened by Pharmacy Dean, Prof. Chris Cutts. You will then be able to choose from a number of workshops, details to follow (Healthy Living, Seamless Care, dementia awareness and revalidation have been confirmed so far).
In the evening from around 6pm, in honour of the anniversary of 70 years of the NHS, Prof. Kay Marshall, Head of School of Health Science, University of Manchester will give a presentation followed by the awards in recognition of the hard work and innovation in pharmacy in the following categories:
 Best public health display

 Innovation in pharmacy services

 Dementia Friendly Pharmacy,

 Working across interfaces (eg, community/hospital/general practice)

 Service Delivery Award

 Health Champion

 Suggested Awards
If you wish to nominate anyone, mark your email Greater Manchester Pharmacy Local Professional Network Awards and send to GMTOP England.gmtop@nhs.net and request a nomination form.