GMHSCP: Celebrating Pharmacy's contribution to Greater Manchester
Description
Target audience: Pharmacy staff in the GM area

Event type: Training and Development/ Awards evening

Host: Greater Manchester Health and Social Care Partnership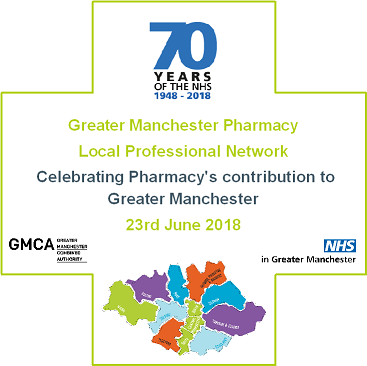 Date: Saturday 23rd June 2018 from 2pm -8:30pm

Refreshments: Refreshments and food provided (with vegan, gluten free and dairy free options)
The Greater Manchester Pharmacy Local Professional Network will be hosting an event on:
Saturday 23rd June 2018 from 2pm -8:30pm
Celebrating Pharmacy's contribution to Greater Manchester
The event will be split into an afternoon and evening session and will be a mix of networking, key note presentations, developmental workshops and awards.
Programme
14:00 Arrival & Market place - (refreshments available)
14:30 Introduction Dr Jane Brown (FRPharm) LPN Chair GMHSCP
14:40 Key Speaker: Pharmacy Dean Professor Chris Cutts
15:00 Workshops 45mins sessions Click link to book onto chosen two workshops https://www.surveymonkey.co.uk/r/KFP5W3C
Workshops:
1 Dementia awareness - Marion Coleman, Alzheimer's Society
Many pharmacy team members are already Dementia Friends. Attend this workshop to find out how you can make your whole pharmacy more dementia friendly.
Aimed at:
Pharmacy team members from all sectors
2 Effective working across the GP / community pharmacy interface - Bernadette Tang – Senior Pharmacist GP Project Lead Central – Community Medicines Optimisation Services
Fin Mc Caul –Community Pharmacist
In this workshop you will explore how to create effective working relationships to increase opportunities for optimising medicines and healthy lifestyles with patients.
Aimed at:
General practice pharmacists
Community pharmacists
3 Revalidation Royal - Pharmaceutical Society
Revalidation for pharmacy professionals is being implemented this year!
Do you know what you need to do to remain on the GPhC register? Have you thought about how you will plan your revalidation activities? The RPS can support you in your revalidation journey. This workshop will guide you through their tools and solutions that will help pharmacists and pharmacy technicians with their journey.
Aimed at:
Pharmacists and pharmacy technicians from all sectors
4 Physical Activity - Physical activity clinical champion working with Public Health England
Very brief advice on physical activity from healthcare professionals has been shown to improve clinical outcomes. This training focuses on the key evidence and demonstrates practical tips to easily integrate this into every day clinical practice. Community pharmacy teams play a pivotal role as a community and health asset in communities
Aimed at:
Community pharmacy teams
5 Applying risk management techniques in community pharmacies: Insights from the NIHR Greater Manchester Community Pharmacy Patient Safety Collaborative - Melinda Lyons, James Hind, Lauren Worrall, Edward Teggart. University of Manchester
In this workshop you will hear experiences from community pharmacists about the steps they have put in place to improve patient safety. You will also find out about evidence based patient safety techniques and develop an action plan to improve patient safety in your pharmacy.
Aimed at:
Pharmacists from all sectors
6 Improving medicines safety across interfaces NIPPS - Neighbourhood Integrated Practice Pharmacist in Salford
Attending this workshop will give you a better awareness of local projects promoting seamless care including:
• Management of high risk drugs
• SMASH project – medicines safety
• The role of the pharmacist post-discharge
• Quality improvement projects
• Three-way electronic communication between hospital, community and primary care
Aimed at:
Hospital / mental health pharmacists, community pharmacy teams, primary care pharmacists and pharmacy technicians
7 Reducing variation in prescribing engaging with the GM respiratory pathway
Shared service
Dai Roberts – Health Innovation Manchester
Attend this workshop to find out how you can better support the care of patients with COPD.
Aimed at:
Pharmacists from all sectors
8 Healthy living - Louise Gatley, Chief Officer Bolton LPC
Attend this workshop to find out how to make the most of PharmOutcomes. This will support you to provide evidence for very brief interventions delivered through community pharmacies.
Aimed at:
Community pharmacy teams
9 Improving access to pharmacy services for lesbian, gay, bisexual and trans (LGBT) communities in Greater Manchester -Laurence Webb – Pride in Practice Manager LGBT Foundation
Participants will:
• Increase understanding of health inequalities experienced by LGBT communities in GM
• Be more knowledgeable about conditions that disproportionately affect this population group
• Understand and be able to use LGBT-affirmative language and terminology
• Feel more confident to discuss sexual orientation and trans status with patients when relevant.
Aimed at:
Pharmacy teams from all sectors
17:00
Buffet and Networking opportunity
18:20
Awards evening opened by Professor Kay Marshall , Head of School of Health Sciences, University of Manchester
Celebrating 70 years of pharmacy in the NHS
Categories:
Best public health display

Innovation in pharmacy services

Dementia Friendly Pharmacy,

Working across interfaces (

eg.

community/hospital/general practice)

Service Delivery Award

Health Champion

Suggested Awards
20:30
Close
If you wish to nominate anyone, mark your email Greater Manchester Pharmacy Local Professional Network Awards and send to GMTOP England.gmtop@nhs.net and request a nomination form or copy and paste the link below:
https://www.surveymonkey.co.uk/r/JSHH6QN