Description
"Goal Digger"
A goal digger is a focused and ambitious person
who is interested in chasing their goals. A Goal digger understands
the importance of surrounding themselves with other driven and
successful people in order to learn and grow together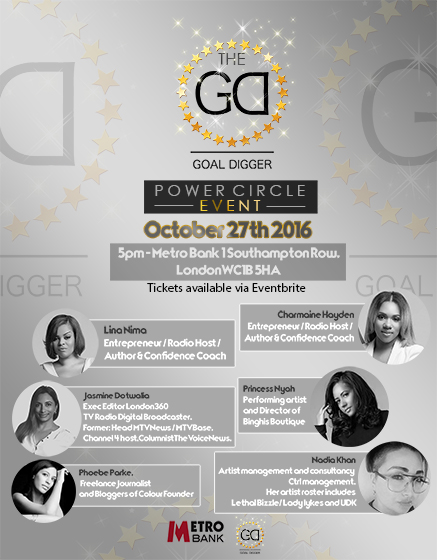 So what is so special about this Goal Digger Power circle?
We hold Conferences, Power meetings, inspiration breaks & dinners . We applaud one anothers achievements, and successes with strength, courage
and fortitude.
brings together inspiring female entrepreneurs under one roof. These women are both on our platform as speakers and in our audience. Women who have fought the odds to be in business.
The purpose of this event is to inspire and motivate whilst promoting Goal digging, Growth and happiness, and beleive that every woman has a story, a lesson,
Our speakers
Jasmine Dotiwalia (Media Maven)
Jane Gorley (Founder of Style.com)

Nadia Powell (Ctrl Management Lethal Bizzle, Lady Lykes, UDK)

Princess Nyah - Singer/ Songwriter, CEO of Binghis Boutique

Phoebe Parke - Creator of Bloggers Of Colour, Freelance Journalist, blogger and presenter
Lina and Chams - Entrepreneurs, Confidence Coaches, Radio hosts and Directors of F4M models
We don't hide our flaws or failures; we say it as it is while sharing our successes too!
Our speakers are awesome, authentic and honest. Sharing their true stories of success, challenges and encounters along the way to our audience of Goal Diggers who strive to succeed in life, work and love. They have powerful stories that will make you feel happy, some may make you cry but all will leave you feeling inspired and motivated to move closer to your goals

We would love for you to be a part of our growing Goal Digger power circle of authentic people who are filled with love and hope.
Invite your family, friends, tell your uni friends, work mates and every woman with an goal digger spirit that this is the event to be at.