Goal-Reaching Workshop with Cezanne
Description
At the first workshop on January 5th, we wrote down our goals and a Statement of Intention for what we wanted to achieve in 2014. In the handouts provided, I also gave some Positive Affirmations to use on a daily basis to help you achieve your goals. I suggested doing your 'mirror work' daily, and to create a Vision Board (this is where you find images of the things you would like to attract, stick them on a large sheet of paper, and put it in a place where you can focus on it every day).
If you missed the first workshop but would like to join us at the next one, the handout will be emailed to you when you register.
At the next workshop we will be looking at the progress we have made so far; what POSITIVE ACTIONS have you taken towards your goals? MY goal this year is to sell 1,000,000 copies of my books, and to help others reach their goals too (including my youngest son who will become a published author this year for his 10th birthday!). I have attracted not one, but TWO PR agents who are helping me organise my Book Tour in England and America (funnily enough, I got the first call from one of them in the middle of the workshop!) In March I'll be in London and New York! This will also include radio, magazine and television interviews.
I am here to help you achieve YOUR goals too!
Join us at the next workshop on Sunday 9th February at the Mella Center, 73 Oxford Street W1, where we will be revisiting our intentions, looking at the progress we've made since the beginning of the year, and identifying any blocks that may be holding us back. We are all here to support each other, so if you would like to work towards your goals in a group setting, join us!
See you there :-)

To read my review of the first workshop visit http://cezannepoetess.com/2014/01/07/happy-new-you-workshop-review/
Cezanne (Artist/Poet/Author/Blogger)
Organiser of Goal-Reaching Workshop with Cezanne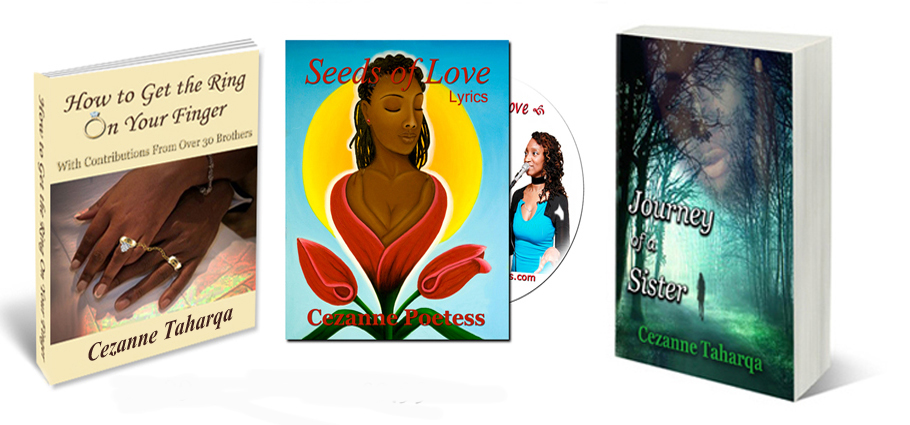 Cezanne is an Award-winning Visual & Spoken Word Artist, Blogger, and Author of the Self-help romance novel 'Journey of a Sister' and its sister-book 'How to Get the Ring On Your Finger'.  In 2014,Cezanne won the title 'International Artist of the Year' in the Spokenword Billboard Awards (USA) for her first collection 'Seeds of Love'  (all 13 poems feature in her novel), which comes with a Book of Lyrics.
Cezanne is an Inspirational Thought Leader in her fields of Poetry, Art & Literature; she uses her poetry and art to illustrate her books, which are creative expressions of her own spiritual journey and personal development.  Her motto is "As I heal my Self, I heal others."
Cezanne hosts Books Signing & Discussion Events where the topics raised in her Self-help books are discussed openly.  She is also organizer of the Kings & Queens Book Tour, taking place 1-8 October 2017 - she will be hosting and also performing at some of the events!
To read Cezanne's weekly blog posts visit www.journeyofasister.com
 Cezanne is pronounced Sh-e (as in elephant)-z-ann