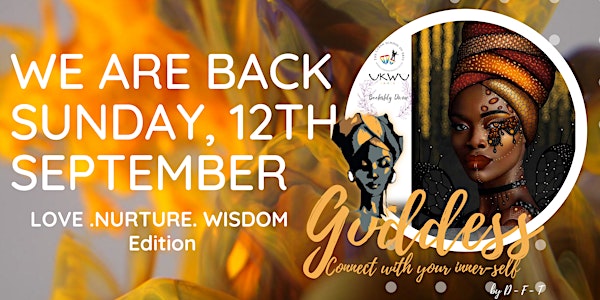 GODDESS ! All-Dayer Dance & Holistic event. Connect with your inner-self
This September 2021, Let's connect and go beyond Dance in this All-Dayer glorious day of Dance and Wellbeing event dedicated to all women!
About this event
GODDESS !! - Connect with your Inner-self
LOVE ⭐ NURTURE ⭐ WISDOM Edition
Created and organised by Damarys Farres in collaboration with INTERNATIONAL DANCE Teachers and QUALIFIED Meditation, Breathing, Crystal ,& Mindfulness practitioners
​This September 2021, Let's go beyond DANCE and connect, channel, explore and celebrate the fascinating world of Goddess energy, during this All-Dayer glorious day experience of Dance and Wellbeing, dedicated to ALL WOMEN:
GODDESS - Much more than just learning different styles or dance steps! - An All-Dayer Glorious Day of enjoyable, fun, relaxing, holistic, dance, wellbeing workshops , self awareness and CULTURE!
When: Sunday 12th of September
From : 10.30-19:00
Where: Dance Studio in London & Online
How to Book : 👉🏽 Simple 🌻 :
You can join as in-person or Online
Check our package deals
Remember prices increase on the 9th of each month
A- Full Day
B -Half Day - Morning
C- Half Day - Afternoon
All info on our facebook event and website
👉🏽 Further info check: https://www.cubanschool.co.uk/goddess-september-2021.html
👉🏽 Contact us: https://www.cubanschool.co.uk/contact.html
👉🏽GODDESS facebook group : https://www.facebook.com/groups/goddessconnectwithyourinnerself
👉🏽GODDESS Instagram page: https://www.instagram.com/goddesscommunitylondon/
Let's GODDESS this September
D'GODDESS team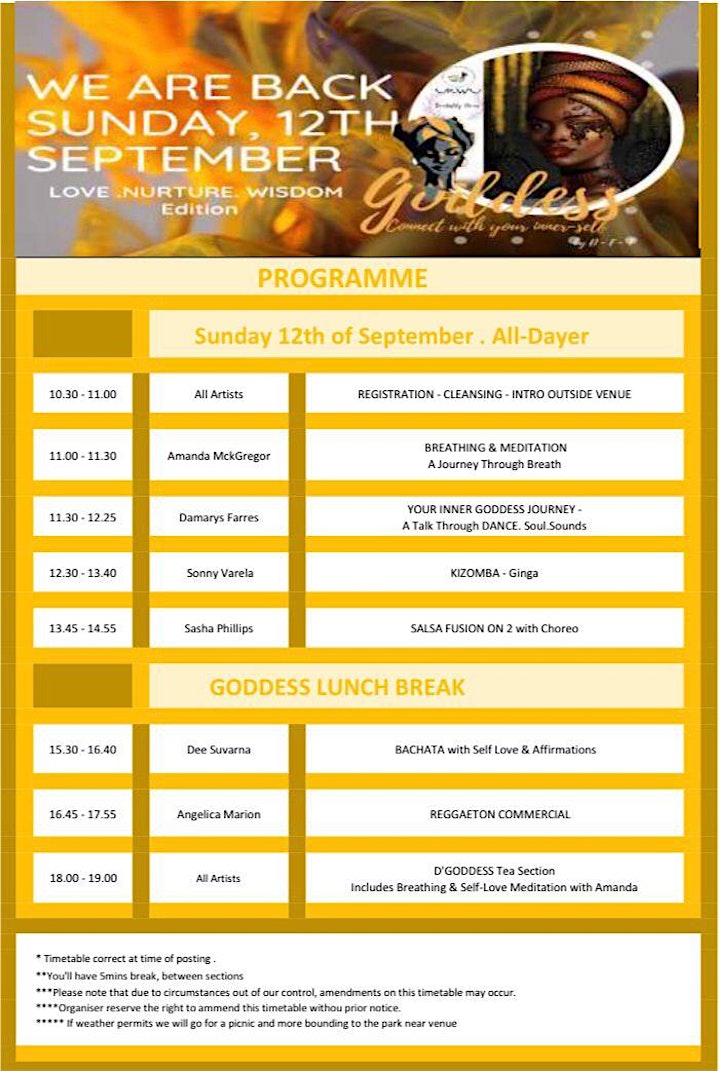 Date and time
Location
Refund policy