Event Information
Refund Policy
Refunds up to 7 days before event
A Yoni steaming workshop calling on the lessons & strength of Goddess Auset & the Mary Magdalene rose lineage: inner strength and wisdom
About this Event
Dearest Queens,
I'd like to invite you to a Yoni steaming workshop and sister circle, but with a difference. This is a Yoni steaming workshop calling on the lessons & strength of Goddess Auset and her rose lineage: inner wisdom and strength
Intrigued...? Carry on reading!
So first of all, let's talk Yoni steaming. This isn't a fad or an extravagant spa treatment. It's a time-tested healing experience that helps you to relax and get back to yourself. It's a chance for women to rediscover the balance within and give our wombs the love and care that befits the beautiful, sacred source of our femininity.
Yoni steaming is also about giving women the chance to take back control of our personal health. By using carefully selected botanical infusions, we can use the gifts of the earth to support and nourish our wombs.
Psst...you can purchase your very own Yoni steam seat from Mama Luna in time for this workshop
Now, Goddess Auset....and why! Auset aka Isis is a Kemetic (Ancient Egyptian) Goddess/deity and the original Virgin Mother ! When we hear of the Virgin Mary, it's actually Auset we're hearing about - there have been numerous tales of powerful, spiritual men being born from virgin mothers in the history of religion, spirituality and folklore. Auset is where it begins.
This Goddess had temples dedicated to her and at the height of her worship, there was also a 'mystery school' where priestesses and priests would go to learn more about Immanence: inner wisdom and strength. They would also learn about the power of sexual energy and use it as a spiritual conduit between the Divine and people. Auset knew that as a woman, she has the power to create and that our Yoni's are the very seat of creativity, humankind and the gateway between the spiritual and physical world.
Priestesses would often perform sacred sex rituals with men who wanted to receive or give a message to the Divine; this was a highly respected trade before Judaism came about. Many women (and men alike) would learn this art and a very famous figure was one of them: Mary Magdalene! Her message - or her gospel which was taken out of the Bible and other holy texts - focused on inner work in comparison to Jesus' which was about the outer work: Transcendence.
So how can we learn from this now? I'll speak more about this in person when we meet in this workshop, but for now the message is: there's strength in the feminine and guiding/using your energy in a way that favours YOU! In a world that still favours masculine qualities such a aggression, violence, outspoken-ness, etc, softness and finding your flow are seen as weaknesses. They're classed as feminine, therefore making the feminine weak.
Until recently that is! Again, I'll go into more detail when we meet but for now, I felt the strength of the soft feminine when a f**k boy was trying to hit me up in my inbox. He wanted a booty call but didn't wanna put in any effort. I could have gotten really angry and sent a really long message with !!!!!!! but chose not to. It simply wouldn't have been worth it - men like that don't care. I very clearly made it clear that I don't want that type of interaction and what he would need to do. And my head didn't even leave my pillow - not worth my energy. And it felt great!
Want to learn more and be gently guided as you take the steps towards finding your own inner strength...?
In this workshop, this sister circle of safety and a judgement-free, we'll:
learn about Yoni steaming
learn the basics of our body systems
have an embodiment session
learn about herbs and their properties - herbs will be provided for you. Please send your address once purchasing your ticket so I can send them to you on time
openly talk about and share our ideas on our soft, feminine flow and the strength within it
and do the sacred Yoni steam
Another element that I'm excited to add to this workshop: plant alchemy! I've been developing a deeper relationship with herbs and Hathor, asking them for guidance. And I'll be sharing the wisdom of them both with you - I can't wait!
Please check the FAQs or get in touch, plus please let me know if you have any injuries or mobility issues in regard to the embodiment session.
You also have the opportunity to buy your very own Yoni steam seat, or 'throne' as I like to call it! Check out the Mama Luna shop here to see what thrones are available; the cut off date for ordering is one week before the workshop.
THERE ARE PAYMENT OPTIONS: Due to the economic situation we're in, I want as many women to be able to afford to join this workshop. So choose whichever ticket price you can afford - you'll get access to the full workshop with all of them.
I'm looking forward to reclaiming our peace and thrones together, Queen x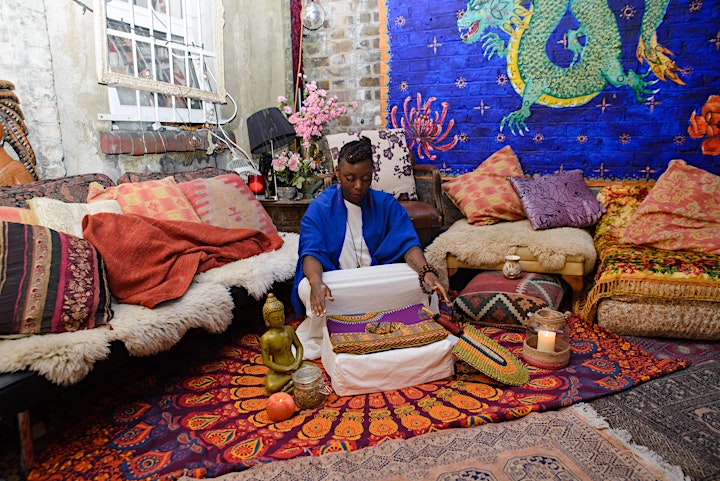 Date and Time
Location
Refund Policy
Refunds up to 7 days before event