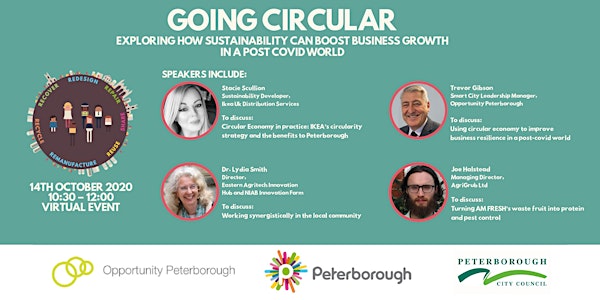 Going circular – how sustainability can boost business growth after COVID19
Find out how businesses are using sustainability to save money. improve productivity and increase outputs.
About this event
This webinar aims to support Small and Medium Enterprises (SMEs) in Peterborough and Cambridgeshire to become efficient, self-sustaining and profitable through integration of environmental sustainability.
We will discuss how the Circular Economy model could support you in developing a more stable, resilient and viable business, how it can aid business recovery after disruption to their operations, and help organisations adapt to working in a post-Covid world.
The model aims to merge business activities with environmental sustainability practices, creating a positive symbiotic relationship between the environment and industry. The circular economy helps businesses :
make their resources last longer
reduce reliance, and use of, raw materials
recover, repurpose and reuse materials, so less intensive manufacturing is needed and there are fewer costs for resources
strengthen local supply chains
find new uses for waste streams, which in itself is creating whole new commercial opportunities
reduce their carbon footprint
We will hear from local Circular Economy practitioners about how the model works in practice, and the benefits that adopting circular principles could have in your businesses. SMEs will have the opportunity to discuss the barriers and opportunities of implementing Circular Economy principles into local business activities:
Start-up, Agri-Grub, which is turning AM FRESH's waste fruit into protein and pest control
IKEA is reusing, repurposing, and recovering materials.
the National Institute of Agricultural Botany will also discuss how plant resources could provide renewable materials to businesses across all sectors to reduce the use of plastic and non-biodegradable materials.
This event is being run by the Circular Peterborough team at Opportunity Peterborough which runs the city's circular economy programme in partnership with Peterborough City Council. We want to use this workshop to support local SMEs that want to adopt circular economy principles, whether they're new to the concept, already planning to make changes, or are looking for extra inspiration on their circular journey.
You'll come away with practical considerations to apply in your business, and resources that can help you identify further opportunities to make financial savings, improve efficiency, and protect the environment
Agenda
An introduction to Circular Economy and Circular Peterborough – the 7Rs that could help you develop your circular economy
Using circular economy to improve business resilience in a post-covid world. Trevor Gibson, Circular Economy Project Lead, Opportunity Peterborough
How plant resources can help us develop an environmentally friendly and resource efficient economy. Dr. Lydia Smith, National Institute of Agriculture Botany (NIAB)
Circular Economy in action: IKEA's circular transition and the benefits. IKEA - Stacie Scullion – IKEA UK distribution manager
The circular business case for small companies. Joe Halstead, founder, Agri-Grub
Workshop - breakout group activity: Identifying barriers and opportunities to integrating circular economy concepts in your businesses and supply chains.
For any queries, please email: info@opportunitypeterborough.co.uk