Going Deeper: Engaging Spirituality for Contemporary Life
Description
A day conference to sustain the rhythms of Christian life today
Sat 21 Oct 2017 10am-4pm
Southwark Cathedral

Join us at Southwark Cathedral for a day conference to explore the rhythm of life and resources for prayer that sustain Christian discipleship and spirituality. The diocesan spirituality day is for all those interested in deepening their relationship with God and capacity to serve him in the world. Join together with hundreds of fellow Christians to explore what makes for a vibrant and resilient faith in todays world. The day features engaging keynote speakers, a variety of practical workshops, an exhibition of resources to foster personal & corporate spirituality and 'pop up' prayer and worship throughout the day.
Keynote speaker:
The Revd Dr Andrew Walker is Andrew is a parish priest, a psychosynthesis trained supervisor, director of the London based Ignatian Spirituality Programme and author of Journey into Joy (SPCK) and On Retreat (Bloomsbury).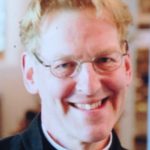 Workshops include:
• Christian Discernment: Andrew Walker
• Hospitality & Spirituality: Bishop Karowei Dorgu
• Prayer & Song: Paul Roberts
• Spirituality for Extroverts: Ruth Adams
• Using labyrinths: Barbara Wallace
• Spirituality & Family Life: Tiff Ewins
• Blessed in Borough & Bankside (Prayer Walk)
• Silent Meditation: Ian Mobsby
• Contemplation & activism: Gareth Powell
• Forming a Rhythm of Life: Chris Palmer
• Embracing Diversity (Spirituality & art): Bonnie Clarke
Plus stalls with spirituality books, resources and organisations
For full details of workshops please download the timetable for the day. To reserve your place on a workshop please email your choice to Caroline.Wakelam-Jones@southwark.anglican.org after purchasing your ticket for the day.
Cost: £8 for individual ticket or £5 per person booking in groups of 5 or more.
Book your tickets now and confirm workshop choices in September 2017. Cost: Online bookings in advance are £8 for individual ticket or £5 per person booking in groups of 5 or more. Online booking fees apply. Payment online or by cheque. Payment by invoice avaible for group bookings. On-the-door, on-the-day tickets are £10 per person. For further details or help booking email caroline.wakelam-jones@southwark.anglican.org.

The day will begin with refreshments, but for lunch you will have to either bring your own or sample the delights of Borough Market or the Cathedral Refectory !
Visit southwark.anglican.org/deepeningdiscipleship for details on all events in the Diocese of Southwark Deepening Discipleship programme