Gold: Barbarous Relic, Pet Rock or Ultimate Money? A MiningMaven Investor Evening

Tuesday, 23 February 2016 from 18:00 to 21:00 (GMT)
Event Details

GoldMoney
Metal Tiger PLC
INVESTOR EVENING
Tuesday 23rd February 2016
Places STRICTLY Limited. Register NOW to avoid disapointment 



Gold: Barbarous Relic, Pet Rock or Ultimate Money?



 FREE to Attend*
Venue: The Counting House, 50 Cornhill, London EC3V 3PD
Evening timings:
18:00 - 18:30 Registration and Drinks
18:30 - 20:30 Presentations, from John Butler, Paul Johnson (more to be announces)
20:30 - 21:30 Drinks, Buffet Dinner + Networking
Gold and precious metals investment opportunities will be the central focus of our forthcoming Investor Evening in London on Tuesday 23rd February, as we consider the prospects for the precious metals in 2016.
The world now sits beneath a mountain of debt worth an astonishing $200 trillion. That's getting on for three times global GDP, which is currently $75 trillion. If this amount were distributed equally between every man, woman and child on the face of the earth, each would owe around $28,000!
More surprising is that if gold—at its June 2015 price level—backed total global debt 100 percent, it would be valued at $33,900 per ounce. The fundamentals for gold have never been better and as we head into 2016, investors are now looking for the best undervalued investment opportunities ahead of the long awaited recovery in the gold price. 
This MiningMaven Gold focused investor evening is a not to be missed event, with guest expert speaker John Butler VP and Head of Wealth Services at GoldMoney and long time resource investor Paul Johnson, Executive Director at Metal Tiger PLC. Further speakers will be announced.
FREE TO ATTEND FOR INVESTORS*
Advance registration is essential as places are strictly limited on a first come first served basis. To reserve your place register now. This premium event is suitable for investors who wish to learn more about gold and gold related investment opportunities. 
The Speakers
John Butler, GoldMoney : Why the gold bull market will resume in 2016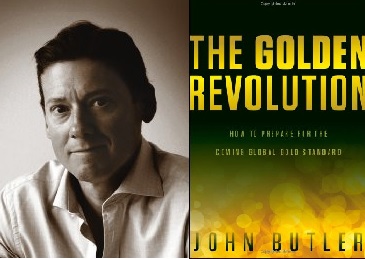 John is VP and Head of Wealth Services at GoldMoney  and has worked as a global investment strategist for more than 20 years, during which time he  has advised many of the world's largest institutional investors, sovereign wealth funds and central banks. He has served as a Managing Director at Deutsche Bank, Lehman Brothers and Dresdner Bank, in charge of global teams responsible for interest rate, currency and commodity strategy, and has been ranked #1 for interest rate strategy by Institutional Investor Magazine.
John is on the record having predicted many of the most important global macroeconomic and financial trends over the past decade, including a prolonged period of low interest rates and bond yields; a secular bull market in gold; and a US-centric housing and credit bubble that would eventually burst, leading to the largest financial crisis for over a generation.
John Butler's publications include his popular Amphora Report investment newsletter and The Golden Revolution (John Wiley and Sons, 2012), a book explaining the causes and consequences of the 2008 global financial crisis and exploring the financial market implications of global monetary regime change. His research has been cited by numerous publications including the Wall Street Journal, Financial Times, Nikkei Shinbum, Frankfurter Allgemeine Zeitung, Boersenzeitung, Handelsblatt, Neue Zuercher Zeitung, Milano Finanza and De Telegraaf. John is a regular presenter at investment conferences in Europe and around the world.
Paul Johnson, Metal Tiger PLC: A Portfolio primed for the sector recovery? 
Paul is CEO of AIM listed Metal Tiger PLC (LON:MTR) a natural resource investing and operating company with a strong focus on gold, precious and strategic metals. The company is focused on identifying undervalued opportunities at the bottom of the current natural resources sector cycle and has an aggresive pathway for development. 
Though the company has only been listed since 2014 it has very quickly established a formidable reputation as a sharp deal maker and has already delivered a very respectable £500k profit for the company through its Direct Investment's division. These profits have now been strategically deployed towards funding the development of the company's Direct Projects activities in Thailand, Botswana and Spain; These projects were strategically selected by Metal Tiger's award winning geologist Chairman, Terry Grammer.
Warren Buffet once famously quipped "Be fearful when others are greedy and greedy when others are fearful" and this quote could easily be applied to Metal Tiger's aggresive strategy for growth and delivering shareholder returns. The shares ended 2015 over 80% up on the year; not too shabby a performance considering the prevailing market conditions. Metal Tiger has huge ambitions and a team with an impressive proven track record of identifying undervalued investment opportunities. Register now for this event to hear the story straight from the  horses mouth! 
Metal Tiger's shares are currently trading at around 0.8p valuing the company at circa £3m. On 14th January Dowgate Capital initiated coverage on the Company with a BUY rating and price target of 2.3p
Further Companies to be announced

Do you have questions about Gold: Barbarous Relic, Pet Rock or Ultimate Money? A MiningMaven Investor Evening?
Contact UK Investor Forums
When & Where

The Counting House
50 Cornhill
City of London,
EC3V 3PD
United Kingdom


Tuesday, 23 February 2016 from 18:00 to 21:00 (GMT)
Add to my calendar
Organiser
Just a few of the many exciting investment ideas we will be showcasing:
Small Cap  opportunities (AiM, NEX, TSX & ASX)

Bitcoin + Blockchain Technologies

3D Printing  + Internet of Things (IoT)

Technology Metals (Lithium, Graphite etc)

Recycling, Green + Clean-Tech Solutions

Fine Wines + Classic Cars

Food Technology, Farming & Forestry

Collectables, Antiques & Fine Art
To be notified of forthcoming UK Investor Forums events in your area, register now www.ukinvestorforums.com.
Rest assured your details will be kept securely and you will not be bombarded with emails from us or any third parties.
Disclaimer: UK Investor Forums (UKIF) is a trading division of Catalyst Information Services Limited. Registered in England no. 06537074 (Registered Office Address 3rd Floor Ivy Mill, Crown Street, Failsworth, Manchester, M35 9BG).
UK Investor Forums organises and facilitates events and seminars across the UK for Sophisticated Investors and those wishing to manage their own financial affairs, to hear from sector and industry experts, meet with companies, learn more about a wide range of investment ideas and opportunities and network with like-minded people.
UKIF does not give investment advice or act as an advisor or promoter for any individual person, company or investment class. Individuals are always advised to carry out their own extensive research with regard to any investment and or consult with their advisors should they deem it appropriate. In the case of investments listed on stock markets, any information provided does not constitute any form of advice or recommendation and is not intended to be relied upon for making (or refraining to make) any specific investment or other decisions.
Should individuals wish to enter into direct relationship with any company or individual presenting they do so of their own accord and UKIF will not have any responsibility or liability in this respect.