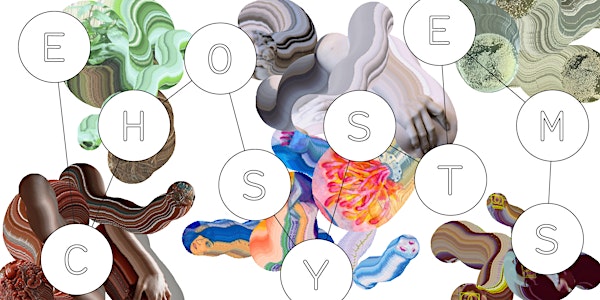 Goldsmiths MA/MFA Computational Arts Exhibition Saturday Schedule
Event Information
Location
Goldsmiths, University of London
St James Hatcham Building
London
SE14 6AD
United Kingdom
Description
Echosystems is the final degree show for the MA/MFA Computational Arts programme at Goldsmiths, University of London.

The exhibition features ground-breaking immersive performances, interactive installations, virtual and augmented realities, and thought-provoking conceptual works by mixed disciplinary artists from fields as diverse as physics, dance, fine art, sound art, photography, biology, graphic design and puppetry.

Echosystems explores themes including digital ecologies, speculative futures, storytelling, embodiment and computational explorations of physical space, nurturing new ways of understanding human and machine agency, reimagining human-computer interaction.

Afternoon performances from 2.15 – 4.00
Laurie Carter: 2.15 – 2.30
Benjamin Sammon: 2.30 – 2.45
Annie Tådne: 2.45 – 3.00
Chris Speed: 3.00 – 3.15
30 min break: 3.15 – 3.45
Friendred: 3.45 – 4.00
Themed tour of the show 4.15 – 4.45
Speculative approaches to the non-human
This tour will take you through the work of artists in the show who are using speculative methods to engage with non-human agency, whether that be of AI, algorithms or plants.
At the dawn of a new era in Artificial Intelligence discovery, some of these artists engage with the possibility of robotic and computational agency, relying in part on Affect Theory. Others engage with questions of environmental crises which are becoming ever more pressing, they revisit and reshape the notions of ecosystems, natural phenomena, and the role of the human in reconfigured ecologies.
Inspired by Donna Harraway's method of imagining alternatives, feminist technoscience, and other theorists calling for a return to speculative philosophy and utopianism, they dive into the otherness of envisioned universes, and what these acts of creation mean for, and do to, our very own world.
Panel Conversation with FLUX 5:00 – 6:00PM in G05
We are very excited to invite you to a conversation between the FLUX artists' collective and a selection of artists from this years MA/MFA Computational Arts cohort. Focusing on the media used and current themes emerging in Computational Arts Practice at Goldsmiths; the event will open up the genre to the public, giving a unique insight into the world of Computational Arts. Beginning with a short introduction about FLUX by founders Aphra Shemza and Oliver Gingrich the event will lead into a panel discussion between FLUX and the students focusing on their work and practice.
Student Speakers:
Eevi Rutanen eevirutanen.com
Luke Demarest demare.st
Laura Dekker lauradekker.io
Rebecca Aston rebeccaaston.com
The panel will run from 17:00 – 18:00 on Saturday 8th September in room G05 of the St James Hatcham building.
Themed tour of the show 6.15 – 6.45
Materials and Mechanics
Turning one ubiquitous slogan of our time, 'everything is data', on its head, one can state: data is, data can be, everything. Numbers arranged in one way form an image. Those same numbers, rearranged, can be music. A flickering light stream plays a tune; points in space write a poem; minimal automata rules command abstract chatterings of starlings or virtual shoals of fish.
Join us on this tour where you can learn about the processes of artists in the show: demystify code, ask about algorithms, think about data and get geeky!
Evening performance 7.00 – 8.45
Laurie Carter: 7.00 – 7.15
Benjamin Sammon: 7.15 – 7.30
Annie Tådne: 7.30 – 7.45
Chris Speed: 7.45 – 8.00
30 min break: 8.00 – 8.30
Friendred: 8.30 – 8.45
Date and time
Location
Goldsmiths, University of London
St James Hatcham Building
London
SE14 6AD
United Kingdom