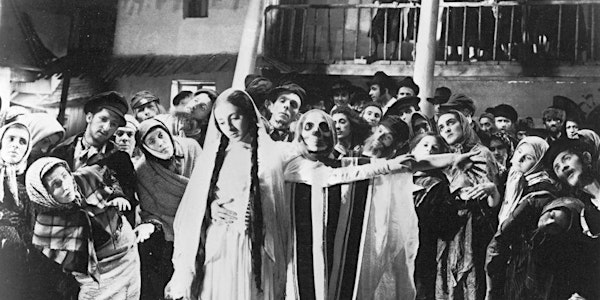 Golems, Dybbuks & other Movie Monsters: The Search for a Jewish Horror Film
Event Information
Location
The Swedenborg Society
20-21 Bloomsbury Way
London
WC1A 2TH
United Kingdom
Refund policy
Refunds up to 1 day before event
Eventbrite's fee is nonrefundable.
Description
Golems, Dybbuks and other Movie Monsters: The Search for a Jewish Horror Film

This class is divided into two parts. In the first part, Mikel Koven illustrates the representation of Jews and Jewish characters. Mainstream horror cinema has been known to draw upon Jews and Jewish belief traditions as a kind of domesticated exotica. Jews are cast as either wise scholars of arcane magic, or as voices for cynical positivism, proponents of scientific rationalism in opposition to Christian metaphysics and mysticism. In many cases, the cosmology shown in these films is much less Jewish, and more likely to be Christian beliefs performing a kind of Jewish drag show.
The second part of the session explores Jewish folklore and looks to legends about Golems and Dybbuks as sources for cinematic horror. Ultimately, this class is designed to explore the relationship between cultural identity and horror cinema. Specifically, Koven discusses the extent to which these films avail themselves to Jewish lore and also maintain the cultural contexts which first developed these narratives. In other words, just how Jewish are these Jewish horror movies?
Films discussed:

An American Werewolf in London (John Landis, 1981)
The Dybbuk (Michal Waszynski, 1937)
The Exorcist (William Friedkin, 1973)
Exorcist III: Legion (William Peter Blatty, 1990)
Fearless Vampire Killers, or Pardon Me, but Your Teeth Are in my Neck (Roman Polanski, 1967)
The Golem (Yoav & Doron Paz, 2018)
Le Golem/The Man of Stone (Julien Duvivier, 1936)
Der Golem: How He Came Into the World (Paul Wegener, 1920)
Hostel (Eli Roth, 2005)
Hostel: Part II (Eli Roth, 2007)
The Possession (Ole Bornedal, 2012)
The Seventh Sign (Carl Schultz, 1988)
The Unborn (David S. Goyer, 2009)
Mikel J Koven is Senior Lecturer and Course Leader in Film Studies at the University of Worcester.
He is the author of La Dolce Morte: Vernacular Cinema and the Italian Giallo Film (2006), Film, Folklore & Urban Legends (2008), and Blaxploitation Cinema (2010). He frequently publishes on topics about the relationship between folklore and horror cinema.

Date and time
Location
The Swedenborg Society
20-21 Bloomsbury Way
London
WC1A 2TH
United Kingdom
Refund policy
Refunds up to 1 day before event
Eventbrite's fee is nonrefundable.