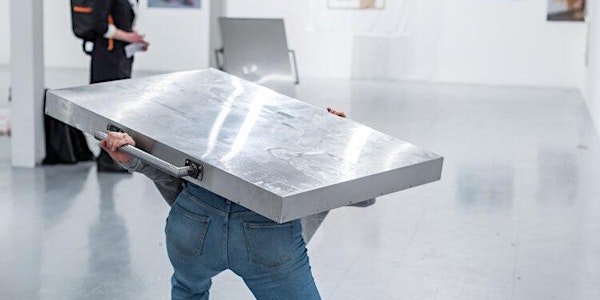 GoMA at 25 - Performance: BLOCK BLOCK BLOCK (2021) Stephanie Black Daniels
Join us for the performance BLOCK BLOCK BLOCK by Stephanie Black-Daniels, developed for the opulent Gallery 1 as part of GoMA at 25.
About this event
Join us for the performance BLOCK BLOCK BLOCK by Stephanie Black-Daniels, an artist based in Glasgow whose practice explores the dynamics between body, object and action. BLOCK BLOCK BLOCK has been developed for the opulent Gallery 1 in GoMA as part of a series of performances supported by Art Fund's Respond and Reimagine Fund.
Three large metal shields are activated in the space through live performance. The performers hold and transition between various positions, using a pre-choreographed digital score, carrying the armament through the gallery. They display strength and endurance as they test the body and its relationship to space, gender and sexuality.
The work carefully explores bodies, territory and their aesthetic, political and social distance with one another. BLOCK BLOCK BLOCK has been developed post-pandemic as the artist finds her place as a new mother, artist and her practice of live performance in relation to the architecture of public buildings. The work utilises a pre-recorded binaural sound design which remains in the space post performance. In absence of the performers, it allows the viewer to connect physically to the space and objects, and question our everyday context in this theatrical setting.
Research for BLOCK BLOCK BLOCK was originally supported through the Open Bodies programme. Open Bodies: a residency programme for artists working with performance with an interest in gender and/or sexuality, designed jointly by Despina (Rio de Janeiro) and Fruitmarket Gallery (Edinburgh) with support from British Council and Creative Scotland and presented as part of SSA | VAS OPEN 2019.
Visual artist and performer: Stephanie Black-Daniels
Performers: Lily Ross-MIllard & Christiana Bissett
Sound Design: Calum Patterson
Digital graphics: Louie Pegna
Image credit: courtesy of Fruitmarket Gallery, Edinburgh, 2019
GoMA at 25 is part of GoMA at Home - an externally funded public programme of artist commissions, performances, workshops and event exploring the impact of Covid-19 on our understanding of equalities, particularly in light of Black Lives Matter; access to public and private space both physical and online access; climate change and our current environmental challenges; and migration - both historical and current. It invites audiences to engage, converse, and reflect on this historic moment and forms a key part of the 25th anniversary programme at GoMA.
Taking its starting point from the GoMA building's history as the home of an 18th Century Tobacco Lord, a Royal Exchange and a library - At Home will complement our wider engagement programme and create new opportunities for a diverse group of artists and audiences. It will also inform and be part of the exhibition programme for 2021/22 which will visibly demonstrate Glasgow Museums' commitment to commission new work that responds to race, class, gender and climate change by key artists working in Glasgow at the moment
BLOCK BLOCK BLOCK is supported through an Art Fund Respond and Reimagine award 2020/21.
Stephanie Black-Daniels is a visual artist, based in Glasgow, working predominantly with performance within contemporary art. Her work situates between a choreographic and sculptural practice and is a Masters graduate from the performance pathway at Glasgow School of Art and a graduate from The Royal Conservatoire of Scotland.
Stephanie uses her body, and the bodies of others to explore concepts around performance, gender, sexuality, spectacle, heightened physicality and theatricality. She often collaborates to realise a creative and conceptual vision and this has led her to work with choreographers, directors, performers, musicians, composers, cinematographers, scenic artists and costume designers. She has exhibited work nationally and internationally and was the recipient of the Fruitmarket's Open Bodies 18-19 programme, a residency programme for artists exploring performance with an interest in gender and/ or sexuality, supported by Creative Scotland and the British Council. She has exhibited work in Fruitmarket Gallery, Patriothall Gallery, Whitespace (Edinburgh), Market Gallery, The Glue Factory, The Pipe Factory, Tramway (Glasgow), GENERATOR Projects (Dundee) and toured internationally in Germany, Brazil, Lithuania, Finland and the USA.
Discover more of Stephanie's work in the lower level of Central Station, a new performance-based work that responds to the historic site of the former Alston Street Theatre, supported by ScotRail Foundation Cultural and Arts Grant Programme.
Website: www.black-daniels.co.uk
Instagram: @stephanieblackdaniels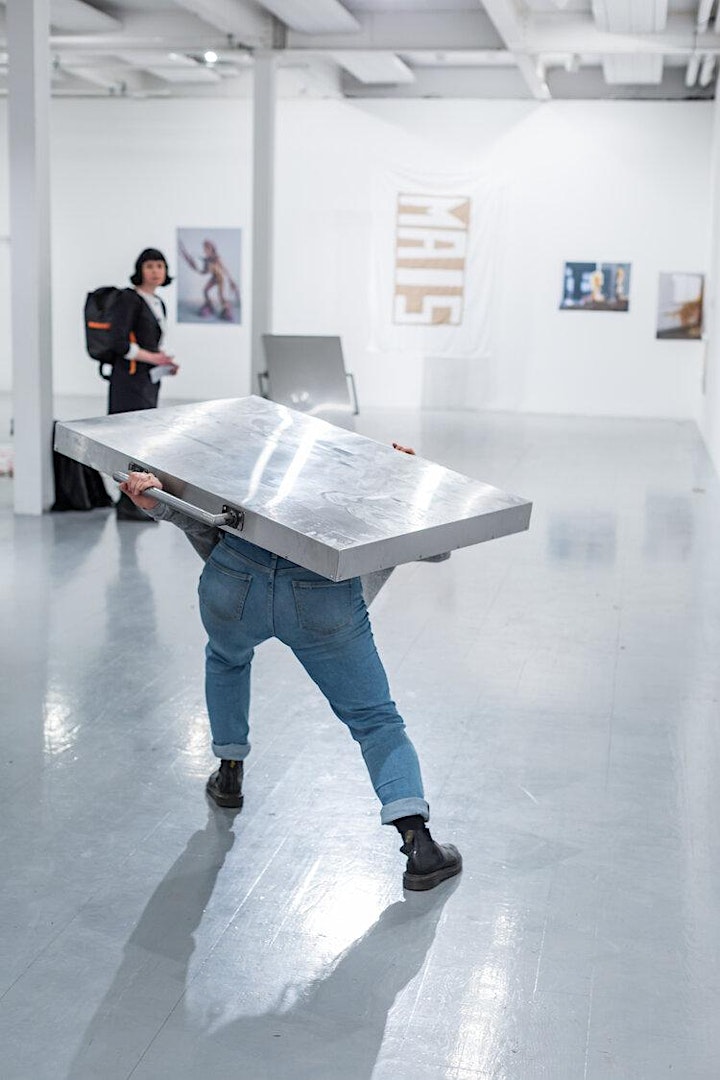 courtesy of Fruitmarket Gallery, Edinburgh, 2019
Organiser of GoMA at 25 - Performance: BLOCK BLOCK BLOCK (2021) Stephanie Black Daniels