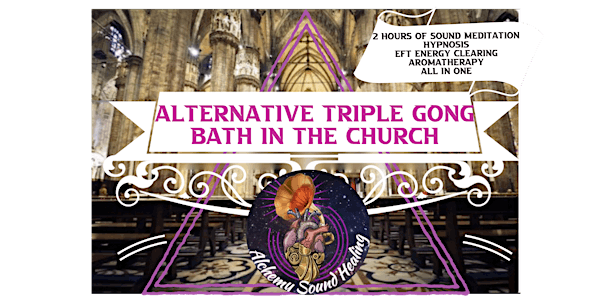 GONG BATH SOUND HEALING GUIDED MEDITATION CHAKRA HEALING SOUND BATH 2 FOR 1
Location
NW1
St Paul's Church Hall
Camden Square
London
NW1 9XG
United Kingdom
ALTERNATIVE TRIPLE GONG BATH IN THE CHURCH A unique mix of Sound Meditation with Hypnotherapy Aromatherapy and EFT Meridian Point Tapping.
About this event
The sound of a gong helps the brain reach states that we usually experience during deep sleep known as natural healing, creativity or aid relaxation. The amazing relaxation techniques for sleep or emotional stress symptoms are just some of what Sound healing can achieve. Other gong bath benefits are that it can put us in deep relaxation - specifically the delta and theta brain wave states, which are the slowest brain waves in humans. It aids positive energy, chakra healing and creates positivity around us. Sound Healing Meditation for healing sleep often has amazing results.
The ancient method of Gong Baths, also known as Gong Bath Meditation, Sound Bath, Sound Bath Meditation, Sound Healing, Sound Therapy, Gong Therapy, or Gong Meditation to name a few plays a more alternative healing role during a meditation practice.
We could all use some time spent in a worry-free state. What causes stress? Studies show that before the Covid-19 Pandemic 50% of Britons suffered from work-related stress at least once every year. However now due to the global situation symptoms of stress and anxiety and chronic stress have become even more of an urgent matter. This is why we invite you to a Gong Bath in London.
The gong induces a holistic resonance in the body and a spontaneous meditative state in the mind, resulting in a sense of expanded awareness and wholeness, and an intense sense of letting go. The sound switches on the parasympathetic nervous system in turn letting us restore by slowing our brainwaves and allowing us to drift off into an inner journey of Chakra Healing in guided meditation.
The gong has been used throughout history as a ceremonial and healing instrument. It has been known to restore the mind, body and spirit to an equilibrium of balance with it's harmonic vibrations. Helping with deep healing, releasing blockages on a cellular level. It is believed to have been around for up to 5000 years, since the beginning of the Bronze Age.
During a gong bath we can have a chance to look inwards to have a different perspective on problems and issues that we may have been struggling with: being in an altered state of consciousness allows us to see reality from a different perspective, and this may bring insight into our problems.
Spearheaded by Trinity a recognised and Multi Certified Sound Therapist by the World Therapist Association and also Hypnotherapy Meridian Point Tapping (Acupuncture with hands). EFT Tapping is a great source of affirmations and comfort and Hypnotherapy for anxiety which has some amazing results too.
Using Shamanic influences and inspiration from Kundalini Yoga Trinity taps into an impressive variety of instruments from huge top quality gongs, crystal singing bowl sets to other unusual sacred healing instruments to really open your mind and perform deep healing meditation.
We will transport you in to a voyage of Shamanic Sound Healing and Deep Hypnotic Reprograming that will leave you feeling lighter and more able to release what does not serve you. Immerse yourself in our unique holistic wellness triple sound baths.
During 2 hours of the style guided relaxation prepare your body to receive the vibrations of our powerful 38 inch Symphonic Gongs and Crystal Singing Bowls. This is the space for you to just let go, relax and receive.
We will quinch your thirst with a detox aromatherapy bespoke made lemongrass lemonade to make you liaise with the session and give you another reason to smile;-)
Location of the event is in St Paul's Church Hall in Camden Square NW1 short walk from the Tube station.
Booking is essential as spaces are limited. Tickets are £20 if you book directly with Al or send a Paypal payment via friends and family to professionaltrinity8@gmail.com with the chosen date as the reference.
Please contact Al beforehand to check spaces are still available. Also if you are interested in booking a one on one session.
Tickets are non refundable 24 hours before the event, however they can be transferred to another name with prior notice. Thanks for your understanding.