Intimate1,5 hrs gong bath - sound healing with gongs, antique singing bowls and powerful shamanic singing with Kat (over 10years experience)
About this Event
Gong sound bath - mysterious and healing sound journey with gongs, Himalayan singing bowls, some other instruments and voice.
Lying down on the mats on the floor each individual has a different unique experience, sometimes more physical and emotional, sometimes more visual. Powerful sounds and vibrations create a feeling of being 'bathed' or carried away into the space. Strong physical sensations might be felt in problem areas that need attention.
During the session the brainwaves are altered to the state that is self-healing, and has balancing benefits on the body and mind. Occasionally unpleasant emotions can flow up to the surface as a part of a healing process, but in most cases the overall experience is blissful and ecstatic. Participants report being 'switched-off' or 'floating' in timeless nothingness, having rich dreamy visions or seeing splashes of light and colors, sensing subtle energies in the body and around.
At the end each individual receives a distant hand energy healing.
Regular gong baths can help fight insomnia, depression, anxiety and other ailments. They do detox, speed up recovery and recharge.
Gong bath is one of the most beautiful and easy ways to relax and experience a bit of magic.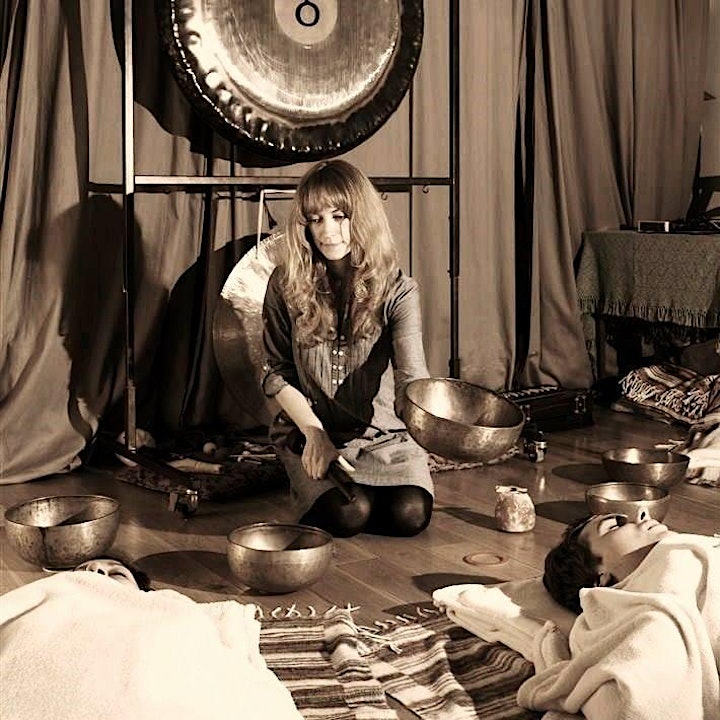 Mats and blankets provided. Limited spaces. To check the last minute availability please text Kat to 07724302001. The venue will be open about 10 minutes before 8pm. Please don't be late: at the beginning of the session the doors are locked and then no entrance will be possible.
Facilitator: Kat Bumbul is experienced and gifted sound healer (10 years), working with gongs, old Himalayan singing bowls, drums and her unique voice. She is also a ritualistic tea artist, creating sensuous tea meditations inspired by Chinese and Japanese ceremonies and Taoist and Zen philosophy. Kat studies and practices siberian shamanism, baltic rituals, kashmiri shaiva tantra, tao and dzogchen.
Kat/Sound Mysterium is available for private sound sessions including singing bowls sound massage, hand/energy healing, shamanic healing, tea ceremonies/meditations, labyrinths, workshops, art projects, retreats and tuition in sound healing & voice.
Sound Mysterium on: Facebook