A Surrey Workplace Wellbeing Collaborative event to help local businesses develop great mental health support for their staff.
About this event
Surrey County Council is delighted to invite local businesses to our first online event 'Good mental health is good business sense' hosted by our Deputy Chief Executive Michael Coughlin.
We asked Joanna our Chief Executive her thoughts on the importance of mental health support for staff, her response is below:
'This has never been more important than now; greater numbers of Surrey residents, of all ages, are experiencing more pronounced mental health problems, which have been exacerbated by Covid-19, national and tiered lockdowns, social distancing and the effects of trauma, bereavement and economic insecurity.
Such negative impacts upon social, economic, occupation and education are known to heighten and worsen health inequality, with those experiencing mental health problems feeling and too often being left behind.'
In response to this, Surrey County Council has partnered with local mental health charities and organisations to form the Surrey Workplace and Wellbeing Collaborative.
Along with the county council, the Collaborative's membership includes:
Surrey Chambers of Commerce
Surrey and Borders Partnership NHS Foundation Trust
Woking Mind
Oakleaf Enterprise
This SWWC event will shine a light on the importance of mental health and wellbeing in the workplace and provide practical suggestions as to how it can be improved.
We'll be joined by a number of experts as we consider the ways in which Surrey businesses might need help to access support for their employees, and to hear first hand about the challenges they face.
This is an interactive session and not a webinar, we encourage comments and feedback throughout!
Our line up includes:
• An introduction from Michael Coughlin our Deputy Chief Executive
• The business case for mental health provision in the workplace lead by Tony Bennett Chief Executive of Woking Mind
• A case study of how investing in employee mental health has benefited a local business. Sally Pritchett CEO of Something Big discusses her experience.
• A talk on compassionate leadership led by Dr Maria Geoghegan Consultant Counselling Psychologist from SABP
• A talk on stigma and mental health led by Jen Clay Fundraising and Partnership Manager from Oakleaf Enterprise
• Facilitated breakouts on wellbeing needs and what support would be beneficial.
Event programme and meeting room link will be sent out nearer the day.
We're looking forward to meeting you!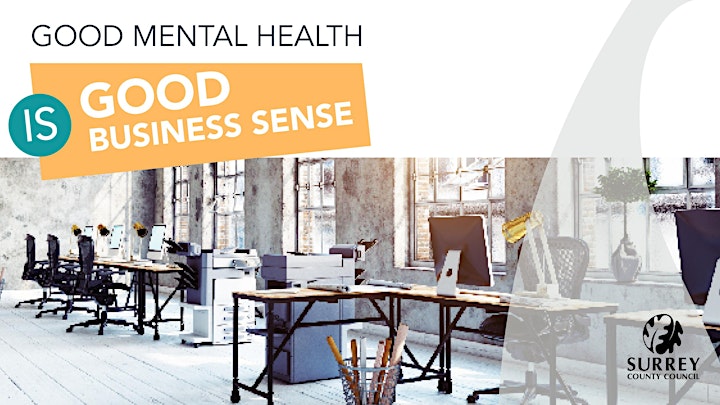 Organiser of Good Mental Health is Good Business Sense