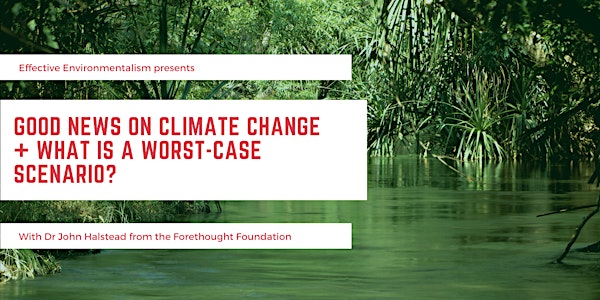 Good news on climate change + what is a worst-case scenario? [rescheduled]
Dr John Halstead from Forethought Foundation discussing some recent positive climate science as well as some potential worst-case scenarios.
About this event
In this talk, John will firstly discuss some good news on climate change: on current policy, emissions look set to be lower than once feared, as is the risk of very high climate sensitivity. Secondly, John will discuss a worst-case scenario in which we burn all of the fossil fuels: how many fossil fuels are there, how likely we are to burn them, how we might do so if we did, the warming that would produce, and what that might mean for life on Earth.
Note: this is the rescheduled event for the talk that was meant to take place on December 19th.
John is a research fellow at Forethought Foundation focusing on climate change. Prior to that he was Head of Applied Research at Founders Pledge, a philanthropic advisory service for tech entrepreneurs, and a Research Fellow at the Global Priorities Project. He has a DPhil in political philosophy from Oxford and has published on a range of topics including philosophy, economics and climate change.
About Effective Environmentalism
The Effective Environmentalism community empowers people to engage in climate action in the most effective way possible. Whether by finding a climate-related career, engaging in climate policy advocacy, donating to effective charities, or being involved in movement building.
Effective Environmentalism is a sub-community of the Effective Altruism movement. Effective Altruism is changing the way we do good by using evidence and reasoning to determine the most effective ways to benefit the world. As part of the EA community, we care about having the most impact and being open to different ways of having an impact, because there are many pressing problems in the world.
The Forethought Foundation for Global Priorities Research aims to promote academic work that addresses the question of how to use our scarce resources to improve the world by as much as possible.
We are especially interested in the idea that the primary determinant of the value of our actions today is how those actions influence the very long-run future. We believe that by making the right decisions today, humanity has the opportunity to positively steer civilisation's trajectory for thousands of years to come. We are therefore interested in supporting excellent research that:
Defends or criticises the idea that we should primarily care about the very long-run impact of our actions.
Works out the implications of a long-term view for our decisions today.
Is of importance for the long-run future of civilisation, even if the research is not directly about the idea of long-term impact.