About this Event
Due to high demand this workshop is being repeated!
Feminism has a long and complicated relationship to crime and punishment, and since 2007 the term carceral feminism has been used to describe a particular kind of "feminist" who believes in prisons as a solution to violence.
Over the last five years the term has seen increasing mainstream usage; but what does it mean to be a carceral feminist in the UK now, and more importantly - what does it mean to be carceral?
This talk will explore the history of carceral feminism, focusing specifically on how it currently manifests in the UK. In the process of doing this we will question the carceral beliefs that many of us invest in and hold on to, with the aim of exploring the ways we can start to let go of carcerality!
This workshop will be delivered via Zoom. To protect your safety, all our online events are password protected, moderated and secure. We will publish the Zoom details via eventbrite two hours before the event. Please let us know if you have any access needs in advance.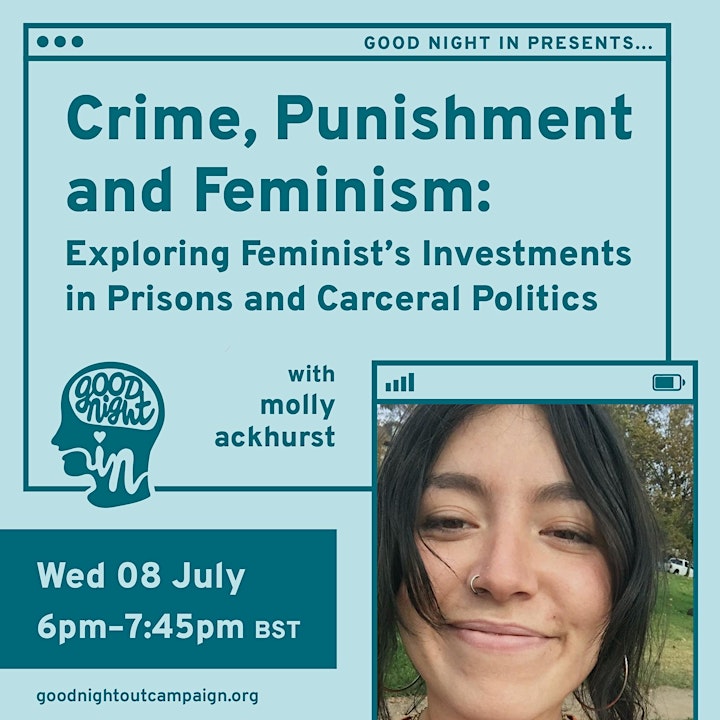 Trainer Bio
molly has a practice-based background having worked in sexual violence support for many years. This combines with her experience as an activist, writer, and facilitator with a number of different social justice groups.
Her work is rooted around creative approaches to trauma, and uses emergent arts based methods to foster direct action and everyday intervention. This approach feeds into molly's academic work, and she is currently undertaking a PhD in Criminology at Birkbeck, where she looks at what limits and un-limits collective imaginations around justice and sexual violence.