About this Event
Quarantine is a great time to brush up on all things harm reduction*! Join Good Night Out Vancouver as they walk us through the basics of risk reduction related to alcohol and other substances, including how to spot trouble signs, overdoses and supporting folks who are experiencing challenging psycho-active effects.
You won't just be learning about how to help make safer nights out once this is all over, you will pick up some tips and tricks to help reduce some of the risks that come with using substances during shelter in place, as well as the language to better advocate for the safety and dignity of people who use drugs.
*Not sure what we mean when we say Harm Reduction? On a night out / in harm reduction means learning about new ways to keep yourself and your friends safe. It includes things like words, life hacks and government policies that help reduce the stigma, risks and harms that come from potentially risky activities.
This workshop will be delivered via Zoom. To protect your safety, all our online events are password protected, moderated and secure. We will publish the Zoom details via eventbrite two hours before the event. Please let us know if you have any access needs in advance.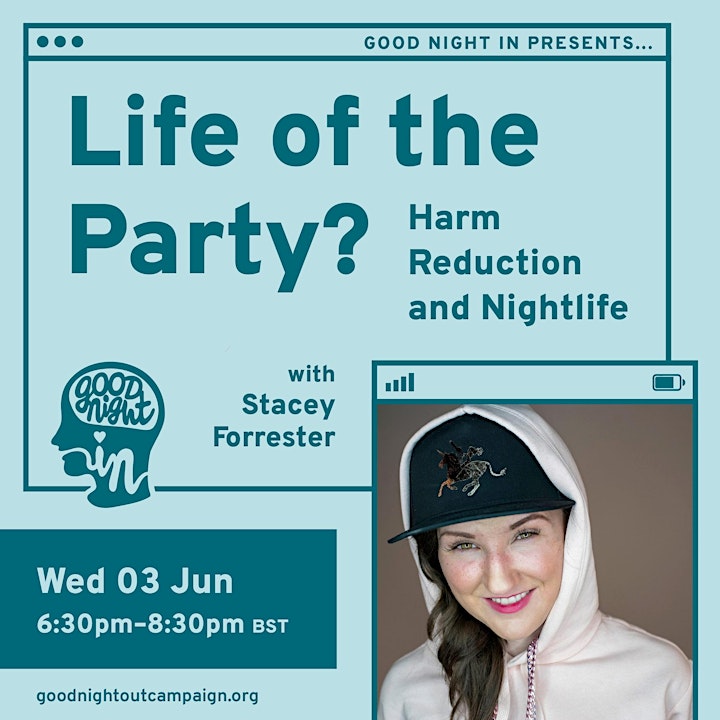 Trainer Bio
Stacey Forrester worked a community health nurse for 10 years before her interest in safe public spaces lead her to transition into the field of community and social planning.
In 2015, Stacey joined Ashtyn Bevan in her quest to makes nights out safer for all, and the 2 launched the Canadian Chapter of Good Night Out.
Stacey is also the Harm Reduction Manager for Bass Coast Music Festival in British Columbia, a 7000 person festival that has attracted international attention for its progressive safety and well-being services.