Join Aisha Mirza (trauma-informed Indian Head Masseuse) for simple, soothing massage techniques for use on yourself and others.
About this event
Indian head massage is an ancient South Asian form of physical therapy which includes massaging your scalp, head, neck, shoulders &/or face. It's really good for relaxation, reducing tension / stress & improving sleep / blood flow.
You don't have to take any clothes off to enjoy this type of massage though bare shoulders and loose hair are preferable & it can be easily adapted if there are any parts of your body you don't want touched.
In this workshop you'll learn some simple, soothing massage techniques for use on yourself and others!
This workshop will be delivered via Zoom. To protect your safety, all our online events are password protected, moderated and secure. We will publish the Zoom details via eventbrite two hours before the event. Please let us know if you have any access needs in advance.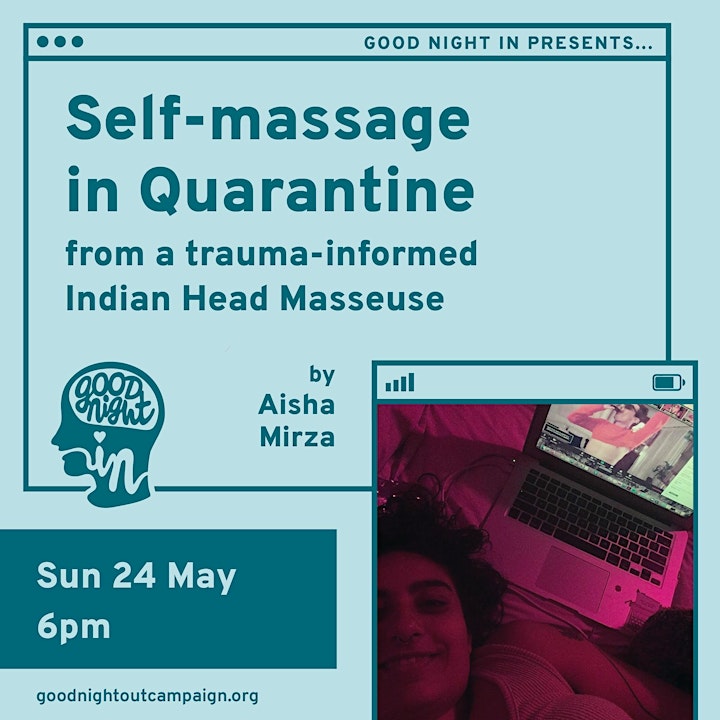 Trainer Bio
Aisha Mirza is a writer, DJ & trauma-informed counselor and indian head masseuse. They are also founder of Misery @miseryparty a mental health collective and sober clubnight for QTIBPOC. Aisha is a stripper at Harpies Strip Club and an agony aunt at gal-dem.com.
Organiser of Good Night In: Self-massage in Quarantine
Good Night Out Campaign is on a mission for safer nightlife. We believe nights out should be about fun and freedom, not fear.
We help nightlife spaces and organisations to better understand, respond to, and prevent sexual harassment and assault, through specialist training, policy support and an accreditation programme.
In response to the Covid-19 outbreak and the uncertain times we find ourselves in, Good Night Out Campaign presents Good Night In: a series of free online workshops and skill shares to support the nightlife industry and those who dance within it. Let's change the party to change the world.