Description
All tickets are available for free for volunteers and Keynote Speakers. Apply at www.goodfestival.ch
Mission of GoodFestival: Promote and showcase the best of Swiss Sustainable Innovation to the world. And the best Sustainable Innovation of the world in Switzerland.
Sustainable and Social Innovators are building organizations that are good for the world. Businesses or NGOs that respect people and nature. Business leaders, Tech entrepreneurs, Artists and Artisans who are inspiring, who are taking the road where struggle is guaranteed but the reward is an uplifted society, with empowered women, safer families, cleaner energy, vibrant startups and thriving communities of artists.
Who are the Innovators? Social Entrepreneurs, Musicians, Campaigners, Writers, Filmmakers, Artists, Veterans, Business or Sports People, Researchers, Scientists, Teachers, Students, Designers, Developers, Leaders, Artisans, Thinkers, Innovators, Change makers, Journalists, Visionaries, yes anyone from anywhere working on or promoting projects that address Water, Food, Habitat, Health, Education, the Arts/Music/Sports, Energy or Environmental balance.
Program: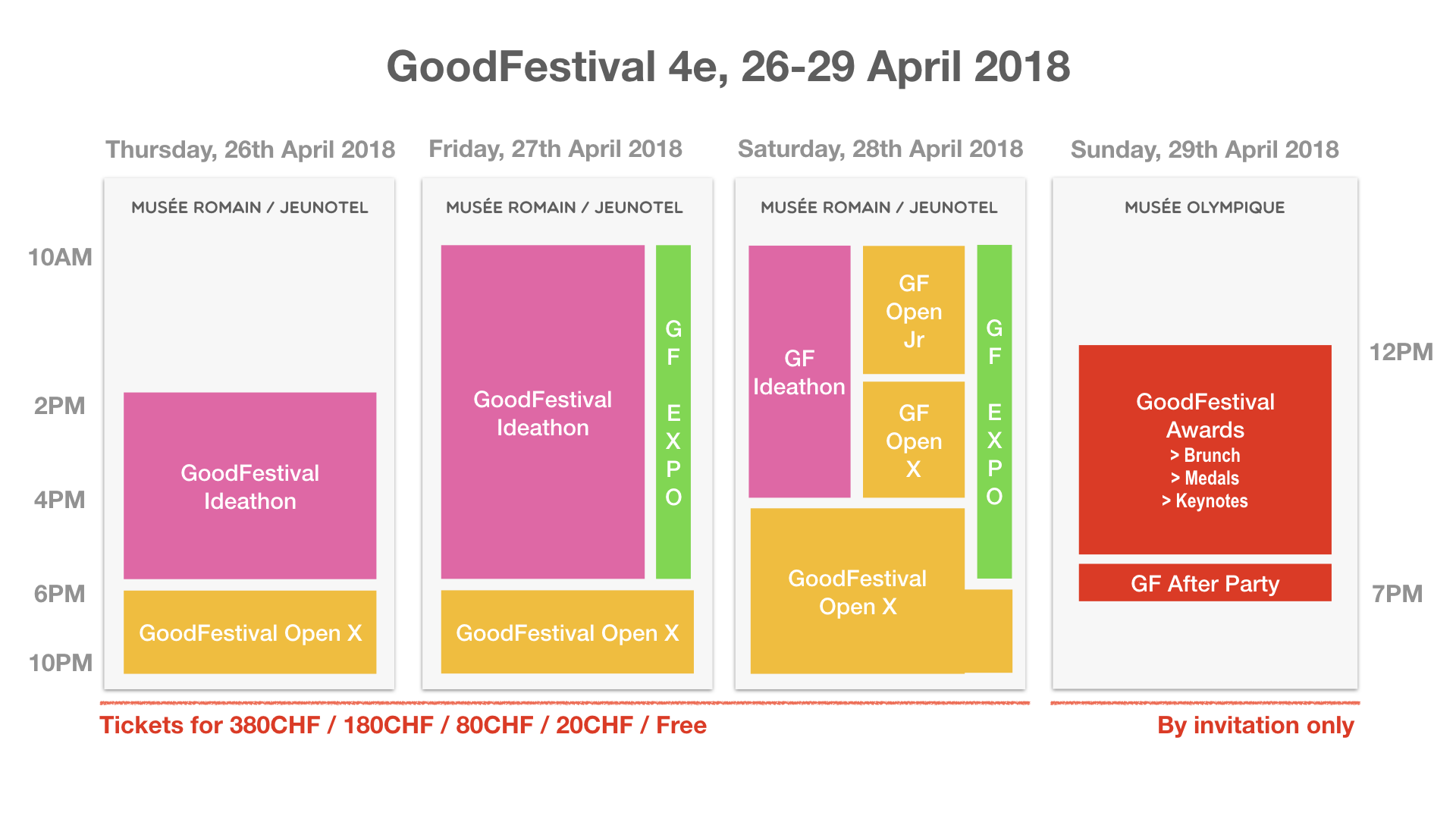 Program Outline for GoodFestival 4th Edition:
Day One | 26.4.18 | Musée Romain & Jeunotel
2PM GoodFestival Ideathon Launch
Established Sustainable Innovators / Companies set a challenge - in any of the 8 categories - Food, Water, Habitat, Energy, Health, Music, Education, Fashion. The challenge can be to create a marketing campaign for a sustainable innovation or a recruitment drive - anything that the Innovator is finding to be a challenge. Something that needs to get done.
Day Two | 27.4.18 | Musée Romain & Jeunotel
10AM GoodFestival Expo Launch
11AM GoodFestival Open Launch
The Challenge Setters will continue to work with the team (people who select the challenge). We provide awesome food, an open space and a super relaxed & creative environment with lots of fun & informative activities on the side - GoodFestival Expo & GoodFestival Open (Junior, Music & Food).
Day Three | 28.4.18 | Musée Romain & Jeunotel
4PM GoodFestival Ideathon Completion
6PM GoodFestival Expo Completion
10PM GoodFestival Open Completion
Together with the team - the Innovator presents the campaign idea to an expert Jury - and potentially wins 6 months of Marketing & Fundraising support and the PremaGyan Good100 Medal - and invitation to the awesome GoodFestival Awards ceremony the next day at The Olympic Museum together with friends and family where a specially cooked brunch, keynotes and live music - completes the celebration of sustainable innovation.
The organizers reserve all rights including the option to change offer scope, booking process and event dates due to unforeseen circumstances. And if you have any urgent questions, please contact us: Contact@GoodFestival.ch