Location
City Business Library
Guildhall
Aldermanbury
London
EC2V 7HH
United Kingdom
Description
In this 2-hour session, I'll teach you the basics of navigating Google Analytics and what else you need to do to make the most of your data. This includes interpreting the reports in Google Analytics to improve your blog or business.
I'll be covering:
- Google Analytics terminologies you need to know
- Who are the people coming to your website
- Which country/city are the people from
- Which traffic sources and social media network sends the most people to your website
- How to create goals for your website
- Which pages do your website visitors care about
- Which day of the week do you get most visitors and what are the peak hours for your website
- Create shortcuts to your favourite Google Analytics Report
- How to set up alerts to notify you when there is a dramatic change in people visiting your website
At the end, you'll be equipped with a basic understanding of how to use your Google Analytics reports to understand how your website supports your business by guiding your customers to buy from you.
Note: This session assumes that Google Analytics is already set up for at least one of your websites. This will be a part presentation and part hands-on session so you get a chance to familiarise yourselves with the reports.
About your host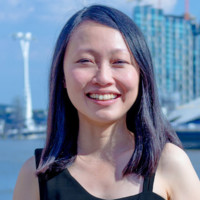 Clarice Lin is marketer and Google Analytics expert. Using data, she helps small business owners and startups identify opportunities and eliminate inefficiencies in their businesses.
She is the founder of BaselineLabs, marketing, and rebranding agency who tailor their marketing approaches to make a real difference in your business.
Clarice has spent over 10 years with key decision makers to make effective actionable recommendations in Fortune 500 companies like BP and Microsoft and one of the best specialist media company in the world – Haymarket Media Group.