A live instructor-led overview of Google Cloud platform featuring presentations and hands-on labs, tailored for manufacturing and industry.
About this event
This class is being offered for FREE. Learn about the power of Google Cloud and get hands-on access to GCP projects with no costs and no risk!
This live instructor-led course will give you a high level overview of the power of Google Cloud Platform. You will learn the following objectives:
Identify the purpose and value of Google Cloud products and services
Interact with Google Cloud services.
Describe ways in which customers have used Google Cloud.
Choose among and use application deployment environments on Google Cloud: App Engine, Google Kubernetes Engine, and Compute Engine.
Choose among and use Google Cloud storage options: Cloud Storage, Cloud SQL, Cloud Bigtable, and Firestore.
Make basic use of BigQuery, Google's managed data warehouse for analytics.
This official Google training is tailored by Appsbroker Academy to include case studies relevant to the manufacturing and industry sectors. Learn how Appsbroker has helped customers solve problems at scale in areas as diverse as energy distribution to frozen food manufacturing!
Not your sector? Check out our other training events!
This course is ideally suited to:
Individuals planning to deploy applications and create application environments on Google Cloud.
Developers, systems operations professionals, and solution architects getting started with Google Cloud.
Executives and business decision makers evaluating the potential of Google Cloud to address their business needs.
Prerequisites:
Familiarity with application development, systems operations, Linux operating systems, and data analytics/machine learning is helpful in understanding the technologies covered.
Appsbroker is the largest Google-only MSP partner in EMEA. To find out more about Appsbroker Academy see https://www.appsbroker.com/academy/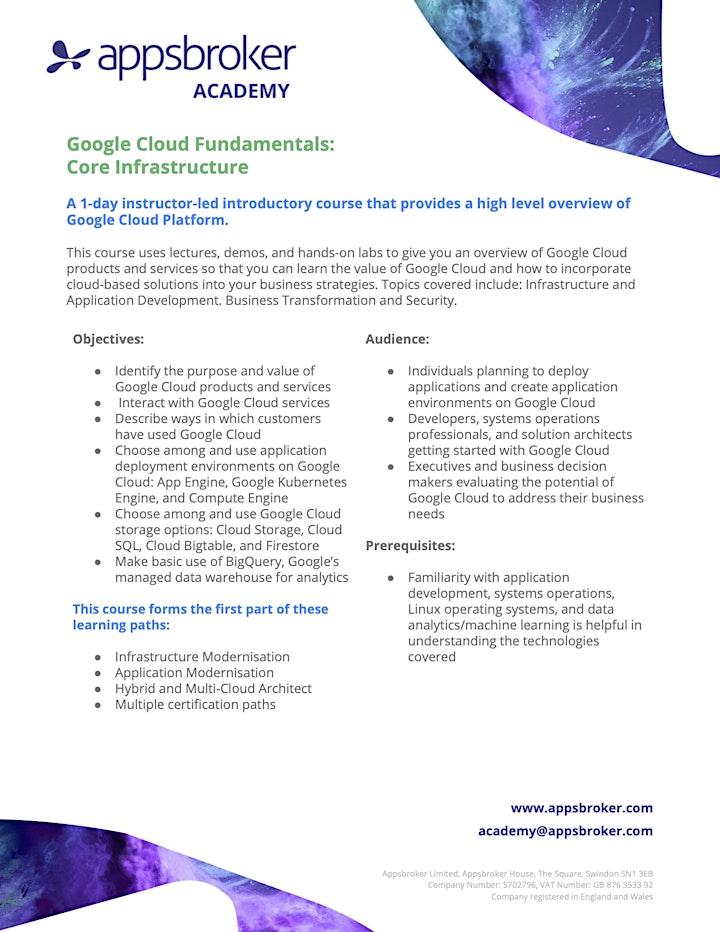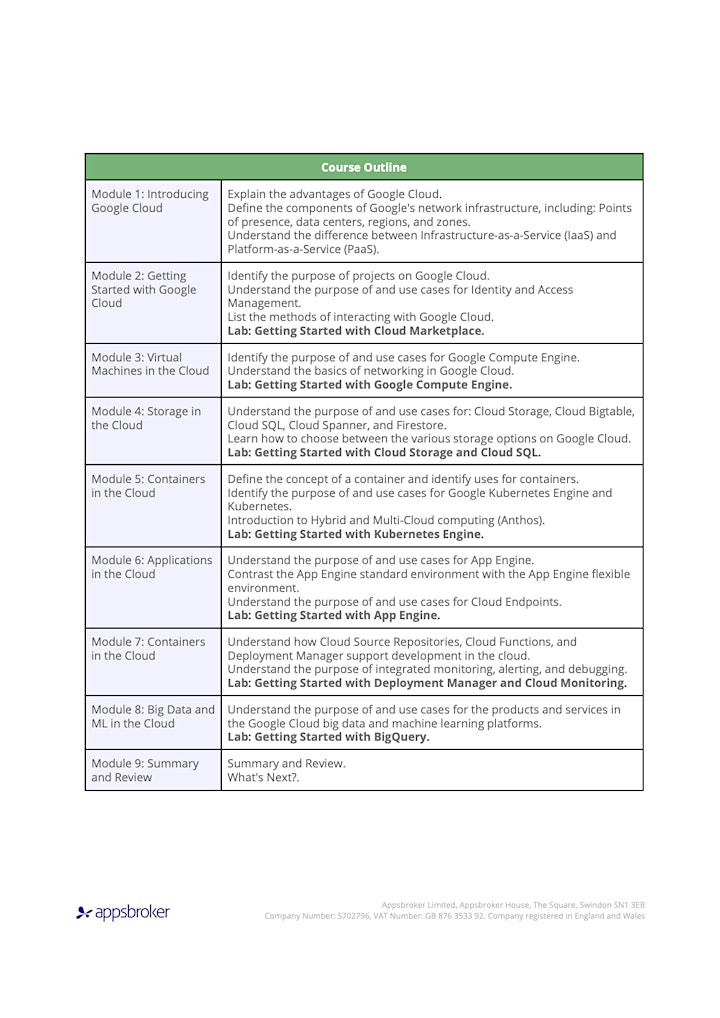 Organiser of Google Cloud Fundamentals: Core Infrastructure for Industry