Event Information
Location
1VS Conference Centre
1 Victoria Street
London
SW1H 0ET
United Kingdom
Description
The draft programme is now available for the second Government Data Science Partnership (GDSP) Conference to be held on 1 March 2018 at 1VS Conference Centre, London.
This event is an opportunity for those within the public sector with an interest in data science and the better use of data to showcase, learn and develop best practice. It is part of the GDSP's remit to build the data science community across government
The agenda includes keynote speakers, themed sessions, posters and demos. There is an 'unconference' session where the agenda and outcome is determined by participants. Attendees are encouraged to think about potential topics they would want to pitch for discussion at the unconference. More details will be emailed to those who registered.
Draft GDSP conference timetable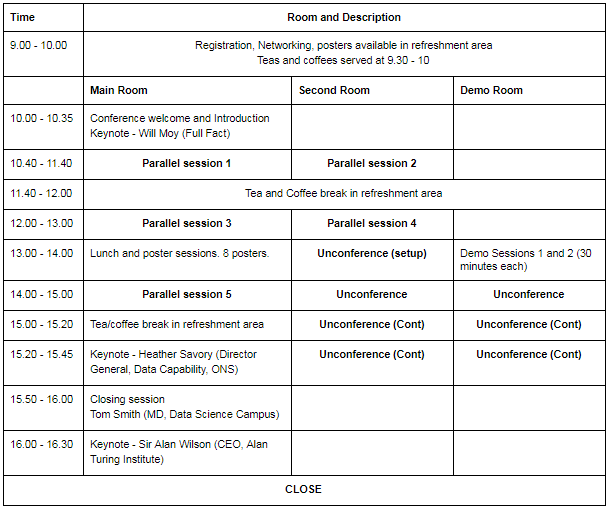 The parallel sessions are:
Parallel Session 1 (Data Science in Defence)
Navy Programme NELSON - Data Science at Sea (Christopher Smith, Ben Belward, Lt. Cdr. Jim Briscoe, MoD)
The NanoWire application (Dan Linsdell, MoD)
Parallel Session 2 (Natural Language Processing)
Finding out what Parliament thinks (Samuel Tazzyman, MoJ)
The power of distributed processing: identifying risk in unstructured data (Joseph Fallon, HMRC)
Gaining customer insight from free text feedback (Ben Stanbury, HMRC)
Parallel Session 3 (Capability and more machine learning)
Building data science capability (Cathy Atkinson, BEIS and Matthew Dray, Dept for Education)

Blockbuster modelling, wow, what a difference! (Matt Gregory, GDS

)
Using machine learning for efficient entry of consumers diaries (Iva Spakulova, ONS)
Parallel Session 4 (Data and Analytics)
Deploying open data pipelines to empower policy decision-making (Pablo Suau, DWP)
Tackling issues earlier through smarter use of data (Nicola Mallet, Essex County Council)
The application of Automatic Speech Recognition in our Contact Centre (George Kelly, MoJ)
Parallel Session 5 (Artificial Intelligence)
Deep Learning with Synthetic Aperture Radar data (Mike Hudgell, Andrew Smith, UK Hydrographic Office)
Using convolutional neural networks and other machine learning techniques to classify GOV.UK content (Ellie King, Nicky Zachariou and Felisia Loukou Government Digital Service)
From maps to apps: the power of machine learning and artificial intelligence for regulators (Stefan Hunt, Financial Conduct Authority)

The Demo sessions:

Virtual Mapping of Risk (Mike Molley, HMRC)
My Code is Slow? Tips for Profiling (Theodore Manassis, ONS)
Mapping school estate data with Shiny (Peter Curtis, Dept for Education)
Sea Fisheries Mapping (Lisa Richardson, DEFRA)
EMRA-Vis Supply Chain Visualisation tool (Conor Asher and Andy Schofield, HMRC)
Cycling safety: are you passing risky junctions? (Liucija Latanauskaite, Dept for Transport)
Creating a data analytics environment for physical activity (Madeline May, Sport England)
Child measurement programme for Wales: now a reproducible analytical pipeline using R (Rhys Powell, Public Health Wales NHS Trust)
The Posters are:

Targeted strategic communications using social network analysis (Nicky Zachariou, GDS)
How Easy is it to Produce Useful UK Business Statistics using Company Websites? (Martin Wood, ONS)
Data Science Analytical Quality Assurance framework for reproducible analysis (Matthew Murchie, Government Communications Office)
Representing GOV.UK pages as multilayer networks (Felisia Loukou and Nicky Zachariou, Cabinet Office)
Reproducible Analytical Pipelines MOOC (Matthew Gregory, GDS)
Linked (but anonymised) patient-level data from across the NHS – could it finally be happening? And if so, what are we going to do with it? (Sarah Culkin, NHS)
Named Entity Recognition from unstructured text data (Ailsa Prise, Home Office)
Using complex spreadsheets in data pipelines (Duncan Garmonsway, GDS)

Attendees can use the event as an opportunity for networking and collaboration - if you are going and want to discuss a topic or talk to someone particular, there is space at the beginning and end of the conference for just that. A good place to make contact or organise something is on the Government Data Science Slack channel.

You can also sign up to the cross-government data science community of interest here.
Please use #GDSP2018 if you are a twitter user!
**Please note this event is for attendees that register with an 'gov.uk' email address only**
Date and time
Location
1VS Conference Centre
1 Victoria Street
London
SW1H 0ET
United Kingdom