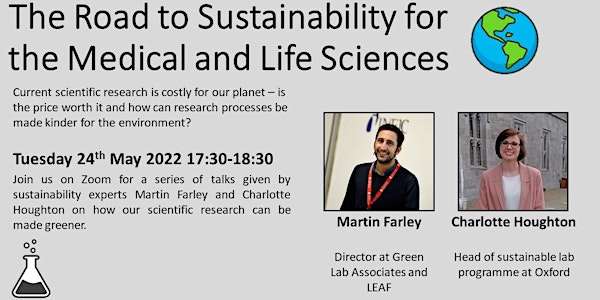 Grand Challenges: The road to Sustainability for Medical and Life Sciences
Current scientific research is costly for our planet – is the price worth it? How can research processes be made kinder for the environment?
About this event
In a world where resources are finite and being rapidly depleted, sustainability has become a high priority goal for all industries. In the field of chemical and life science research, this is a challenge that is still to be addressed. For example, 76% of industrial organic chemicals now come from petroleum, and running a single fume hood for a day using enough power to run 3 homes. Scientists are overwhelmingly in favour of decisive action against climate change, and yet often many of our practices in research are counterproductive to this goal. join us and our fantastic speakers Martin Farley (director at Green Lab Associates and LEAF) and Charlotte Houghton (head of Sustainable Lab Programme at Oxford) for our seminar with a focus on how research can become more environmentally sustainable, in particular how to reduce energy usage, the production of hazardous and solvent waste materials, and single use plastics within research.