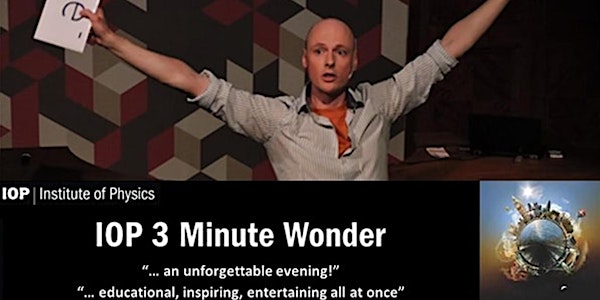 GRAND FINAL: IoP Three Minute Wonder National Science Communication Comp
Event Information
Location
The Royal Institution
21 Albemarle Street
London
W1S 4BS
United Kingdom
Three minutes! What can YOU do? ... its the GRAND FINAL of the IOP's national 3 Minute Wonder science communication comp
About this event
"Educational, inspiring and entertaining all at once."
The Institute of Physics national 3 Minute Wonder (3MW) science communication competition concludes with the winners from each national and regional heat competing in the GRAND FINAL at the Royal Institution!
3MW challenges researchers or project team members working in a physics related field, and in industry, academia or business, to explain their work in just three minutes; each participant pitching their research to a panel of established science communicators and an interested but non-specialist audience ...yup that means YOU! Come vote for your winner.
This year the judging panel includes:
• Jim Al –Khalili (Professor of Physics. Head Judge)
• Baroness Brown Of Cambridge (House of Lords, Chair STEM Learning board)
• Paul Hardaker (CEO IOP)
• Elizabeth Mathews (Dublin City University, STEM for deaf education)
To be in the audience please register here:
https://www.iop.org/events/grand-final-iops-3-minute-wonder-national-science-communication-competition
................
"My eight-year-old is passionate about science and physics in particular – he went to the 3MW National finals at the RI last week and loved it."
"Thanks to all involved for a great event last night! Educational, inspiring and entertaining all at once."
"The event was fantastic and I can see it turning into something even bigger over the years."
"Thanks again for a great event last night! Really well done to everyone involved. My daughter … enjoyed the evening as much as I did."
.................
Date and time
Location
The Royal Institution
21 Albemarle Street
London
W1S 4BS
United Kingdom