Joyous celebration of the spirit of those who have helped make a better society. Performed by an astonishing diversity of artists.
About this event
100 Years of Dissent, Protest and Resistance in East London.
"The Grand Union Orchestra has been making great, radical world jazz forged in the musical melting pot of London's East End for thirty years." (Duncan Heining/London Jazz News)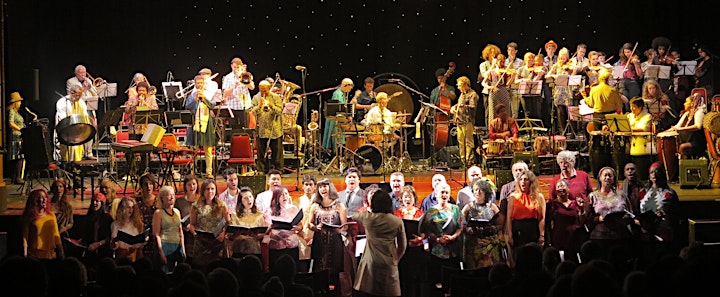 Organiser of Grand Union Orchestra - Raise the Banner
The Grand Union Orchestra is the acknowledged pioneer of cross-cultural music-making in Britain, bringing together world-class musicians and singers drawn from across the whole jazz and world music spectrum to tour nationally and internationally. 

Founded in 1982 long before the term world-jazz was even invented and led by visionary composer and pianist Tony Haynes, the music of Grand Union draws on many diverse musical cultures and is based around the experience of the performers themselves – many of whom have been or are descended from migrants or refugees. Tony has written over 15 major works, with lyrics contributed by writers in several different languages, most of which have been recorded and broadcast on BBC Radio 3, and subsequently released on CD.

As well as the full 18-20 strong Orchestra, Grand Union tours with smaller bands whose repertoire is based on traditional music from the musicians' own countries of origin. These include Spirit of Carnival, the Bangla Band (popular with summer festivals and melas), and Bengal Tiger, Shanghai Dragon.

Grand Union is also well-known for its large-scale participatory projects, often specific to a particular city or community, where a core group of Grand Union musicians develops a show in conjunction with amateur performers and local cultural groups. The next such project is The Golden Highway, to be produced in collaboration with the Hackney Empire in June 2012 and thereafter presented with different participants across the whole UK.

Complementing these performance activities, Grand Union has always operated an extensive outreach programme of cross-cultural and cross-generational workshops in both formal education and informal community settings. In 2006 it established its own youth orchestra (GUYO) which is open to young musicians playing any instrument from any culture.
http://grandunion.org.uk/