Description
Making History!
Simple Minds
and KT Tunstall
to perform
GRANDSLAM 2018
SIMPLE MINDS
Simple Minds celebrate the release of their new album 'Walk Between Worlds' in February 2018, in advance of the tour and prepare to deliver classic hits and tracks from the new album, certain to delight fans.
One of the most successful and influential British bands ever, Simple Minds have been creating their extraordinary, inventive, adventurous, and highly influential soundscape for almost 40 years. They have achieved six no.1 albums in the UK, as well as hitting the top spot in countless other territories including Germany, Italy, France, Spain, Australia and New Zealand. Since forming in Glasgow in the late 1970's and named after a lyric from David Bowie's Jean Genie, the band have sold more than 70 million records worldwide and 'Walk Between Worlds' is their 17th album of new material.
On GRANDSLAM 2018, audiences will have the opportunity to see and hear Simple Minds revisit the many chapters of their storied career, taking in classic songs like Don't You (Forget About Me) and Alive & Kicking, Promised You A Miracle and Glittering Prize, Waterfront and Sanctify Yourself, and bringing things right up to date with the inclusion of tracks from the new album.
"When we started Simple Minds, our objective was to be considered as one of the great live bands. A band that had the desire to go all around the world – playing everywhere and anywhere," says Jim Kerr. "That challenge is ongoing, and we will relish touring all over the UK next summer, getting up close to so many who have supported us over the years."
K T Tunstall
Scottish star KT Tunstall will also be joining the Simple Minds GRANDSLAM 2018 tour as very special guest.
Scotland born and now Los Angeles based, KT Tunstall emerged with her 2004 classic debut Eye To The Telescope spawning such international hits as Black Horse and the Cherry Tree and Suddenly I See which won the Ivor Novello Award for 'Best Song' in 2006. That same year she won her first BRIT Award for 'Best British Female Artist', and earned Grammy and Mercury Prize nominations in 2007.
KT has released five albums internationally, to date: Eye to the Telescope (2004), KT Tunstall's Acoustic Extravaganza (2006), Drastic Fantastic (2007), Tiger Suit (2010), and Invisible Empire // Crescent Moon (2013). Her latest album, KIN, was reviewed as a "power-pop gem" by Rolling Stone. KT's music has figured prominently in film and television including The Devil Wears Prada, Grey's Anatomy, Winter's Tale and many more.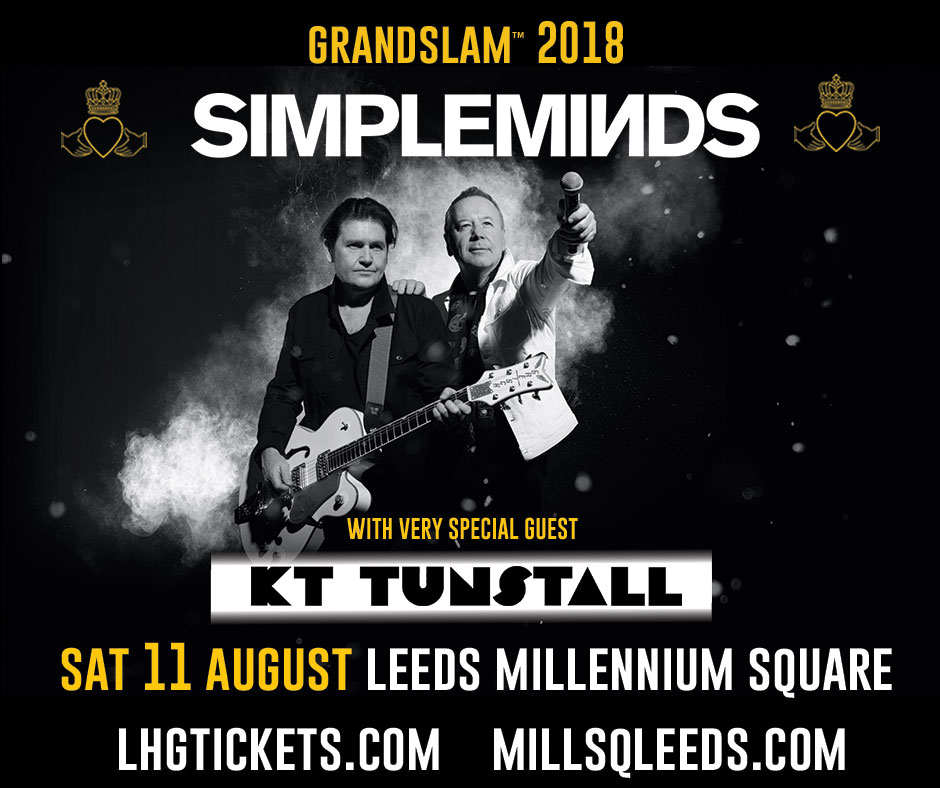 Ticketing Terms and Conditions
Starting and finishing times are subject to change up to the event date - we will update you of changes.
LHG Live Ltd reserves the right to alter the show content at short notice. In the event of this happening, no refunds will be issued or exchanges offered.
This event may be filmed and/or photographed. Attendance at our events affirms your consent to be used as a member of the event audience.
No professional cameras, video cameras or audio recording devices
No food or drink - there will be various food outlets available.
Any form of chair including deckchairs, camping chairs, folding chairs, gazebos, picnic blankets and tents are prohibited.
No illegal substances can be brought into the site - anyone caught with illegal substance(s) will have their ticket made invalid and be reported to the relevant authorities, no refunds will be given.
Please follow the instructions of the venue and event staff. Guests that cause a disturbance to others, or fail to follow the instructions of the event staff may be forcibly removed from the event without refund.
Guests are responsible for the security of all of personal belongings.
The event venue operators, organisers, promoters, and artists cannot be held responsible for lost, stolen or damaged property, nor accidents resulting in injury occurring anywhere in, or outside, the venue during the event regardless of fault or reason, unless through the gross negligence of the offending party.
Children aged 16 and under must be accompanied by an adult at all times.
No umbrellas permitted.
No dogs are permitted, except assistance dogs.
No gazebos or tents.
Disabled tickets are available for each concert, and will be issued on a first come, first served basis. A copy of the disabled ticketing policy is available on request by emailing tickets@lizhobbsgroup.com.
It is our intention that our events are fully accessible for all. If you have any specific requirements with regard to accessible provision then please contact us and where possible we will make all reasonable adjustments to ensure your enjoyment of our events.
Tickets - Exchanges and Refunds
We can't offer any exchanges or refunds. Please note: before buying tickets it's really important to double check all the event details and make sure you're 100% happy before going ahead.
By purchasing a ticket you, and all persons accompanying you agree to the aforementioned terms and conditions.
LHG Live hold the right to change these terms and conditions at any given time.