Description
Making History!
The Pretenders
to perform
GRANDSLAM 2018


THE PRETENDERS
"CHRISSIE HYNDE STILL ANSWERS TO NO ONE AND IT'S A GLORIOUS SOUND" Q MAGAZINE "HYNDE IS MAGNIFICENT HERE – UNAPOLOGETIC AND DEFERRING TO NO ONE" THE GUARDIAN "A RESOUNDING AFFIRMATION OF A STILL SHARPLY TUNED POWERHOUSE" THE MIRROR
The Pretenders latest album 'Alone' has been recently released to huge acclaim and tracks from the album will be performed on the tour, together with a catalogue of hits that have shaped the charts and influenced so many.
Reviews of 'Alone', the 10th and latest album to be released by The Pretenders and produced by Dan Auerbach have been phenomenal. A wonderfully exciting album, packing a punch as heavy as any of the many hits that were born out of The Pretenders stable over the years. Who can deny Stop your Sobbing, Brass In Pocket, Talk of the Town, I Go To Sleep, Back on the Chain Gang, 2000 Miles and I'll Stand By You have not defined song writing and been the soundtrack to so many moments. A combination of new tracks and classic hits will ensure that when The Pretenders take to the stage, this will undoubtedly be one of the most exciting performances of the summer.
Formed in Hereford in 1978 The Pretenders line-up is Chrissie Hynde, Martin Chambers, Nick Wilkinson, James Walbourne and Carwyn Ellis.
Over the years the line-up has altered and re shaped with Hynde and Chambers being the only original members. In 2005 The Pretenders were inducted to the Rock and Roll Hall Of Fame which is only one of the many accolades they have received during their illustrious career.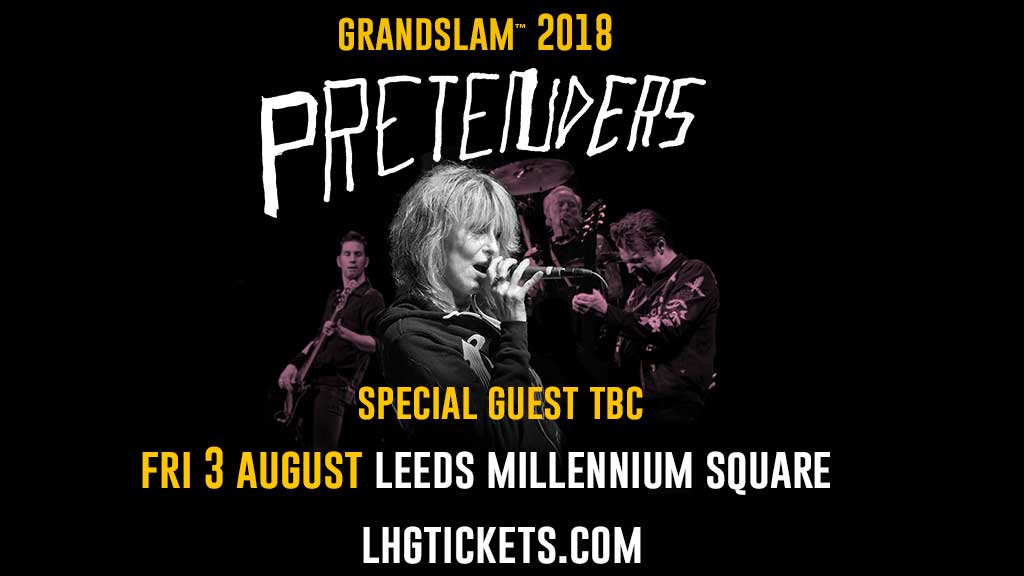 Ticketing Terms and Conditions
Starting and finishing times are subject to change up to the event date - we will update you of changes.
LHG Live Ltd reserves the right to alter the show content at short notice. In the event of this happening, no refunds will be issued or exchanges offered.
This event may be filmed and/or photographed. Attendance at our events affirms your consent to be used as a member of the event audience.
No professional cameras, video cameras or audio recording devices
No food or drink - there will be various food outlets available.
Any form of chair including deckchairs, camping chairs, folding chairs, gazebos, picnic blankets and tents are prohibited.
No illegal substances can be brought into the site - anyone caught with illegal substance(s) will have their ticket made invalid and be reported to the relevant authorities, no refunds will be given.
Please follow the instructions of the venue and event staff. Guests that cause a disturbance to others, or fail to follow the instructions of the event staff may be forcibly removed from the event without refund.
Guests are responsible for the security of all of personal belongings.
The event venue operators, organisers, promoters, and artists cannot be held responsible for lost, stolen or damaged property, nor accidents resulting in injury occurring anywhere in, or outside, the venue during the event regardless of fault or reason, unless through the gross negligence of the offending party.
Children aged 16 and under must be accompanied by an adult at all times.
No umbrellas permitted.
No dogs are permitted, except assistance dogs.
No gazebos or tents.
Disabled tickets are available for each concert, and will be issued on a first come, first served basis. A copy of the disabled ticketing policy is available on request by emailing tickets@lizhobbsgroup.com.
It is our intention that our events are fully accessible for all. If you have any specific requirements with regard to accessible provision then please contact us and where possible we will make all reasonable adjustments to ensure your enjoyment of our events.
Tickets - Exchanges and Refunds
We can't offer any exchanges or refunds. Please note: before buying tickets it's really important to double check all the event details and make sure you're 100% happy before going ahead.
By purchasing a ticket you, and all persons accompanying you agree to the aforementioned terms and conditions.
LHG Live hold the right to change these terms and conditions at any given time.