Description
Are you woman struggling to have your voice heard at work?
Ever feel like you just can't express your thoughts in front of colleagues? That you don't always do yourself justice, even though you've got loads to say?
If this is an issue you struggle with you're certainly not alone. This may be an important year for women speaking up but somehow many struggle to do so. Research showing that women are 68% more likely than men to say they never feel comfortable when expressing themselves in a work environment. From one-to-ones to board meetings and from junior staffers to CEOs, many women find speaking up a major challenge.
Why is gravitas important for women today?
Gravitas is a crucial skill for business success. Building gravitas enables you to communicate with confidence, command respect and increase your personal visibility. Women with gravitas network better, communicate better, present better and lead better. In a competitive environment, female employees who know how to access their personal gravitas get promoted more quickly, build stronger relationships, win more business and get better results from their teams.
What is Gravitas?
Traditionally associated with older men, gravitas is a crucial quality for women as they make their way up the career ladder. Having gravitas means you'll get taken more seriously, command respect and have a voice that people pay attention to. Unfortunately it can be particularly challenging for women who have been conditioned to 'be nice', say the 'right' things and not make a fuss. Research shows that women need to be 100% certain about the facts before speaking up, whereas men are more likely to get vocal irrespective of what they know.
The Female Gravitas Masterclass: unlock the six keys to getting heard at work
This Gravitas Masterclass is a unique, results-proven model which explores the six key ingredients to gravitas and includes simple techniques to develop this powerful business skill. Based on extensive research with global leaders and designed by Gravitas Expert and author of Leading with Gravitas, Antoinette Dale Henderson, this Masterclass has been designed specifically to address challenges faced by women as they make their way up the career ladder.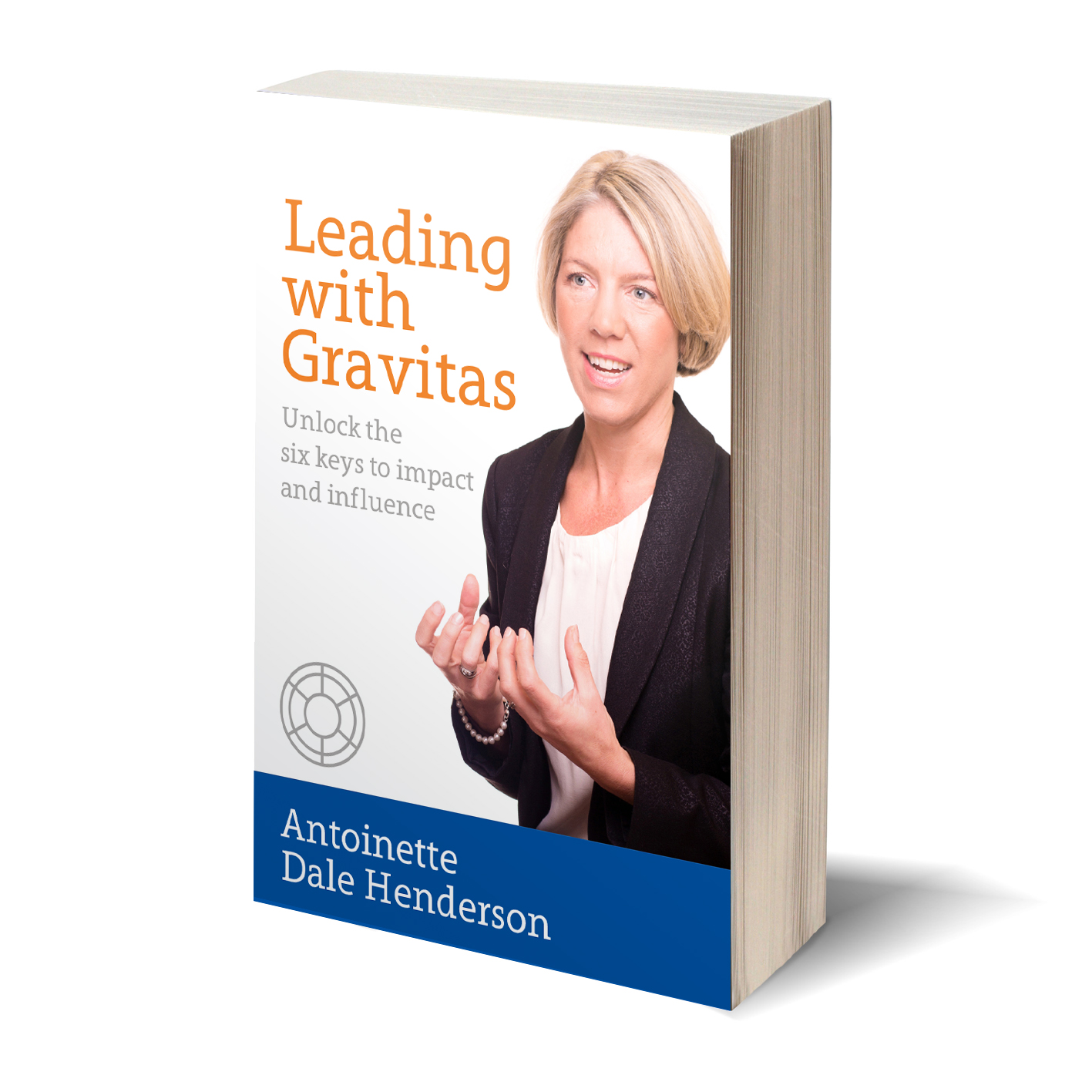 After coming on the Masterclass you will be able to:
Communicate with confidence, credibility and authority

Know the secrets of making a powerful impact and owning a room

Articulate your personal brand and raise your profile in a non-cringey way

Navigate career conversations so that you get the recognition you deserve

Handle challenging conversations with ease

Appreciate your own worth and right to fulfil your potential
How is this programme unique?
This is no vanilla, cookie-cutter course. Every Masterclass is 100% tailored to the delegates in the room

Based on the Gravitas Wheel©, an evidence-based model that profiles the six components of Gravitas

Combines the best of leadership research, behavioural psychology, neuroscience, personal branding and performance techniques

Feedback is central to this process. In this safe space, everyone gets the attention they deserve and places are limited to ensure everyone receives maximum development
This course is suitable for:
Female leaders who are facing challenging situations and need to increase their impact and influence

Women business owners who are looking to enhance their impact as 'the face' of their organisation

Senior managers who have the technical expertise but need confidence to fulfil their leadership potential

Rising stars who may be perceived as inexperienced because of their age

People who have reached a plateau in their career and are looking for a boost to maximise their potential
What people say
"Gravitas. Everybody wants it, few know how to get it. This is the very first time I've seen that all-important quality broken down into meaningful components, combined with practical exercises to strength it in us all. A must for anyone serious about making an impact!"
"The Programme has helped me to focus on making an impact and keeping my composure when speaking and presenting. I have more confidence and presence and the courage to stand up for what I believe."
"The best training I've been on in the 15 years I've been in the business. This course made a real and profound difference in a way that no other courses have done."
"Allowed people to be themselves and play to their strengths."
"My expectations were met in that I now have the ability to question myself and my goals, understand the audience and know that I have it inside me. I am thinking and being different."