Event Information
Refund policy
Contact the organiser to request a refund.
Eventbrite's fee is nonrefundable.
Are you a woman in leadership looking to increase your visibility and accelerate your progression? This programme is especially for you
About this event
Why is Gravitas important for women? 
Women only make up 19% of boards and represent only 22% of senior management teams. Confidence is one of the main barriers to success, with 83% of women struggling to make their views heard.
Communicating with credibility can be a challenge for women in senior positions. Raising your profile, commanding respect and dealing with difficult people aren't behaviours that come naturally. Not doing so can have a seriously damaging effect on your career.
Gravitas is a crucial skill for business success and the catalyst for senior positions. In a competitive environment, women with gravitas lead better, build stronger relationships and get better results. Through the Gravitas Programme, we've worked with thousands of female leaders across all sectors. And although expertise is vital, what becomes more valuable the more senior you get is an authentic voice that people want to listen to and an authoritative message that lands. In response, we've developed the Gravitas for Women Programme, a two-day event especially for women who want to smash through barriers, exceed expectations and achieve excellence in all they do. 
What is the Gravitas for Women Programme? 
Founded on the unique methodology from Leading with Gravitas, this two-day programme addresses the real challenges faced by women as they progress up the career ladder. You will have a memorable, some even say life-changing experience that will immediately increase your assertiveness, executive presence and impact. 
The programme is led by Antoinette Dale Henderson, award-winning speaker and author of Leading with Gravitas and Power Up: The Smart Woman's Guide to Unleashing Her Potential  who has 25 years' experience in corporate communications and now works exclusively with executive teams and boards. 
Away from the day to day pressures and expectations of your colleagues, this two-day programme will give you the time you need to reflect on where you are now and how to accelerate your potential. You will learn how to: 
Articulate your vision with conviction and authority

Increase visibility as a leader in your field

Develop a compelling voice that gets heard over others

Build a magnetic presence and stand out from the crowd

Make subtle changes to body language for greater influence

Override negative perceptions associated with age/experience

Develop a confident mindset and step into your power

Define and build your authentic leadership brand

Practice simple structures for keynotes and presentations

Bring humour into your style without compromising authority
On this exclusive programme, you will get: 
Gravitas Masterclass: a two-day programme led by Gravitas Expert, Antoinette Dale Henderson
Class size limited to 6 people ensuring your get a bespoke learning experience, tailored to your needs 
Gravitas Handbook: a comprehensive resource to support your ongoing development 
Gravitas Assessment & Report
Signed copy of Leading with Gravitas (value: £14.99)
Packages available to include up to three executive coaching sessions with Antoinette
What people say
"This was the best development course I've ever been on. Antoinette is an inspirational speaker and coach. In her masterclass, she provided all the tools and tips needed to communicate with gravitas. I've already put many of her tips into practice. I came away with a clear reminder of what my personal purpose is. Thank you Antoinette for an amazing day! Andrea Plasschaert, Senior Global Communications Manager, PwC
"Antoinette Dale Henderson is an exceptional coach and speaker. Her authentic, inclusive and very practical approach are a fresh take on leadership and managing change by accentuating gravitas. Very engaging, people at different levels can benefit from her toolkit, right from early career professionals to experienced leaders." Reetu Kansal, Senior Business Analyst, University of London
"As part of our women's programme we asked Antoinette to deliver a talk on 'Gender Equality and Confidence in the Workplace' in April this year. With 50+ attendees from across our London team we listened as Antoinette shared practical examples and exercises we could all incorporate into our daily lives. We're already seeing the impact of this amazing evening and I'm really hoping Antoinette will be able to come back and support us again." Charlotte Halls, Product Manager, Audio Network
"The programme has itself been transformational for my leaders and my business, and has undoubtedly been the catalyst and the stamina behind our success. At an individual level I've seen people with low self-belief truly blossom into confident, capable and compassionate leaders, with a level of finesse that many would envy. And at a team level I've been bowled over by the shift towards taking collective ownership, innovating collaboratively and reaching a level of self-sufficiency I've rarely seen in leadership teams." Jack Richardson, Deputy Director, Government Recruitment Services, Cabinet Office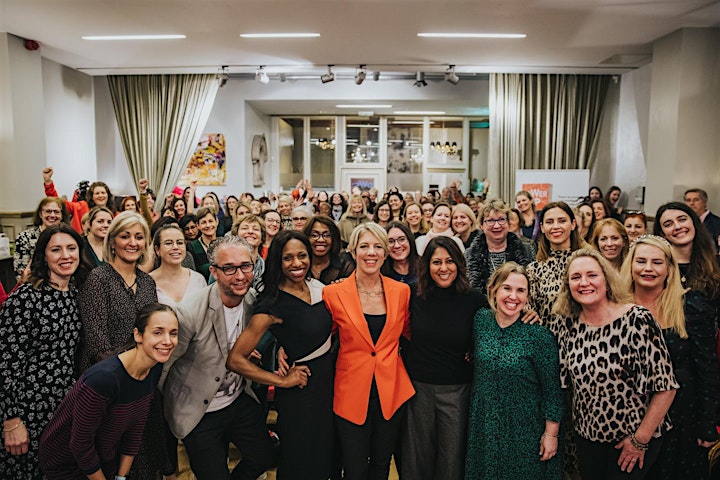 Date and time
Location
Refund policy
Contact the organiser to request a refund.
Eventbrite's fee is nonrefundable.
Organiser of Gravitas for Women: Communicate Confidently & Maximise Your Presence
Antoinette Dale Henderson is an award-winning speaker, executive coach and founder of the Gravitas Programme, a "life changing" leadership development course which has accelerated the career potential of thousands of managers, leaders and business owners and enabled them to speak with authenticity, confidence and credibility.

 With over 25 years' experience in leadership communications, she works globally, delivering strategically-driven, results-orientated and unique masterclasses that make a powerful difference to executives, boards and top teams.

As a Fellow of the Professional Speaking Association and the Global Speakers Federation, she's regularly invited to deliver keynotes and speak on panels about gravitas, leadership and promoting the cause of women in business. She is a regular speaker for VISTAGE, the global organisation for MDs, CEOs and leaders and delivered her first TEDx, Gender Equality: The New Power Dynamic, in October 2019.

She is author of two books. The first, 'Leading with Gravitas: Unlock the Six Keys to Impact and Influence' has been extensively featured in the mainstream media including Forbes, the Daily Telegraph, HR Magazine and Management Today. 
Her second book, 'Power Up: The Smart Woman's Guide to Unleashing Her Potential', explores the challenges faced by women in the workplace and presents an inspirational route map to success. and is packed with powerful techniques for increasing visibility and recognition, with step-by-step guidance on supercharging your career, finding your inner strength and getting your voice heard.

For more information visit our website: http://antoinettedalehenderson.com
Or give us a call on 07725 856 469 – we'd love to hear from you!