About this Event
Please note: THIS EVENT IS POSTPONED in light of the Covid-19 risk. Attendees will be contacted once a new date is agreed on.
--------------------
Cover cropping ahead of spring drilling can help protect soils over-winter, reduce nutrient losses and return organic matter. Grazing of cover crops by sheep can potentially reduce feed costs, return nitrogen in a readily available form and reduce the reliance on glyphosate to terminate cover crops. However, if not managed correctly, grazing can damage soil structure thereby increasing the risk of run-off and soil erosion. Selecting the correct cover crop species is crucial and must consider both impacts on livestock performance and any rotational conflicts with the following cash crop.
This trial, sponsored by AHDB, considers the impact of grazing the cover crop before re-sowing, providing much needed feed at low cost and at a critical time of year, so that we can make good use of the fertility left behind. Farmers who may be interested in joining this field lab are invited to attend a meeting to discuss the issues and set out initial plans for a methodology.
What makes for the perfect cover crop?
- Single species or mixed, whilst keeping the costs down?
- When is the ideal time to sow and when is it too late?
- Soil temperature profile vs. establishment
- How best can we create a cover crop to protect the soil after maize?
- What's the best way to introduce cover-crops?
- What will you try? Slurry injector in to winter barley stubble or broadcast over the crop - before harvest!
- How best can we graze the crop to make the most of it, whilst protecting the soil and avoiding erosion?
To find out more about Innovative Farmers, our live and concluded field labs, and the support available click here.
Places are limited and booking is essential. By registering to attend you are expressing an interest in joining the field lab group and participating in the trial.
If you have any questions, please contact Rebecca Swinn on 0117 987 4572 or email rswinn@soilassociation.org.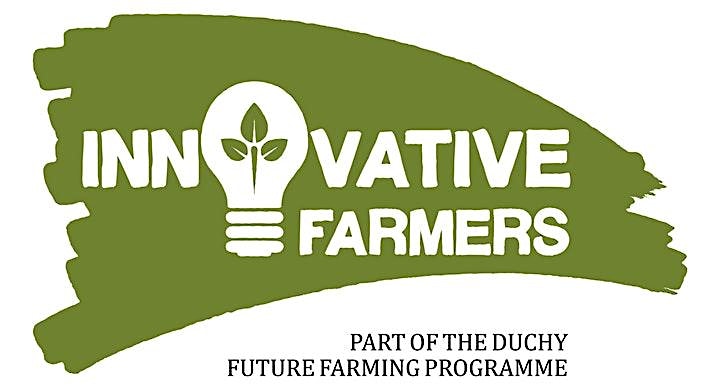 The organiser
Innovative Farmers is a not for profit network giving farmers research support and funding on their own terms. Through trialling, testing and hands-on research, we're helping farmers find lasting solutions to practical problems. The network is part of the Duchy Future Farming Programme, funded by the Prince of Wales's Charitable Fund. Innovative Farmers is backed by a team from LEAF (Linking Environment and Farming), Innovation for Agriculture, the Organic Research Centre and led by the Soil Association, supported by Waitrose. This project is also sponsored by AHDB.
Data protection
Innovative Farmers takes data protection very seriously and will only collect essential data from participants. Personal data will not be shared with any third party organisations without your expressed permission and will only be used in conjunction with this field lab. Under data protection law, we must give you information about the bases we are relying on to process your personal information. Innovative Farmers privacy policy can be found at https://www.innovativefarmers.org/about/privacy-policy-and-terms-and-conditions/
The Soil Association's full privacy policy is available here: https://www.soilassociation.org/privacy-policy/
By booking onto this event you agree to the terms and conditions stated in our privacy policies. You can opt out at any time by contacting info@innovativefarmers.org