Description
Are you a business with an interest in grazing?
Do you have a research idea or innovation that you would like to develop?
Have you identified a grazing-related problem to which there is not a satisfactory solution?
The Agri-tech Cornwall Project provides a unique funding opportunity for businesses to develop new products, services and solutions around all aspects of grazing and pasture management. This an opportunity for Cornwall to lead and innovate, with the potential to apply such solutions both nationally and internationally in the future.
This free Grazing Innovation workshop is on 24th November, 10am-4pm, at Pool Innovation Centre, Redruth, TR15 3PL. Topics will include; quality produce from forage, the potential to identify any unique attributes of Cornish pastures and pasture management.
Attendees will be able to:
Identify key business opportunities and challenges for research

Meet with researchers and business advisers

Understand how to access the funding

Network with other small to medium sized Cornish enterprises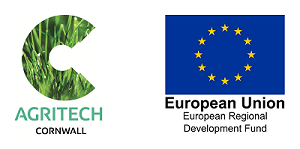 FAQs
How can I contact the organiser with any questions?
For more information on the event or on the Agri-tech Cornwall Project please contact us on 0845 4587485 or info@agritechcornwall.co.uk
Who should attend?
Anyone who has a direct interest in issues and opportunities associated with grazing and pasture: from producers and landowners, processors, companies providing products or services to agriculture, to those who would like to develop innovative solutions.
What is Agri-tech?
Agricultural technologies are innovations that can help agriculture become more productive and efficient, profitable, resilient and secure, and help protect and ehance the farmed environment and those that farm it.
What is Agri-tech Cornwall?
Agri-tech Cornwall & the Isles of Scilly is a 3 year £10m project to increase Research Development and Innovation in the Agri-tech sector across Cornwall and the Isles of Scilly. It is part-funded by the European Development Fund.
The project is led by the Duchy College Rural Business School in partnership with leading research institutions – the Universities of Exeter and Plymouth, and Rothamsted Research – and the Cornwall Development Company.
What support is available?
Open to small and medium-sized Cornish companies, this is a once in a lifetime opportunity to develop and apply new technologies assisted by project partners, research projects, innovation grants and graduate job placements.