Description
Following three great years in Norwich, the Great British Beer Festival Winter is moving to Birmingham as part of its three-year rotation around the country.
CAMRA, the Campaign for Real Ale, invites festival lovers to enjoy 'ales of every season' at Birmingham's first Great British Beer Festival Winter, from 4-8 February 2020! Not to be confused with a festival for winter beers alone, beers of every style and shade will be available, served in cask, keykeg and bottle – from dark to ruby brown and golden ales, plus international beers, real ciders, gins and more!
Alongside a fantastic range of drinks, the Great British Beer Festival Winter will also feature:
A range of local food vendors

Tutored tastings and talks

A stage packed with music acts and entertainment

The announcement of the winners of the Champion Beer of Britain winter style categories
And much more!
As the West Midlands is a region built on the trade and innovation of the industrial revolution, the festival will be themed "A Festival of a Thousand Trades", celebrating industry, diversity, and creativity throughout time. This theme will define the drinks on offer, which will include a range of spirits and non-alcoholic options to accompany over 400 beers, ciders and perries that will represent the region, the wider United Kingdom, and beyond.
The festival is open to the public from 5-8 February 2020, with an exclusive trade and members-only session on 4 February from 13:00- 17:00!
Ticket bundles include your entry to one session of the festival, £10 worth of beer tokens (refundable) and your Festival Glass (value of £3 and refundable).
Opening Times
4 Feb: 13:00 - 22:30 (members and trade only before 17:00, open to public after)

5 Feb: 11:00 - 22:30

6 Feb: 11:00 - 22:30

7 Feb: 11:00 - 22.30

8 Feb: 11:00 - 19:00
Last Admission: half hour before close. No pass-outs will be allowed.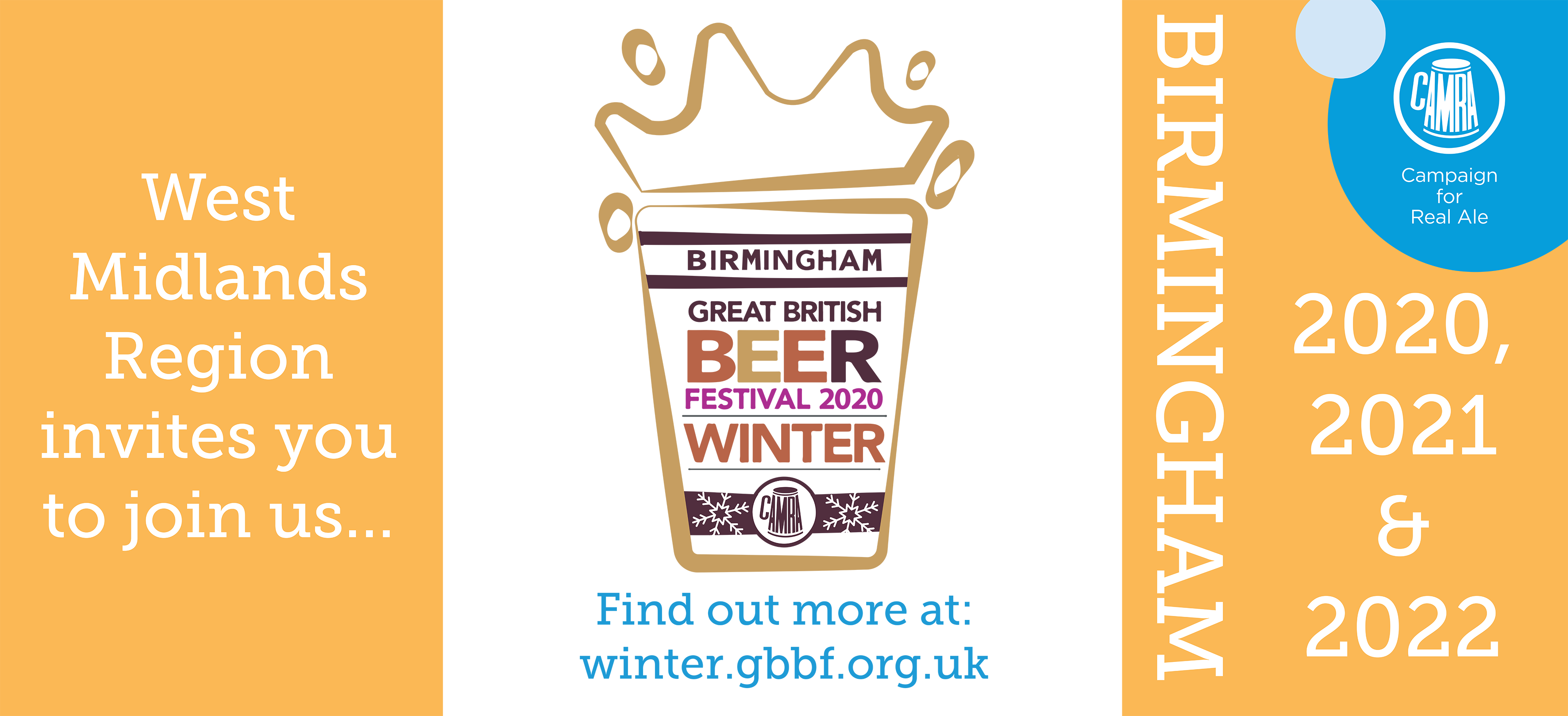 Don't worry if we sell out of advance tickets, you can still get into the festival on the door.
Unfortunately, we do not offer refunds for this event.
4 Feb: 13:00 - 22:30 (members and trade only before 17:00, open to public after)
5 Feb: 11:00 - 22:30
6 Feb: 11:00 - 22:30
7 Feb: 11:00 - 22.30
8 Feb: 11:00 - 19:00