An online discussion on the Famine Irish in Manchester, informed by films on the topic (see http://greatfaminevoices.ie/manchester/)
About this event
The Institute of Irish Studies is delighted to once again join the National Famine Museum at Strokestown Park, Ireland, and the Irish Heritage Trust, for a Great Famine Voices Roadshow. This year the focus will be on the Irish in Manchester.
Greg Quiery and Roger Appleton of Brightmoon Media have created a short introduction to the Irish in Manchester which can be viewed below or at http://greatfaminevoices.ie/manchester/ . The webpage also features a number of Mancunians of Irish descent recalling their ancestors' arrival and settlement in impoverished and now iconic areas such as Angel Meadow and Little Ireland. (Please note that registration is only required for the panel discussion, the films are fully public and can be viewed without registration.)
The Roadshow will be in the form of an online discussion with a panel of experts, including Greg Quiery, Mervyn Busteed, Dr Anna Walsh and Dr Barry Hazley and will be chaired by Dr Jason King.
Greg Quiery
Greg Quiery is Chairperson of the Liverpool Great Hunger Commemoration Committee, and author of In Hardship and Hope, a history of the Liverpool Irish. His poetry collection A Stray Dog Following is published by Stairwell Books. Originally from Newtownards in County Down, Greg has lived in Liverpool since the 1970s.
Mervyn Busteed
Mervyn Busteed was born in Belfast where he attended Queen's University. He has lectured in Geography at University College, Swansea, the School of Geography at Oxford University and Manchester University. Now retired, he is an Honorary Associate at the Institute of Irish Studies, University of Liverpool, and is currently researching a book on the Liverpool Orange Order.
Dr Anna Walsh
Dr Anna Walsh recently completed her PhD at the Institute for Irish Studies, University of Liverpool. Her research was an oral history of recent and historic Irish migration to Leeds, taking into account people's work, social and home lives. Her other research interests include architectural and urban history, material and visual culture and photography. She is a Fellow of the 2017 Oral History Summer Institute at Columbia University, and is on the panel for specialist historians at Dublin City Council.
Dr Barry Hazley
Dr Barry Hazley is Derby Fellow in the Institute of Irish Studies, University of Liverpool, and AHRC Research Fellow on the project 'Conflict, Memory & Migration: Northern Irish Migrants & the Troubles in Great Britain'. A social and cultural historian of modern Britain and Ireland, his first monograph Life history and the Irish migrant experience in post-war England: myth, memory and emotional adaption was published by Manchester University Press in 2020. He is currently researching a new book, provisionally entitled The Northern Ireland Troubles and English Society: a social and cultural history, which examines the neglected social, cultural and emotional legacies of the conflict within England after 1969.
Dr Jason King (chair)
Dr Jason King is Academic Coordinator of the Irish Heritage Trust and National Famine Museum, Strokestown Park, which host the Great Famine Voice Roadshow.
The National Famine Museum at Strokestown Park, Ireland, and the Irish Heritage Trust host a number of Great Famine Voices Roadshows throughout the year. Please go to http://greatfaminevoices.ie/famine-heroes/ to find out more.
The Great Famine Voices Roadshow Manchester is funded by the Government of Ireland Emigrant Support Programme.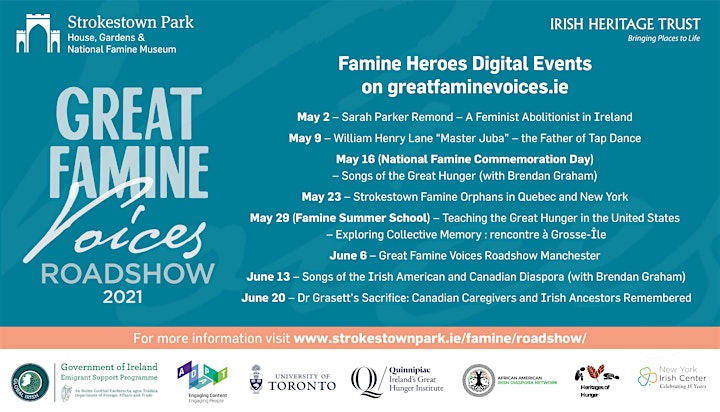 Organiser of Great Famine Voices Roadshow 2021 - Manchester