Great North Pharmacy Research Collaborative Conference 2021
Sales Have Ended
Registrations are closed
Please contact sarah.black@ahsn-nenc.org.uk
Sales Have Ended
Registrations are closed
Please contact sarah.black@ahsn-nenc.org.uk
Great North Pharmacy Research Collaborative Conference 2021: Technology: the great pharmacy enabler <div class="avatar avatar--fl
About this event
The theme of this year's conference is Technology: the great pharmacy enabler
The conference aims to showcase all the great regional pharmacy research completed this year and will incorporate the regional pre-registration presentations and awards. This includes work from early career researchers, postgraduate students, and pharmacy professionals from all sectors.
By working together as one pharmacy team across multiple organisations and sectors we have a unique opportunity to improve quality of care, reduce risk of harm from medicines and increase efficiencies.
We are delighted to announce keynote speakers Dr Jane Brown, Pharmacy Dean, Health Education England and Professor Graham Evans, Chief Information and Technology Officer/SIRO, North Tees and Hartlepool NHS Foundation Trust, Chief Digital Officer NENC, Integrated Care System and Honorary Professor, Teesside University.
Breakout sessions are:
Technology Enabled Research
Gemma Donovan, Academic Practitioner in Pharmacy Practice, School of Pharmacy, Pharmaceutical and Cosmetic Sciences, University of Sunderland
This workshop will provide an introduction to using routinely collected digital healthcare data for the purposes of research, evaluation or quality improvement. This will include what data sources may be helpful for medicines-related research, the potential limitations of using this data and examples of how it's use can be optimised to appropriately answer research questions.
From finding my feet to discovering my passion: my journey through mental health Pharmacy
Laura Stavert, Advanced Pharmacist Practitioner, Cumbria, Northumberland, Tyne and Wear NHS Foundation Trust
Laura will be exploring her beginnings in psychiatry starting 10 years ago, talking about working independently as the only Pharmacist in a community mental health team and her future ambitions as a clinical academic combining expert clinical practice and research.
Improving Cancer with Data – a journey to consultancy pharmacy
Calum Polwart, Specialist Cancer Pharmacist, South Tees Hospitals NHS Foundation Trust
Calum will describe some of his work he has undertaken using data, often already routinely being collected, to reduce waste, assure patient safety or measure clinical outcomes of anti-cancer treatments. He will describe how this form of research can help advanced practitioners develop their research skills and progress towards Consultant Level Practice without the need to spend a lifetime gathering data. While Calum will show the power of joining data from multiple data sources, he promises to try and keep the technical data at a fairly low level of geekiness! He will also discuss the need to exclude patients who have chosen for their routinely collected data to not be used for research purposes, and how this can happen in practice.
Community Pharmacy: How can we work better together?
Richard Brown, Chief Officer, Avon LPC
The workshop will look to explore how GP Surgeries and Pharmacies can work closer together. With a combined interest to support the health and wellbeing of their community, pharmacies and surgeries can both provide support in a cohesive way. For example, to support practices, the use of the NHS Community Pharmacist Consultation Service allows patients to be referred to their pharmacist for a common ailment to free up appointments for more complex patents. This year, it is anticipated that flu vaccinations will reach their highest demand, especially with the additional age cohorts. With a collaborative plan, surgeries and pharmacies can ensure maximum penetration into these groups along with planning for the potential C19 vaccination boosters. Lastly, everyday, patients are discharged from hospital and we know it can go wrong if all communication channels are not working effectively. The Discharge Medicines Service allows community pharmacies, working with their PCN pharmacist to ensure better outcomes are achieved.
Follow us on Twitter to keep up to date with conference news
@GtNorthPharmRes #GNPRC2021
Agenda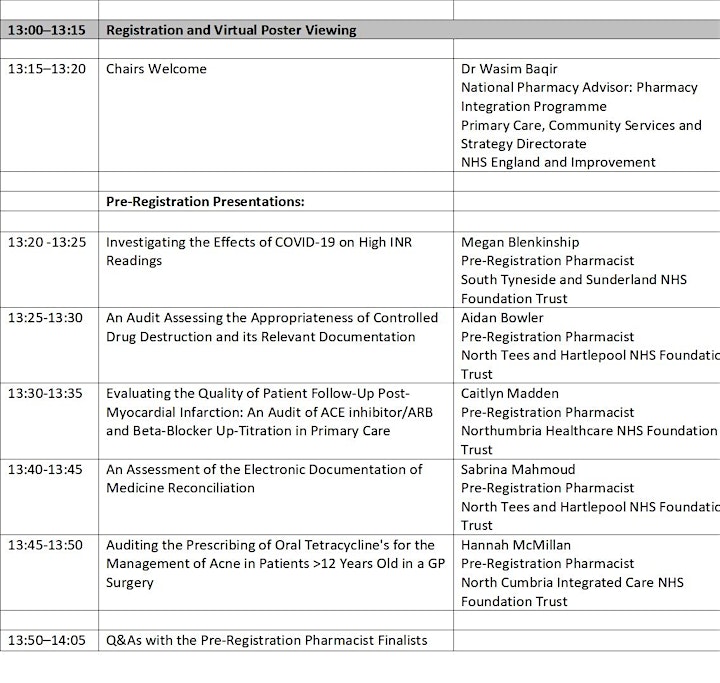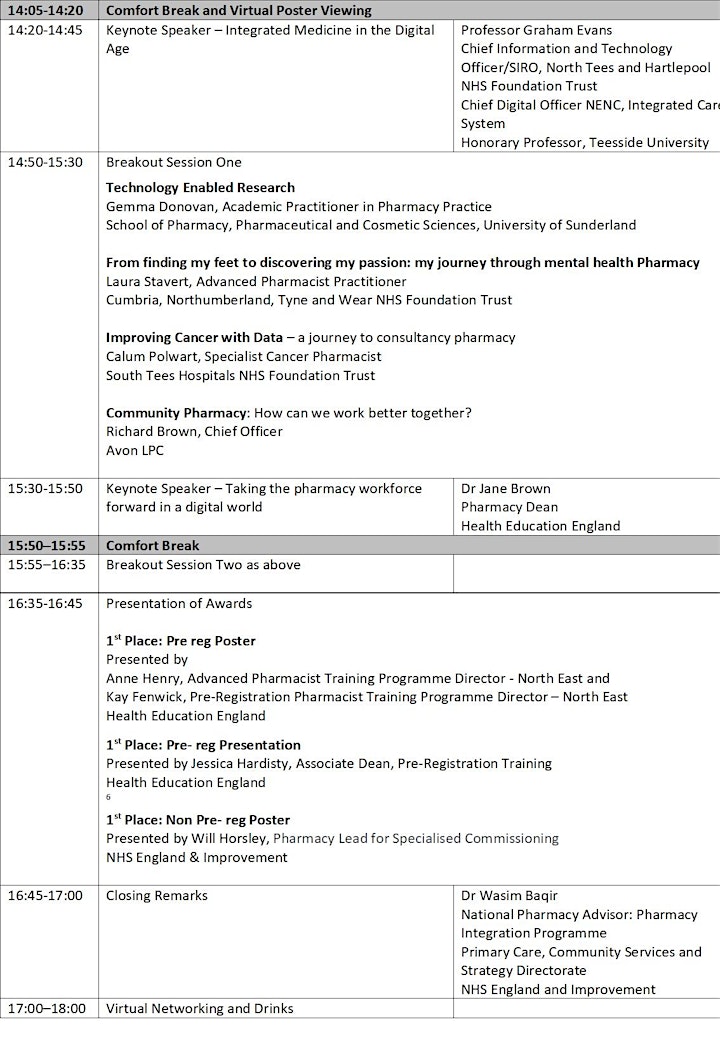 Organiser of Great North Pharmacy Research Collaborative Conference 2021