Sales Have Ended
Ticket sales have ended
Sorry all advance tickets are now sold. You can still buy tickets on the door.
Sales Have Ended
Ticket sales have ended
Sorry all advance tickets are now sold. You can still buy tickets on the door.
Buy beautiful handmade craft direct from over 160 of the UK's finest designer-makers
About this event
The award-winning Great Northern Contemporary Craft Fair is back from 9-10 October 2021 (Preview Evening Friday 8th October) in its new home - Manchester's iconic Victoria Baths.
After last year's event was cancelled (due to you know what), this much-anticipated event on the city's art scene, returns with an impressive line-up of over 160 UK designer-makers, all specially selected for their excellence in their craft. The GNCCF is an opportunity to see some of the country's best craftspeople all under one roof and buy or commission unique handmade work directly from them.
Expect a diverse range of talents and stories from a wide range of makers, including contemporary ceramicists, jewellers, textile designers, metalsmiths, glass-makers, furniture-makers and printmakers. It's a fabulous and inspiring shopping experience to find one-off pieces for yourself, statement objects for the home and thoughtful gifts for Christmas.
The fair will also feature makers demonstrating and talking about their craft, and over 30 recent graduates will be showcasing their degree show work in a new emerging talent exhibition "Changing Spaces".
For further details, a list of exhibitors and information on how to get to the GNCCF:   www.greatnorthernevents.co.uk
GNCCF Covid 19 Safety Measures
Whilst Government guidelines regarding Covid-19 have been relaxed in England, the safety of our visitors and exhibitors is our priority. We want everyone to feel comfortable and enjoy their visit to the GNCCF and so, as reassurance, we will have the following safety measures in place:
Increased ventilation by opening windows and doors. As it's October, this may make the venue chillier so please bring a jacket. At busy times, we may stagger entry and visitor numbers in areas with poorer ventilation.
Enhanced cleaning throughout the show with particular attention paid to touchpoints and toilets.
Hand sanitising stations will be available for your use. We recommend you to sanitise regularly during your visit and especially after handling or touching work. Exhibitors will also be advised to have hand sanitiser on their stands
.We encourage you to continue keeping a safe distance from other visitors and exhibitors where you can; we may need to limit the number of people into parts of the fair during busy periods to prevent overcrowding.
Whilst face coverings are no longer mandatory indoors, we recommend that you wear one if you can, especially when having face to face conversations with exhibitors or in crowded areas; exhibitors will also be encouraged to wear masks but this will be at their own discretion.
We will enable track and trace check-ins by displaying an NHS QR code poster. This is at your discretion. For those who do not have the app, we will have a system in place to record their details. This info will be kept for 21 days, then destroyed.
Contactless transactions will be encouraged but cash will still be accepted
We may ask you to verify your Covid status and people with Covid-19 symptoms (ie high temperature, new continuous cough or a loss or change to their sense of smell or taste) are requested not to attend; those who display or develop symptoms whilst attending GNCCF will be asked to leave.
We will ask visitors to identify their preferred arrival time when they book.
We politely request all attendees to be considerate to those around them, respect their preferences and the safety measures in place.
( The above measures have been designed in line with Government Guidelines and the Events Industry Alliance All Secure Standard guidelines).
Other things you may want to know about your visit:
What are the opening times:
Private View Evening:
Friday 8th October        18.00-21.00
Public Openings:
Saturday 9th October         10.00-17.00
Sunday 10th October          10.00-16.00
Who are tickets concessions for?
Students with a student card, unwaged, OAPs are entitled to buy concessionary tickets.
Can you buy tickets on the door?
We advise that you pre- book your tickets. A limited number of tickets will be available to buy on the door.
I'd like to bring a student group, what do I need to know?
If you are a teacher/lecturer and plan to bring a group of more than 10 students please email us with details of the day and ETA. Please note, this year, the GNCCF is not open to the public on Friday.
We get a lot of students, so we want to make sure we are prepared to process large groups and fast-track your entry. Given our need to monitor visitor numbers to ensure social distancing in the venue, we can only take student groups that have booked tickets in advance. If you prefer, you can pay by cheque payable to Great Northern Events NW Ltd in advance or we can invoice you for you to pay by bank transfer. 
We also request you brief your students on our student protocol which is here
Email us:  ann-marie@greatnorthernevents.co.uk
I have been sent an invitation to the Private View  Evening, how do I get my ticket with the promo code?
If you have received an email inviting you to the Private View on Friday 8th October, you can get your complimentary invite by quoting the Promo code sent in the email. In some cases, the link will automatically unlock the promo code. If not click on the register icon, click on "Enter Promotional Code", select the number of invites you require (max 2 per person) and process as normal.  There is no charge for these exclusive invites.
Any problems contact: ann-marie@greatnorthernevents.co.uk
Can I buy tickets to the Private View?
Yes, you can buy tickets to the Private View on Friday 8 October ( 6-9 pm) at a cost of £10 adv or £12 on the door.
What is the refund policy on tickets?
Refunds will be given up to 7 days preceding the event.  
Please contact ann-marie@greatnorthernevents.co.uk
Can I use my ticket on another day?
No, we politely ask you to request a refund and rebook. We are monitoring visitor numbers throughout the public opening times to keep all our visitors, exhibitors and staff safe.
Please note, Eventbrite prints the tickets detailing the show opening from Friday through til Sunday - it's confusing, as at first glance, you think your ticket states it's for Friday. This is not the case - further down it states the day your ticket is valid for.
What time does the GNCCF open on Friday 8 October?
The GNCCF is ONLY OPEN IN THE EVENING on Friday 8 October from 6-9 pm for a Private View. You can buy advance tickets for the Private View  ( £10 adv) or buy at the door for £12.
Getting to the GNCCF & Parking
The GNCCF takes place at Victoria Baths, Hathersage Road, Manchester M13 0FE. This is about 5-10 mins drive out of the city centre, near the Children's Hospital.
The event is AA signposted but you can also follow the brown tourist signs for Victoria Baths.
For directions and public transport to the venue please click here.
There is limited car parking to the rear of the building - take the side road at the left side of the building (Pax Road) to take you to the rear car park via the side gates.
Be careful not to park outside of the enclosed rear car park on Pax Road as this is private land and you may be issued with a parking ticket.
Blue Badge holders may park directly in front of the building.
Otherwise, there is parking on Hathersage Road and elsewhere subject to normal on-street parking regulations. There is also a large multi-storey at Royal Manchester Children's Hospital on Hathersage Road, a five min walk away ( Height restriction 2.1m; fees - up to 3 hrs £2.50, 3-6 hrs £5, 6-24hrs £15, weekly permit £20).
Accessibility at the venue?
The GNCCF is accessible on the ground floor only, with hand-cranked lifts into the exhibitor stand areas within the pools. There is ramped access to the front and rear of the building with parking for Blue Badge holders at the front entrance on Hathersage Road. There are accessible toilets.
Unfortunately, a small number of exhibitor will be placed upstairs and we regret that there is no disabled access. We will state on the website who is exhibiting upstairs and, if you wish to see their work, we will endeavour to assign you with a fair steward who will video their stand(s) and bring any work you wish to look at to you, with no obligation to buy. If this personal service is of interest please email ann-marie@greatnorthernevents.co.uk so we can arrange this for you in advance. If you just turn up on the day, please request this service at the front desk and we will do our best to arrange it during your visit.
Further details on accessibility and the venue are here
Is the event family-friendly?
We welcome families with children but children under 14 must be accompanied by an adult. Children under 16 get in free if accompanied by an adult. Children coming alone will need to buy a concessionary ticket. Please note that the event has many expensive and breakable objects, so children must be kept under a watchful eye as all breakages will need to be paid for.
The GNCCF is a shopping event but there will be a drop-in craft workshop running at certain times during the day which is suitable for children, but they MUST be accompanied by an adult.
Some exhibitors will also be demonstrating their craft.
Why do we charge for a "shopping" event?
GNCCF is a specially selected event to ensure the work on sale is of a high standard and made by the makers who are exhibiting. Great Northern Events NW Ltd who organise the GNCCF is a not for profit company and do not take any commissions on exhibitor sales.
Behind the scenes, we also do a lot of outreach work throughout the year in partnership with the charity The Oasis Centre, a drop-in centre in Gorton, a deprived area of Manchester. We provide craft workshops, led by GNCCF exhibitors, for their service users. 
We also fund maker support initiatives and subsidise stand fees for new makers and provide free stands for selected new graduates and other organisations. 
We are part-funded by Arts Council England through a National Lottery Project Grant. We have to raise the rest of the costs of staging the GNCCF and funding our charitable initiatives through exhibitor fees and door receipts. 
We hope this does not stop you from visiting the GNCCF.  We thank you for your understanding and support in promoting and allowing us the opportunity to share, great craft with everyone.
How can I contact the organiser with any questions?
Further information about visiting the GNCCF can be found here
Or you can email the organiser:
ann-marie@greatnorthernevents.co.uk
Is there a cafe on-site?
There will be a small licenced cafe selling teas, coffees, sandwiches, cakes and other light refreshments, plus wines and beers. 
Only food purchased in the cafe can be eaten there. Those not eating and visitors with packed lunches will be asked to move if the cafe is busy.  
How do we find out who is exhibiting?
A full list of exhibitors can be viewed on the website here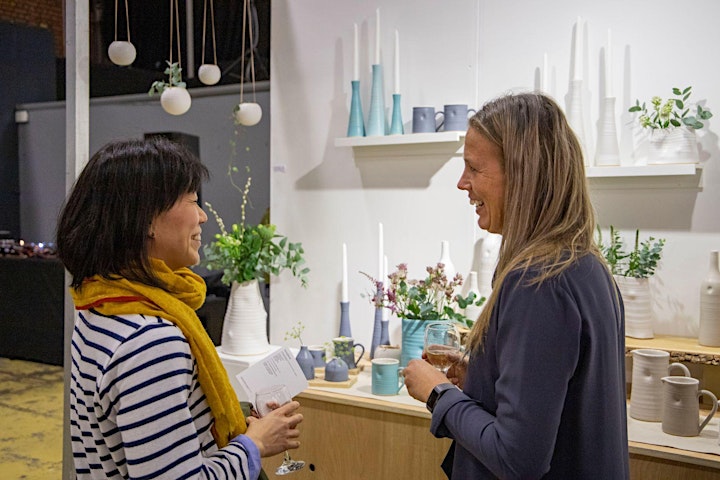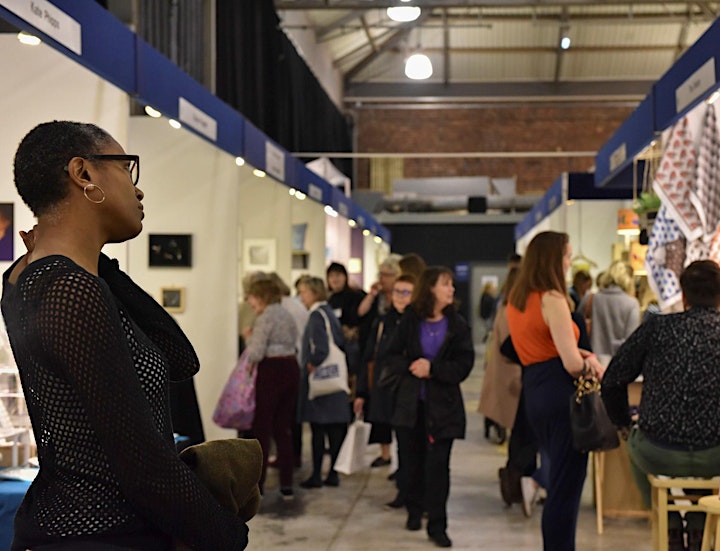 Organiser of Great Northern Contemporary Craft Fair, Victoria Baths, Manchester