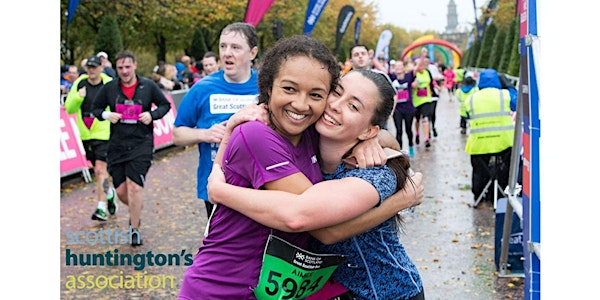 Great Scottish Run in Glasgow for Scottish Huntington's Association
Location
George Square
George Square
Glasgow
G2 1DH
United Kingdom
Great Scottish Run for Scottish Huntington's Association
About this event
Take on this challenge to raise funds for Scottish Huntington's Association (SHA). Your fundraising will help Scottish Huntington's Association to reach families and young people across Scotland every day with vital support through a network of specialist services. Join us in improving the quality of life for families impacted by Huntington's disease (HD). Throughout your fundraising experience you'll be supported by the #TeamSHA community as well as your own Community Fundraising Officer who will be on hand to help you reach your target.
£20 helps pay for immediate clinical support to a patient over the telephone
£50 helps take a young person out for coffee to offer emotional support and respite from their caring responsibilities.
£100 provides over two hours of specialist clinical support to patients who are losing the ability to walk, talk, swallow, make decisions or care for themselves.
Option 1: Sign up from £32 to take part in the 10K and fundraise whatever you can.
Option 2: Sign up for £39 to take part in the half marathon and fundraise whatever you can.
At SHA we are working hard to make sure we keep all our supporters safe by reviewing our upcoming events regularly to ensure they comply with the Scottish Government's guidance. We appreciate your ongoing support during these difficult times, by signing up to an event you're helping us reach families across Scotland impacted by Huntington's Disease who need our support now more than ever, thank you!