About this Event
If you are part of a small or medium enterprise in the Greater Manchester area and are looking to grow and develop your business the Cyber Foundry is here to provide support. Our leaders in cyber innovation, cyber security and cyber technologies will be presenting at the Salford University Cyber Foundry Conference on Thursday 26th March. Explore ways to defend against cyber-attacks, learn new methods to innovate and share knowledge across the cyber landscape. To reserve your space please register your interest in the event

Agenda
Session 1 – Why do we need Cyber Security?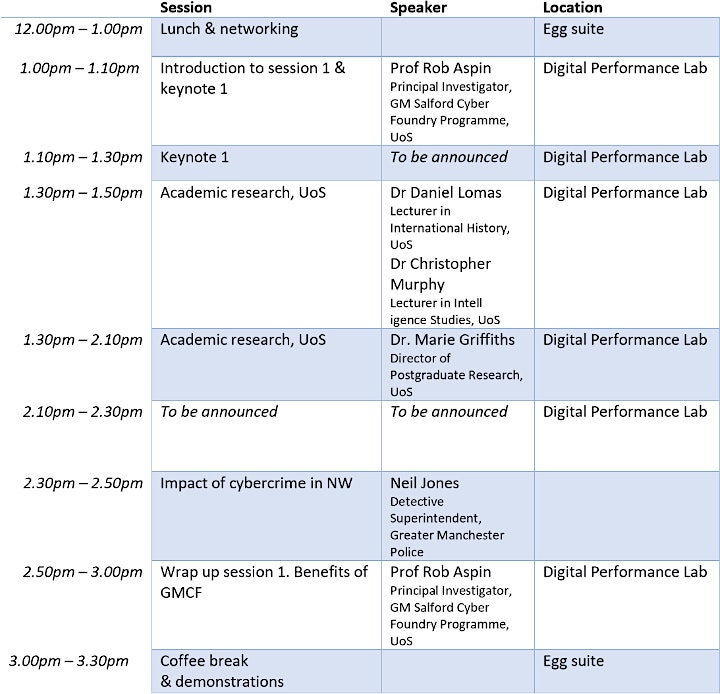 Session 2 – How to incorporate Cyber Security in your Business?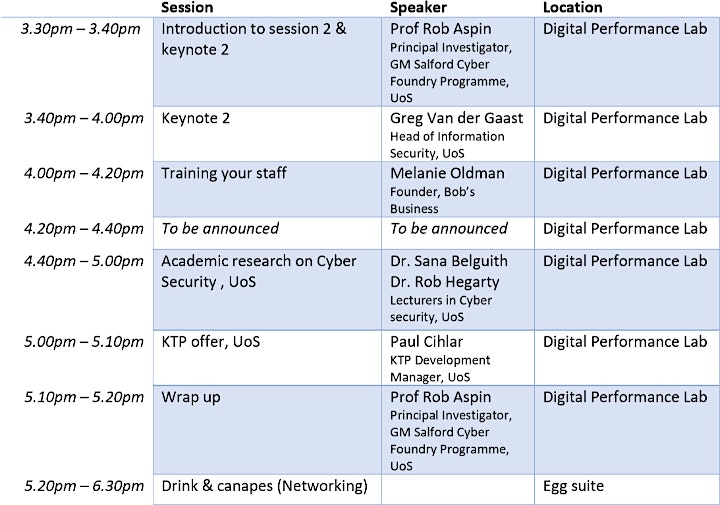 Catering
Lunch will be provided followed by refreshments in the afternoon. The event will allow for networking time over lunch with tea and coffee in the afternoon.
If you have any dietary requirements, please get in touch with the team on the following email address: ERDFCyberFoundry-ProjectTeam@salford.ac.uk

Contact
If you would like to get in touch with the team regarding the conference, then please send an e-mail to: ERDFCyberFoundry-ProjectTeam@salford.ac.uk

About the GM Cyber Foundry
Preparing businesses across Greater Manchester for the digital future.
The Greater Manchester Cyber Foundry is a programme for small-medium sized businesses to help with business growth, stability and security. The programme is part funded by the European Regional Development Fund and there is no cost for participating businesses/business owners.
We are a partnership of four universities from the North West: the University of Salford, Manchester Metropolitan University, the University of Manchester and Lancaster University.
Together we are using our expertise to help defend, innovate and grow businesses in Greater Manchester. Our focus is to help SMEs protect their operations and assets along with strengthening their cyber defences.
To find out more please visit our website at: www.gmcyberfoundry.ac.uk