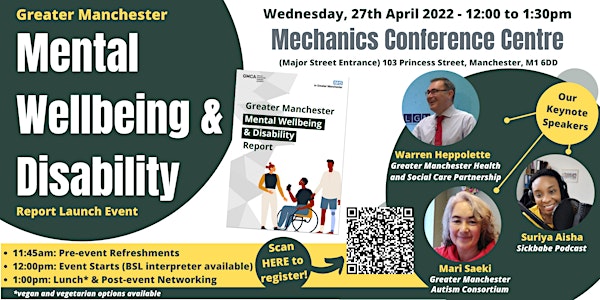 Greater Manchester Mental Wellbeing and Disability Report Launch Event
Location
The Mechanics Centre, (Major Street Entrance)
103 Princess Street
Manchester
M1 6DD
United Kingdom
Greater Manchester Mental Wellbeing and Disability Report Launch Event
About this event
In 2020, the Greater Manchester Big Mental Wellbeing Conversation (GMBMWC) was launched to better understand the needs of people across the city-region and hear what they think is most important for their mental wellbeing. It was found that Deaf and disabled people in Greater Manchester (especially those with diagnosed mental health conditions) are less happy, less satisfied with life, feel things are less worthwhile and are more anxious than hearing and non-disabled people.
The Greater Manchester Mental Wellbeing & Disability Report was pulled together in collaboration with Greater Manchester Disabled People's Panel and guided by our Greater Manchester Mental Wellbeing and Disability Task Group, chaired by Rick Burgess. Through direct consultation with Deaf and disabled people across Greater Manchester, the report captures Deaf and disabled people's perspectives on what good mental wellbeing looks like. It also points to previous work and provides clear recommendations, at individual, community, and GM-levels, on how challenges in improving and maintaining a positive state of mental wellbeing can be overcome.
Hosted by the Head of Population Health Transformation, David Boulger, our keynote speakers will include, Warren Heppolette (Executive Lead for Strategy and System Development), Suriya Aisha (Co-Director of Colours Youth Network, Founder of UNMUTED BRUM and host of Sickbabe Podcast), and Mari Saeki (Project Lead at the Greater Manchester Autism Consortium).
Our Keynote Speakers
Warren Heppolette – Executive Lead Strategy and System Development, Greater Manchester Health and Social Care Partnership.
Warren started his career in local government as a neighbourhood housing officer nearly 30 years ago before moving into policy and strategy roles, joining the NHS in 2006. He has since held a number of roles supporting collaboration across the NHS and local government.
Since 2014 he has played a central role to bring devolved powers and budgets to Greater Manchester and is currently the Executive Lead Strategy and System Development for the Greater Manchester Health and Social Care Partnership supporting the development of integrated care across the ten districts.
Warren is also a Trustee of Greater Sport, the county sports partnership for Greater Manchester and a Director of FC United of Manchester, a fan-owned football club.
Suriya Aisha - Sickbabe Podcast
Suriya is an experienced Youth and Community Practitioner and Artist passionate about making spaces intersectionally accessible. Using her background in arts and psychology she creates spaces for marginalised groups to connect and explore their identities.
Suriya is co-director of Colours Youth Network (@coloursyouthuk), Founder of UNMUTED BRUM (@unmutedbrum) and host of Sickbabe podcast (@sickbabepod).
Mari Saeki - Project Lead, Greater Manchester Autism Consortium
Mari Saeki is the Project Lead for the Greater Manchester Autism Consortium project which is part of the National Autistic Society.
The GMAC project is commissioned by the 10 GM health and social care local areas and oversees the implementation of the GM Autism Strategy as well as offering information and advice to autistic people, family members and professionals. Mari has worked for the project for 20 years.
Note: Refreshments will be available from 11:45am to 12:00pm and lunch will be served following the event from 1:00pm onward. Dietary preferences and allergies should be indicated at point of online registration.
Organiser: Harvey Kennedy-Pitt, Population Health Project Manager, GMHSCP
Email: harvey.kennedy-pitt@nhs.net
Tagging on Social Media
Website: www.gmhscp.org.uk
Twitter: @GM_HSC
**If you require online attendance for reasons of accessibility please let us know via email.