Event Information
Refund Policy
Refunds up to 7 days before event
Eventbrite's fee is nonrefundable.
Join us for this online interactive power hour to discuss green financing for greener cities.
About this Event
Welcome to our "Evolving Cities" series of power-hour online discussions, kindly sponsored by Network members TLT.
Part 1 – Green Financing for Greener Cities
Green finance has garnered a lot of interest from the business community. Large organisations have already recognised the importance of it as a way of future proofing their businesses.
What is green finance and what does it mean for businesses?
What systems need to be in place for green loans and sustainability-linked loans to benefit businesses?
How can green financing support cities create a more sustainable future?
We are excited to hold this Evolving Cities online series in partnership with Network members TLT. We are welcoming Re:Pattern/Bankers for Net Zero, Grantham Research Institute, Triodos and TLT to take part in this panel discussion.
Evolving Cities Series:
• 6th May –Green Financing for Greener Cities
• 3rd June - Working Together: Businesses and Communities
• 7th October – Repurposing Our City Centres
• 4th November - Green Infrastructure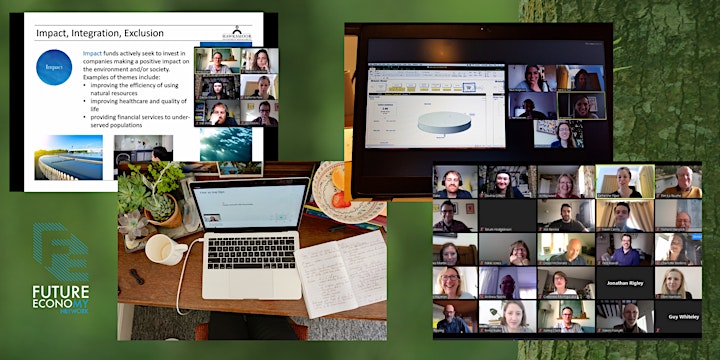 Agenda
10:00 – 10:05 - Registration
10:05 – 10:15 - Facilitated Networking
10:15 - 10:20 – Introduction
10:20 – 10:25 – Topic and Speaker Introduction
10:25 - 10:55 - Panel Q&A
10:55 – 11:00 – Panel's Closing Remarks
Meet The Speakers!
James Vaccaro, CEO of Re:Pattern and Bankers for Net Zero Partner
James is a strategist and systems thinker with a background in sustainable finance. He runs the strategy consultancy, RePattern – part of NOW Partners. He is a Special Advisor to Triodos Bank (previously Director of Strategy and MD of the UK Investment Business), and Executive Director for the Climate Safe Lending Network. James has served as a member of several advisory groups on sustainable finance at UK, European and international level including the Global Steering Committee for the UNEP Finance Initiative, where he was one of the founding developers of the UN Principles for Responsible Banking. James is a Senior Associate of the Cambridge Institute for Sustainable Leadership, Senior Fellow (and previous Chair) of the Finance Innovation Lab, a director of Regen and an advisor for a small number of NGOs in Europe including the Club of Rome and Finance Watch.
Imogen Benson, Associate, TLT
Imogen has experience acting for a wide range of clients including both lenders and corporate borrowers on secured, unsecured, multi-jurisdictional and domestic finance transactions. She has worked on a diverse range of financings, including cash flow lending, real estate finance, acquisition finance and borrowing base facilities.
Imogen is a member of the Legal Sustainability Alliance and The Chancery Lane Project as well as working closely with The Aldersgate Group to stimulate the growth of green finance.
Nick Robins, Professor in Practice for Sustainable Finance, Grantham Research Institute
Nick leads the sustainable finance research theme. The focus of his work is on how to mobilise finance for a just transition, the role of central banks and regulators in achieving sustainable development and how the financial system can support the restoration of nature.
From 2014 to 2018, Nick was co-director of UN Environment's Inquiry into a Sustainable Finance System. Before joining UNEP, he was Head of the Climate Change Centre of Excellence at HSBC. Prior to HSBC, Nick was head of Sustainable and Responsible Investment (SRI) funds at Henderson Global Investors.
Amy Robinson, Corporate Projects Manager, Triodos Bank UK
Amy's work focuses on developing strategic partnerships and building the company's Change Finance agenda and has a particular focus this year on COP26. She represents the bank in a number of networks, including the APPG-led Bankers for Net Zero project, the Aldersgate Group and the Finance for a Just Transition Alliance.
Her previous and current voluntary board positions include Cabot Institute's Advisory Board, Environmental iNet SW, SustainabilitySW, The Design Programme, The Architecture Centre and the Bristol Green Capital Partnership.
----------------------------
Want to Know More?
If you would like to join our sustainable business community please get in touch via info@futureleap.co.uk or sign up easily here.
Follow us on Facebook, Twitter, Instagram & Linkedin
Never miss what's next in sustainability by signing up to our monthly newsletter HERE
Opportunities, Suggestions and Conditions
You can get 20% off your next online event with us by choosing the add on option during booking.
Most of our events are available on demand here, however this does not include opportunities to network, take part in the discussions or do a 60 second pitch!
We will share your name, job title & company with the other event attendees for this event only. If you don't want this information to be shared please let us know when you have purchased your ticket.
We take photos at our events for marketing purposes, if you don't want your picture taken please let us know in advance.
We record some of our events for marketing purposes, if you don't want to be in the recording please let us know in advance.
We have included a £1 carbon offsetting fee to all event tickets in our commitment to being carbon neutral in our operations. You can find out about our chosen charity here.
Please let us know at least one week in advance if you require closed captions or have any other accessibility needs.
If you require a complimentary carers/assistant ticket, please email events@futureleap.co.uk at least one week in advance and we will be happy to support you!
#wegrowthhub #business #seminar #sustainable #sme #bristol #businesswithpurpose #climateemergency #betterbusiness #climatechange #businessresilience #sustainablefuture #resilientcities #evolvingcities #greenfinancing #greenloans #greenfinance #greencities #businessloans
Date and Time
Location
Refund Policy
Refunds up to 7 days before event
Eventbrite's fee is nonrefundable.