Description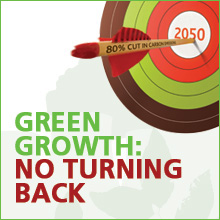 Green Growth: no turning back
Monday 21st October 2013, Congress House, London
The need to secure a green economic future has never been greater. As the recovery starts to take hold it is more important than ever that the new economy we seek to create follows a low carbon path, where we maximise opportunities for green growth while addressing the urgent challenge of climate change.
This conference will consider what a genuinely low carbon future should look like. It will set out why we need to get there, consider what progress has been achieved to date and debate the way forward.
Keynote speakers include:
The Rt Hon Edward Davey MP, Secretary of State for Energy and Climate Change

Iain Wright MP, Shadow Minister for Competitiveness and Enterprise

Frances O'Grady, TUC General Secretary

Professor Julia Slingo, Chief Scientist, the Met Office

John Ashton,

commentator on climate politics; cofounder of E3G; and from 2006-12 climate envoy for 3 Foreign Secretaries: Sun on the Tyne: Climate Change and the Just Struggle for Industrial Reawakening

Sue Ferns, Director of Research & Communications, Prospect/TUC General Council

Andy Atkins, Director, Friends of the Earth

Will Straw, Associate Director, ippr

Chris Baugh, AGS, PCS

Konstanze Scharring, Director of Policy, Society of Motor Manufacturers and Traders

Kevin Coyne, National Secretary, Unite

Emma Howard-Boyd,

Jupiter Asset Management, Director, the Aldersgate Group

Duncan Weldon, Senior Policy Officer, TUC

Catherine Howarth, Chief Executive, ShareAction.

Geoffrey Spence, CEO Infrastructure UK

Luke Warren, CEO CCSA

Matthew Knight, Business Development Director, Siemens Energy

Gary Smith, National Secretary, GMB

Baroness Bryony Worthington, Labour Energy, House of Lords
Further speakers will be announced shortly.
During the afternoon delegates will be able to take part in one of the following workshop sessions:
Infrastructure for the green economy
Where do we most need new green investment, and what needs to change if it is to be secured?
Greenworkplaces for a sustainable future
Going green at work pays off in environmental and bottom line benefits – this workshop will discuss how it's done.
Green technology – are we falling behind?
What difference could new green technologies make – and why do we need them?
Low carbon energy – what needs to change?
What do experts say that a low-carbon energy policy should look like?
Organizer of Green Growth: No Turning Back
The TUC is the voice of Britain at work. We exist to improve working life and promote equality for everyone.
The TUC brings together more than 5.5 million working people who belong to our 49 member unions. We support trade unions to grow and thrive, and we stand up for everyone who works for a living. Every day, we campaign for more and better jobs, and a more equal, more prosperous country