Description
The GI Partnership North is an opportunity to exchange ideas about green infrastructure planning, delivery and research.

Our meeting on the 24th April 2018 will be held at Grosvenor Museum, Chester. Directions and other information about travel to the venue is available here: http://grosvenormuseum.westcheshiremuseums.co.uk/visit-us/

We will hear about how GI is considered in the 25-Year Plan for the Environment, health and GI Planning that is underway in Cheshire East and Manchester. There is also an update on the exciting and innovative H2020 Urban GreenUP programme underway in Liverpool.

We have a busy morning of presentations - with some time for discussion - and we are planning a short workshop session.

The event is part of the EU Green Week programme of activities.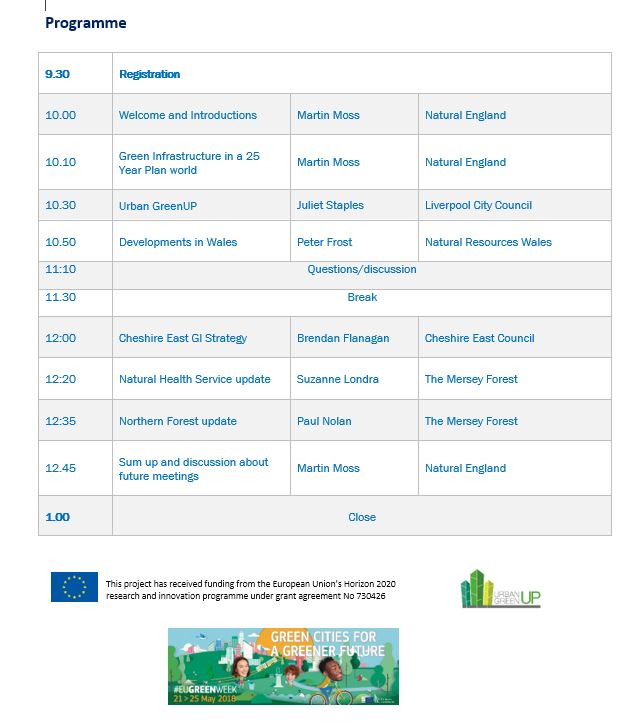 Organiser of Green Infrastructure Partnership North - 24th April 2018
The Community Forest Trust works to support the development of Community Forests and other community forestry initiatives in England. The Community Forest Trust exists to provide project support and generate funding and raise awareness of the Forests, enabling them to continue their vital work, creating attractive environments in which businesses and local communities can thrive.
The Community Forest Trust is a non-profit making company limited by guarantee.
Registered in England no. 3598556. Registered charity no.1072706.